JAN FEB MAR APR MAY JUN JUL AUG SEP OCT NOV DEC
---
Fall Youth Session at HF-L
September 27, 2020

Over 150 K-2 graders experienced a beautiful fall Saturday as they began to learn the basics of lacrosse as a part of the HF-L Youth Lacrosse program. Following youth camp COVID protocols, the boys and girls, under the direction of volunteer adults, high school players and coaches, traveled as a group from one drill area to another. They worked on passing and catching, shooting, stick positions and ground balls with a great deal of encouragement and with "fun" the central element.
The three week fall session is over, but registration for the winter indoor program is now underway for players from k-12 at their website.
For a look at the action, see the photo gallery. Full Story
Remote Learners and Athletics
August 10, 2020

In light of the current state of education, the New York State Public High School Athletic Association sent out an advisory yesterday to Section Executive Directors with an interpretation that affects student athletes who will receive remote only education this year.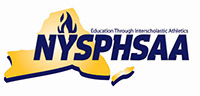 New York Education Department regulations state:
"A pupil shall be eligible for interschool competition or inclusive athletic activities in a sport during a semester, provided that he is a bona fide student, enrolled during the first 15 school days of such semester, is registered in the equivalent of three regular courses, is meeting the physical education requirement, and has been in regular attendance 80 percent of the school time, bona fide absence caused by personal illness excepted."

The advisory states that after consultation with NYSED, the regulations allows a student who is a remote only student to play for school teams if they meet the requirements listed above.
NYSPHSAA Executive Director, Dr. Robert Zayas states, "Students who opt for a remote only education because of the COVID-19 crisis would be eligible for interscholastic athletics (when permitted) if they meet the Bona Fide student regulation above."
It is important to note that, as of August 10th, interscholastic athletics are still prohibited by state officials.
The full letter is available on the NYSPHSAA twitter account. Full Story
Two Named UA-All-Americans
August 5, 2020

The annual Under Armour All-America Senior games were cancelled last spring, but the organizers recently published the list of players who would have been invited if there had been a 2020 spring season.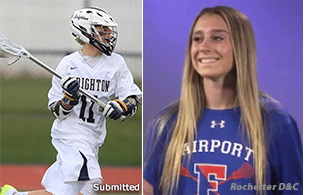 Selected to play on the North Boys team was Casey McDermott (Brighton) and on The North Girls team was Morgan Schwab (Fairport).
Playing attack for Brighton, Casey McDermott will play at Johns Hopkins in the fall after a career at Brighton that started in his eighth grade year. By the team he finished his junior year he had a record of 115g-116a and 100gbs. He was named to the first team All League list (MC-d3), first team All-Section and D&C Super 16 lists after his junior year.
Playing attack for Fairport, Morgan Schwab is set to play at Virginia in the fall after a four-year varsity career with the Red Raiders. Before the 2020 cancellations, she had a record of 105g-87a and 127 draw controls. She was a 2019 US Lacrosse All American, two-time first team all-league player, was selected to the Class A All-Tournament Team as a sophomore and was named to the D&C All-Greater Rochester Super Sixteen list. Full Story
2020 Awards
June 29, 2020

There are only two awards section-wide awards for the season that wasn't, one by Section V and one by US Lacrosse.
Section V Scholarship
Section V awards a $250 scholarship to one member from each sport. Student-athletes apply for the scholarship, submit a resume, transcript, letter of recommendation for his/her coach and be endorsed by the Athletic Director. In addition, the applicant submits a response to the following: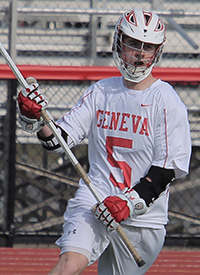 "Section V is committed to excellence in interscholastic athletics while supporting an education-based learning environment."
1. Interscholastic athletics is intended to be an extension of the classroom. What lessons have you learned from playing high school sports? (Include how your participation in interscholastic athletics has contributed to your personal growth.)
2. What role will these lessons play in your future endeavors? (Include how learning these lessons at a young age will prepare you for success in the future.)
The winner for boys lacrosse is:
Bob Scott Award
*US Lacrosse announced in the spring that there would be no All-American or All-Academic awards this year. They later decided that the Bob Scott Award would be given.
US Lacrosse sponsors an annual award in honor of long-time Johns Hopkins Head Coach Robert Scott. It recognizes a senior player "who truly honors the game of lacrosse, is invested in the development of the game in his community and is an exemplary member of his team."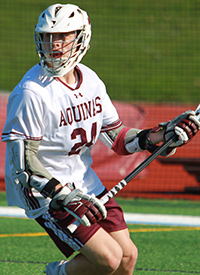 The Head Coaches had an on-line vote and selected, for 2020:
The Michigan State bound Olbrich was named to the GRALL Super sixteen list in his junior year. In his letter of recommendation, Assistant Coach Mike Kelly wrote:
"I have been honored to coach Tanner for the past three years. I have seen his work ethic in the weight room, after school shooting, off season work outs and his commitment to team first-hand. He has developed into a complete player. This award should go to the player that shows all these attributes but as important the player his teammates and coaches trust and admire. When the game is on the line the players and myself wanted the ball in Tanner's stick. He showed grit and determination in every game he played." Full Story
The Seniors of 2020
May 27, 2020

Although every player this season has missed their opportunities, the senior class, in many casses, had been looking forward to their last year for many years. As a small recogniztion of their accomplishments, the Coaches of Section V have helped to put together a list of the more than 320 members of the senior class of 2020.
The lists and stories are broken down by league: Monroe County - Finger Lakes - GRALL - Independents.
There is also a list of players who are entering military service. Full Story
NYSPHSAA Publishes COVID-19 FAQ
May 12, 2020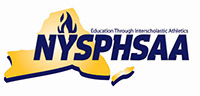 The New York State Public High School Athletic Association has published a list of questions and answers about scholastic sports in light of the COVID-19 pandemic.
Among the topics are eligibility standards, winter and spring championships, summer activities and the fall season.
NYSPHSAA President, Paul Harrica will put together a COVID-19 Task Force to help develop proposals for decisions about the future.
The FAQ document will be updated as new information is available. Full Story
The Season at Wasn't Comes to an End
May 2, 2020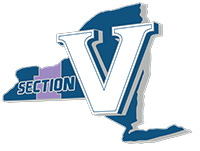 With Governor Cuomo's announcement on Friday that the school buildings in New York would not reopen this spring, Section V Executive, Kathy Hoyt, sent out a release stating that there would be no spring sports this year.
"As Executive Director of Section V athletics, I want to commend the school districts, athletic administrators and coaches for their dedication to the student athletes during this very challenging situation. Most importantly, I want to acknowledge the resiliency and commitment of our wonderful student athletes. They have remained focused and positive throughout. Section V would like to wish all our seniors the best of luck as they prepare to begin their next chapter in life. It is our hope that your time spent as an athlete is Section V was enjoyable and rewarding. Class of 2020 – thank you for the wonderful memories!!!"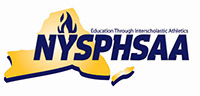 Last Monday, NYSPHSAA Director Robert Zayas announced that there would be no New York State Tournaments this year. Sections VIII and IX (long Island) had already announced that their school building would remain closed for the remainder of the school year. As of this date, forty-three other states associations have cancelled their sports seasons. NYSPHSAA President Paul Harrica has started to put together an ad hoc committee to address and analyze the potential impact of COVID-19 on the fall 2020 interscholastic athletic season.
In response to Boys Lacrosse Coordinator, Mike Simon, Kathy Hoyt also confirmed that there will be no NYSPHSAA approved All-Star games this spring. Alan McLiverty, President of the Greater Rochester Chapter of USLacrosse announced that the annual Senior All-Star Games would not be played. He suggested that if the Shootout of Soldiers event in Canandaigua, set for July, was held, there might be an opportunity to recognized seniors who lost their season.
When new information becomes available we will post it here.
Previous stories: Update on Spring Sports | Schools Closed Due to Virus Full Story
Who Are These Coaches
April 21, 2020

Here is quiz for young and old. The picture below shows three current Head Coaches from these scholastic playing days. Can you name them? For a hint, click on the picture.
Stay Safe..... Stay Positive.
Who Are These Coaches
April 21, 2020

Here is quiz for young and old. The picture below shows three current Head Coaches from these scholastic playing days. Can you name them? Below are some hints. For the answers, click the image. Full Story
Who Are These Coaches
April 21, 2020

Here is quiz for young and old. The picture below shows three current Head Coaches from these scholastic playing days. Full Story
US Lacrosse Postpones Awards Programs
April 20, 2020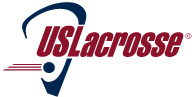 US Lacrosse announced today that due to the issues with the coronavirus pandemic, they have decided to postpone the 2020 High School All-America Awards Program.
The decision affects both boys and girls program including the All-Academic Awards and other special awards that are usually given at the end of the season.
"US Lacrosse continues to closely monitor nationwide high school lacrosse participation levels and will announce any changes to the status of the awards program that may be warranted."
The press release, sent to Area Chairs today, indicated that they will be starting a new program later this week to recognize high school players who "are making an impact in their communities during this unprecedented time." Full Story
Who Are They?
March 26, 2020

There were quite a few comments on the last "Who is it?"..... so just for fun, older fans may be able to name the players in a 1972 picture below. If you need a hint, click the picture.
Stay Safe..... Stay Positive.
Update on Spring Sports
March 25, 2020

Last week, Section V announced on their website that following the recommendations of the CDC and "in the best interest of our student-athletes, coaches and fans":
All Section V winter and springs sports programs are on currently on hold. This shutdown is in collaboration with the mandated school closures throughout all of Section V. This in the best interest of our student-athletes, coaches and fans. Full Story
Schools Closed Due to Virus
March 24, 2020

Section V released the following statement:
"Due to the unprecedented events as a result of the coronavirus many local county health departments have recommend school closings. This obviously puts a pause on the spring sports season. We will continue to communicate with our members schools, sport coordinators as well as NYSPHSAA leadership. We will remain positive and optimistic, while focusing on the health and safety of all involved." Full Story
Who is That?
March 20, 2020

Games were planned for this weekend..... but just for fun, fans over 40 may be able to name the players from 1986 below. If you need a hint, click the picture.
Stay Safe..... Stay Positive.
Coach York Sends Message to the CA Family
March 17, 2020


Earlier this week, Canandaigua Head Coach Deven York sent the following message to the Canandaigua Lacrosse family. The well stated sentiment will ring true for the lacrosse community at large, so we have received his permission to publish it here. Full Story
McQuaid Moves for Class A
March 17, 2020

Just before the school closures, the Section V Non-Public/Charter School Committee, after study and consideration, approved the placement of McQuaid Jesuit into Class A for 2020. Full Story
Current State - March 14th
March 14, 2020

Monroe County Executive Adam Bell announced (in part) on Saturday afternoon:
"After consultation with Public Health Commissioner Dr. Mike Mendoza and the Superintendents of all 22 Monroe County School Districts, all Monroe County public schools will be closed to students beginning Monday, March 16 until further notice." Full Story
Livonia-Avon Gets New Head Coach
March 7, 2020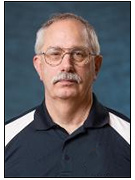 The Livonia-Avon Lakers have a new Head Coach, just days before the start of 2020 season and he has deep ties to the program. John Sciera started the Livonia Bulldogs team in 2002 and was the Head Coach there through the 2007 season before the job went to Brett Wood in 2008. His record after six seasons was 61-53. Full Story
Livonia-Avon Need Varsity Head Coach
February 27, 2020

The Livonia-Avon Lakers are in immediate need of a Varsity Head Coach for the season which starts in less than two weeks.
The Lakers finished last year at 10-8, finishing third in the Class C Tournament with an offense that was tied for fourth in the Section. Full Story
Greece Needs Modified Coach
February 27, 2020

The Greece Storm is looking for a Modified Lacrosse Coach. Full Story
Post your Support on Player Pages
February 23, 2020

With the new design for BLaxFive.NET we have decided to help defray our ever-growing costs by allowing friends and family to post an "ad" on their favorite player's "Player Pages".

After making a donation of at least $11.00 you can choose to sponsor a single player's "Player Pages" and post your "ad" on his various personal pages.

Parents - Grandparents - Best Friends - Teammates - Show that you are greatful, care and support.

More information, include the rules can be found here. Full Story
McQuaid Jesuit Needs Coaches
February 19, 2020

McQuaid Jesuit is looking to hire new lacrosse coaches for the following open positions: Modified Head Coach and JV Head Coach. Full Story
SportsFive.NET Offers Annual Clinic for Statisticians
February 14, 2020

Kyle Barrett and Paul Wilson will once again offer a clinic for team statisticians. This year the clinic will be offered at the Pittsford Recreation Center on Lincoln Avenue. Full Story
Bloomfield-Honeoye Need Mod Coach
February 14, 2020

New Head Coach Mike Denely reports that the Bloomfield-Honeoye Pride needs a coach for their modified team this season.
If interested please conact Bloomfield Athletic Director, Jon Mastin at jmastin@bloomfieldcsd.org as soon as possible. Full Story
---