Donations Gratefully Accepted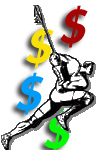 For more than seven years, we provided information to the lacrosse fans of Section Five completely at our own expense.
As Sportsfive has grown, so has the cost of providing the information. The costs of web hosting has, over this time, increased as a result of our success. We feel we are the definitive place for Section Five lacrosse information after moving to an even larger and faster server.
Through our arrangement with PayPal we can accept donations on-line. If you have a PayPal account, donations are secure and easy. If you don't have a PayPal account you still simply and safely use your credit card.

If you, or your Booster Club would prefer to donate by check and help us even more by saving our PayPal expense, please send your donation to:
Paul Wilson
16 Thornwood Circle
Pittsford, NY 14534
If you have questions, please contact us at

Volunteer Opportunities
There are lots of opportunities to help with your talents and interests. If you are interested in helping in any of these ways contact:

Reporter
Team Reporters seed in game day information like scores and stats. Information can be directly sent to our site through your phone or computer or can be sent by email or messaging.
Photographer
Team Photographers send in pictures taken at games that are used in stories and sometimes in galleries on the web site.
General Photographers shoot images for more than one team. Their images are used in stories and often in galleries.
Social Media
With the increased demand for social media interaction we are looking for a couple of volunteers to help spread the word through our social media accounts.
Content Creator
Content Creators produce stories about the teams or players. They may be in-season or out-of-season stories about, for example, NLI signings, college decisions, special accomplishments or other things of interest to our visitors.
Data Entry
On game days, many pieces of information are sent to us in many different formats. We work hard to get all of the information posted as soon as possible, but we benefit from a couple of people who can help enter stats and figure out what is missing and try to get it.
Fund Raising
We provide many services and we don't charge our users for any of it. The costs are covered by advertising and donations but mostly by a group of dedicated volunteers who receive no paychecks. We are always looking for a couple of people who like to sell and are willing to help us find good fits for advertising and people willing to donate financially.