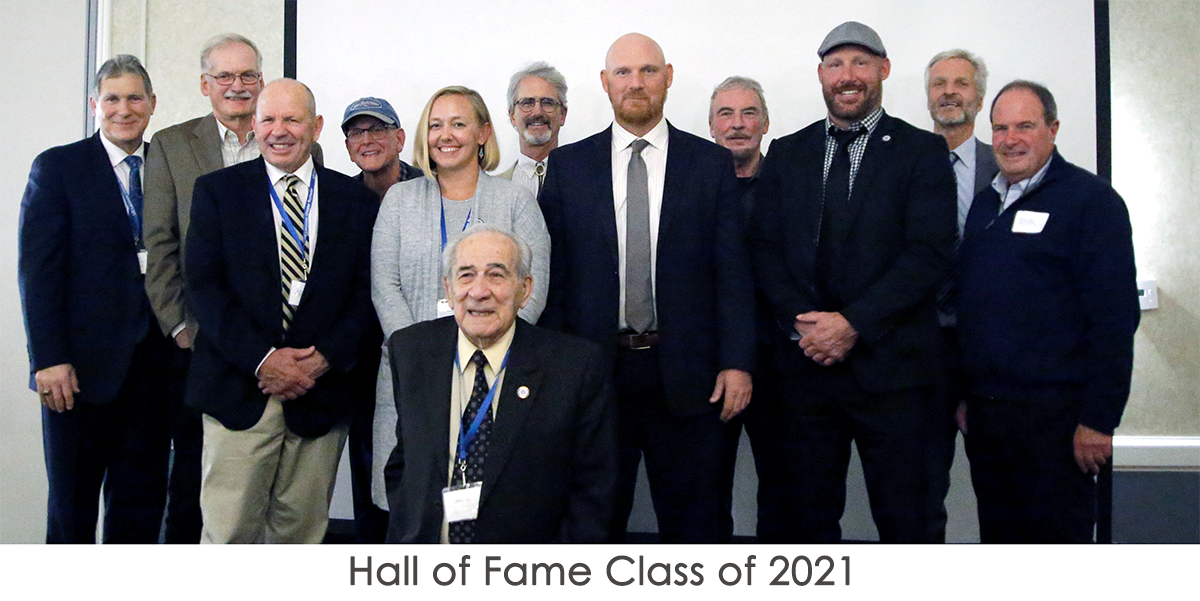 2021 Hall of Fame Dinner
SPORTSFIVE REPORT:
The Greater Rochester Chapter of USA Lacrosse held their twenty-seventh Hall of Fame dinner Friday night at the RIT Inn and Conference Center in Henrietta.

With about one hundred and twenty-five in attendance, teammates, friends and family along with many members of the Hall of Fame, gathered to induct four individuals, and one team into the Greater Rochester Lacrosse Hall of Fame Class of 2021. They were welcomed by Chapter President Scott Schwind.
After dinner, Master of Ceremonies Mike Riordan welcomed the fans and families and introduced twenty-two current Hall of Fame members in attendance which included Ernie Lisi and Jeff Long (1992), Rory Whipple (1994), Craig Pratt (1995), Pat Genovese (1998), Frank Mangione (2001), Harry Queener and Paula Summit (2004), Paul Wilson (2005), Dave Moore (2006), John Johnson and Mark Rice (2008), Mike Simon (2009), Rob Randall (2011), Patty Queener (2012), David Wilbur (2013), Scott Schwind (2014), Thomas Kelly and Mike Riorden (2016), Patrick Dutton and Tim Pease (2017), Terry Cotton (2018) and Ben Wineburg (2019).
Riorden reviewed each inductee's accomplishments as the audience followed along in the program. The inductees then gave their speeches and received their awards. (program available here). Pictures from the event.
---
Jake Coon
Player / Coach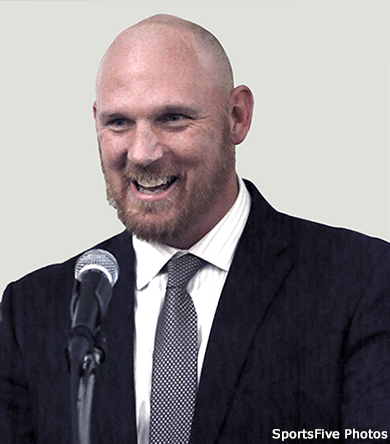 Highlights:
- Attended Homer High School.
- At Nazareth , he was a four-time All-American, two-time NCAA Division III Goalie of the year and earned a BS in social science.
- Coached at Nazareth from 2001-2005
- Coached at the University of Massachusetts where he was a Coaching Assistant from 2005-2006 and First Assistant Coach from 2006 to 2009.
- As the RIT Head Coach he has 206 wins, 11 straight conference championships and eleven strait NCAA Division III tournament appearances. His teams made the final four seven times. His 2021 team won the National Championship. Jake has been named USILA Coach of the Year twice (2011 and 2013). He has coached seventy-two All-Americans and one hundred and eleven All-Conference selections. He was selected as Liberty League Coach of the Year in 2013 and 2015.
- His professional playing experience included the Rochester Knighthawks from 2002-2003, the Rochester Rattlers from 2001-2005 and the Boston Cannons from 2005-2009.
- He was inducted into the Upstate New York Chapter Hall of Fame in 2018.
Jake spent most of his acceptance speech thanking numerous people both in attendance and those who helped throughout his career. Among the many was Scott Nelson, his coach at Nazareth who "really took a chance on me and believed in me and gave me the opportunity to excel." He also acknowledged retiring RIT Athletic Director Lou Spiotti. "I really appreciate your trust and guidance and the support you have given me over the last twelve years."
---
John Grant, Jr.
Player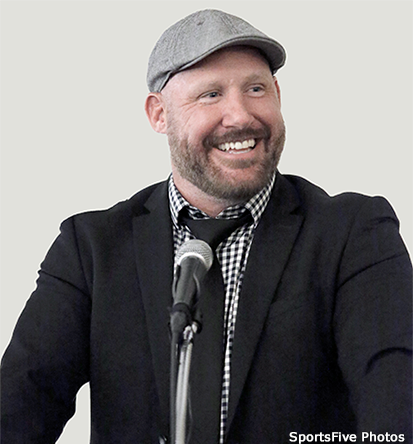 Highlights:
- 1999 Lt. Raymond Enners Award, the NCAA's Most Outstanding Player.
- 1999 Jack Tumbull Award, NCAA Best Attackman.
- Delaware's first USILA First Team All-American (1999), averaging more than six points per game.
- MLL MVP (2007 and 2008)
- NLL MVP (2007 and 2012)
- Fifth all-time NLL for goals, 12th NLL in points and third in assists per game.
- NLL Champions Cup in 2007 and was tournament MVP.
- Six-time MLL Champion; NLL Champion.
- Five-time Man Cup Champion and two-time tournament MVP.
- FIL World Lacrosse Champion (with Canada) in 2006.
- FIL World Indoor Lacrosse Championship (with Canada) in 2003, 2007 and 2011.
- 2010 FIL World Championship All-World Team selection in attack.
John and his wife and daughter drove in from Baltimore where he is the offensive coordinator for Johns Hopkins. He spent the first part of his speech talking about each of the other inductees. he spoke about his time in the Rochester area and with the Knighthawks. "It's a great city with great lacrosse. We will continue to look for great lacrosse players from here for Johns Hopkins because they are tough, hard working and that's what we have found."
---
Bob Menz
Official / Player / Coach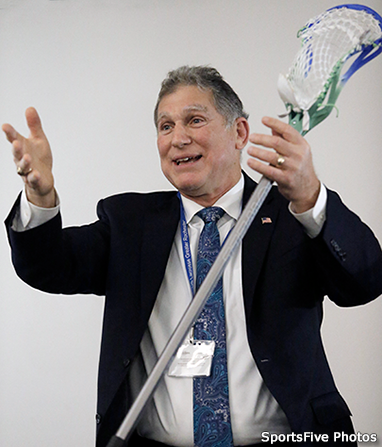 Highlights:
- At Webster Schroeder High School player football, wrestling and lacrosse (1972-73)
- Attended the Naval Academy in 1974, MCC (1976-76) and Cortland (1977-78)
- Teacher at Victor Central Schools and Rochester City School District in Physical Education.
- Co-Owner A & M Plastering.
- Coaching experiences at Webster Schroeder, Fairport and the Roc E6 Youth Program.
- Forty years as an official with GVLOA.
Bob took the stage and told many stories about people in the room, including Mark Rice and Joe Van Cura and spoke about his fellow inductees. He received an ovation when he described John Grant as "a tall Jeff Long". He spoke at length about his long-time friend and fellow lacrosse enthusiast, Tom Van Hall, who died earlier in the year. "He was a hero and a guy I have emulated." Toward the end of his talk by acknowled his fellow officials.
---
Sarah Queener
Player / Coach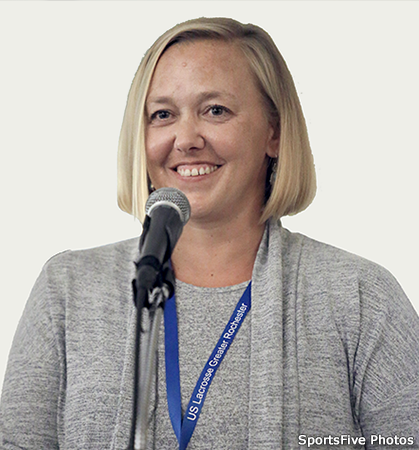 Highlights:
- At Penn Yan High School: All-time leading scorer, 1st team all-League 1992, Defensive MVP Section 3 Senior Game, Captain of Hockey and Gymnastic teams, All-league gymnast, Auburn High School Hall of Fame.
- At Yale University, Four-year starter, two-time All-Ivey League, IWCLA All-American, North-South Senior All Star.
- Assisted Harry and Patricia Queener coach the 2004 Section V and NYS championship girls' team that included her sister Sylvia.
- 2004-06 Assisted at Hobart and William Smith Colleges.
- 2006 Yale lacrosse assistant.
- 2007-2009 Head Coach at Claremont-Mudd-Scripps (40-7 record). Three NCAA tournament appearances.
- 2008 NCAA Newport Harbor High School.
- 2017 Pomona-Pitzer College with a current record of 106-62.
- Collegiate coaching record for twelve seasons: 142-62.
Sarah opened her remarks with her pride in upstate. "I've always been incredibly proud to be from upstate New York and to be a lacrosse player from Penn Yan specifically, but I love upstate lacrosse and I am just honored." After talking about the many people who helped her along the way, she ended with thanks to her mother who was instrumental in getting the girls game in Penn Yan. "The game itself is so beautiful and I would like to thank my mom for giving me the chance to play.... and it has created so many opportunities for me."
---
1972 Irondequoit Team
Players / Coaches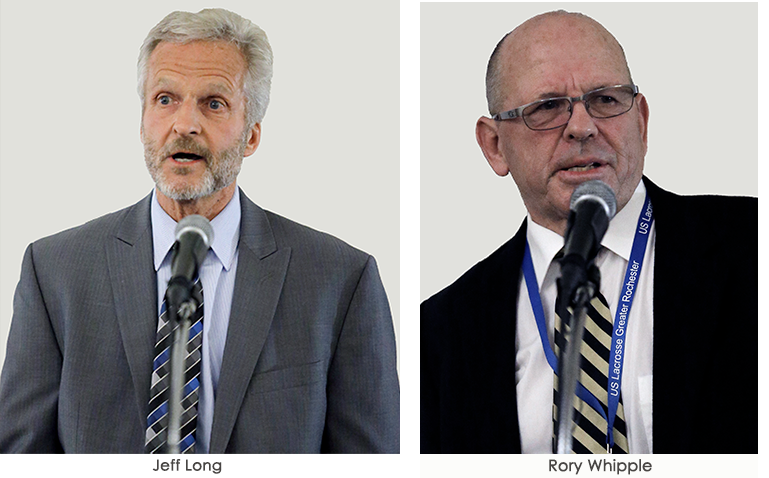 Highlights:
Head Coach: Ernie Lisi
Team Members: Dale Bartram, Bob Becker, Dave Birnbaum, Gary Bolinger, Tony Ciaccia, Brad Closen, Bill Duford, Dave Eisenstat, Tony Gormican, Paul Klingler, Jeff Long, Craig Mackey, Jeff Neese, Bob Oldschue, Gary Passer, Dave Richardson, Larry Rabinowitz, James Taylor, Ed Tschetter, Mike Turula, Bob Van Slyke, Rory Whipple, Steve Woodward and John Young.
Highlights: Record: 19-0. Defeated Fayetteville-Manlius 9-3 to win the Upstate Championship before a crowd of 7,500.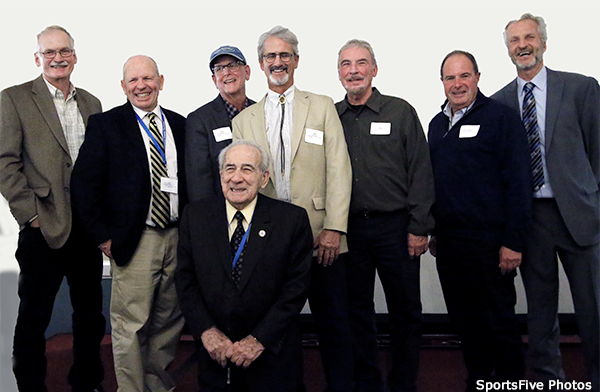 Speaking for the team were Jeff Long and Rory Whipple. Both men spoke extensively about Coach Ernie Lisi and commented on his "famous wind sprint whistle". Jeff started with a brief speech in which he said, "72 was a truly a special time for our team for many, many reasons. It was just simpler times. We would get up, go to school, go to practice, run home. Then after dinner we would go back to the school and shoot on the goal and hang out ... until sunset and come back the next day. Life was really good. We were a band of brothers."
Rory Whipple, in speaking about Coach Lisi said, "The great John Wooden said that a good coach can change a game, but a great coach can change a life. Coach Lisi has changed families."
---
Ernie Lisi
NILLCA Induction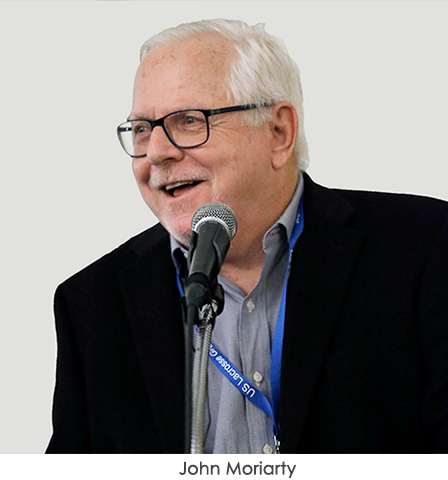 Special Award
On November 13th, The National Interscholastic Lacrosse Coaches Association will have their own Hall of Fame ceremony in Plandome, NY. Among the eleven honorees is Ernie Lisi. Knowing that this Rochester area would provide a large support for his honor, the Committee allowed Ernie to receive his award early.
"The National Interscholastic Lacrosse Coaches Association, which strives to provide dedicated service to high school lacrosse coaches throughout the United States, ... honors those coaches whose mentorship and groundbreaking coaching careers have left an indelible mark on the high school game of lacrosse."
John Moriarty told a number of stories about his interactions with Coach Lisi over the years. "So many guys' lives have been influenced by [Coach Lisi]. He has had a profound effect not just on individuals and teams, but the sport of lacrosse that we all love." He then presented the plaque from the NILCA.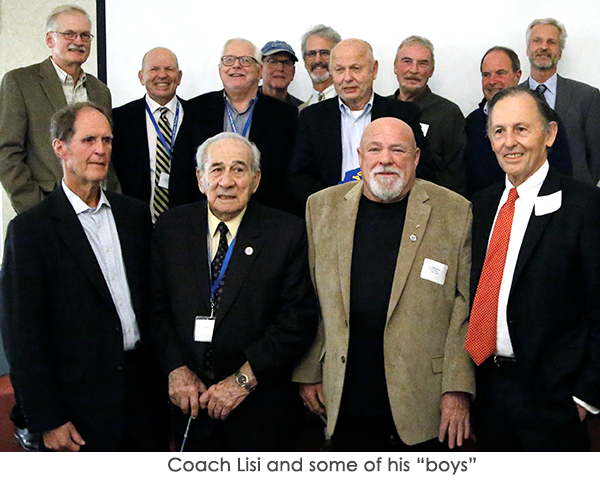 ---
Other Hall of Fame Stories are available for - 2019 - 2018 - 2017- 2016 - 2015 - 2014 - 2013 - 2012 - 2011 - 2010 - 2009 - 2008.