2019 Hall of Fame Class Dinner
SPORTSFIVE REPORT:
The Greater Rochester Chapter of US Lacrosse held their twenty-sixth Hall of Fame dinner Friday night at the Burgundy Basin Inn in Pittsford.

With about eighty-five in attendance, teammates, friends and family along with many members of the Hall of Fame, gathered to induct four individuals, and one team into the Greater Rochester Lacrosse Hall of Fame.
Chapter President, Al McLiverty welcomed the fans and families and introduced a fifteen current Hall of Fame members in attendance which included Jack McDonald (1993), Paula Summit (2004), Paul Wilson (2005), Dave Moore (2006), John Johnson (2008), Mike Rice (2008), Mike Simon (2009), Rob Randall (2011), Scott Schwind (2014), Terry Corcoran (2015), Heidi Rothfuss Rasmussen (2016), Mike Riorden (2016), Tim Pease (2017), Don Wright (2017), and Terry Cotton (2018). Also in attendance was Sarah Forrest who is the new US Lacrosse North East Area Manager.
After dinner Mike Riorden took over as Masters of Ceremonies with help from Scott Schwind. Mike Riorden reviewed each inductee's accomplishments as and the audience followed along in the program. The inductees then gave their speeches and received their awards. (program available here). Pictures from the event.
---
John Natti
Player / Coach / Official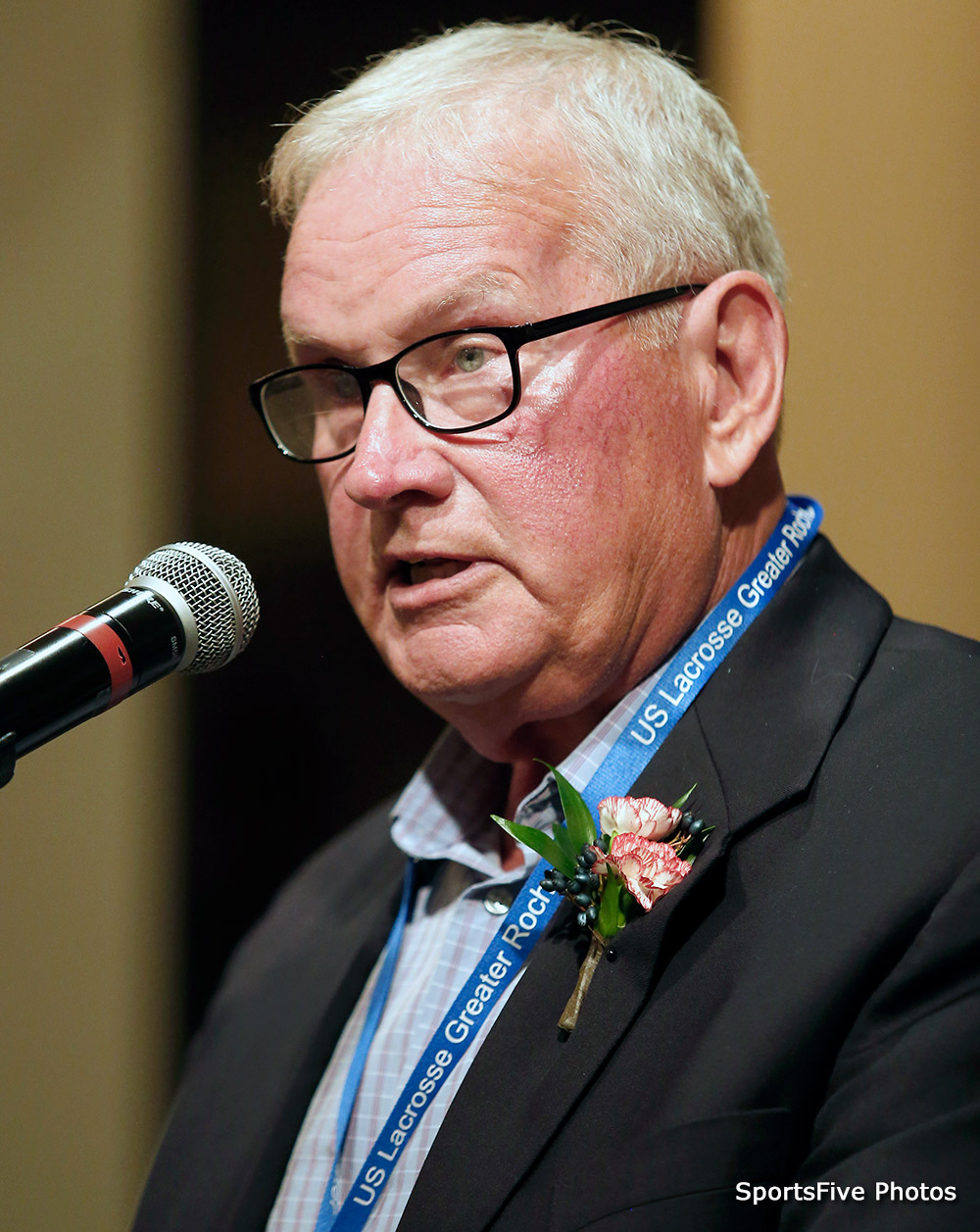 Highlights:
- At Geneva High School played football, swimming and lacrosse and was a captain in all three sports.
- His high school lacrosse team was undefeated in four years.
- At Brockport State, was a four-year starter and captain for junior and senior years.
- Coached football, swimming and lacrosse at Geneva High School
- Coached lacrosse for twenty-five years: Coach JV, was a Varsity Assistant and then Head Coach for eighteen years, finishing with a record of 243-82. His teams won seven league titles. three sectional championships and reached the NYS final four twice.
- As Geneva Athletic Director from 1988-1998 was instrumental in starting hockey and girls lacrosse.
- Has officiated at the State, College and high school level in swimming (forty-seven years) and girls lacrosse (twenty years).
---
Jim Paris
Player / Coach / Contributor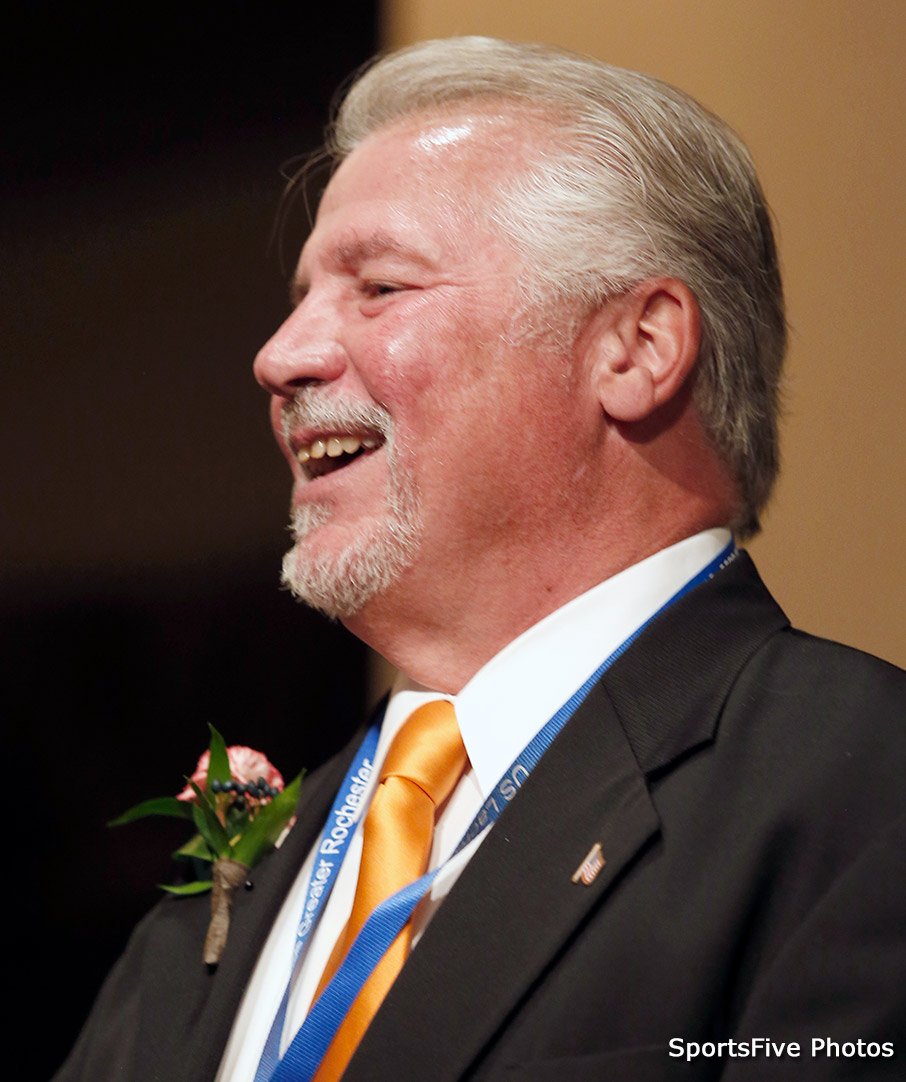 Highlights:
- At Irondequoit High School, a two-time first team All-League player, and High School All American in 1979. Named Time-Union Co-Player of the Year.
- Starting attackman at SUNY Farmingdale where the team finished at 15-2 and was the National Junior College Champion. Division I starting attackman at University of Baltimore where the team was inducted into their Hall of Fame.
- Played professional box lacrosse with the Rochester Grey Wolves.
- Current player with Team Tarzan (twenty-five years).
- Former Head Coach at MCC.
- US Lacrosse head coach for Greater Rochester U14 travel team.
- Irondequoit youth travel team head coach. Youth coach for eight years. Ran Irondequoit youth developmental program (six years). Head Modified Coach for Schroeder modified team.
- Served on Boards (Rochester Lacrosse Foundation and Irondequoit Youth Lacrosse).
---
Carly Ritchlin
Player / Coach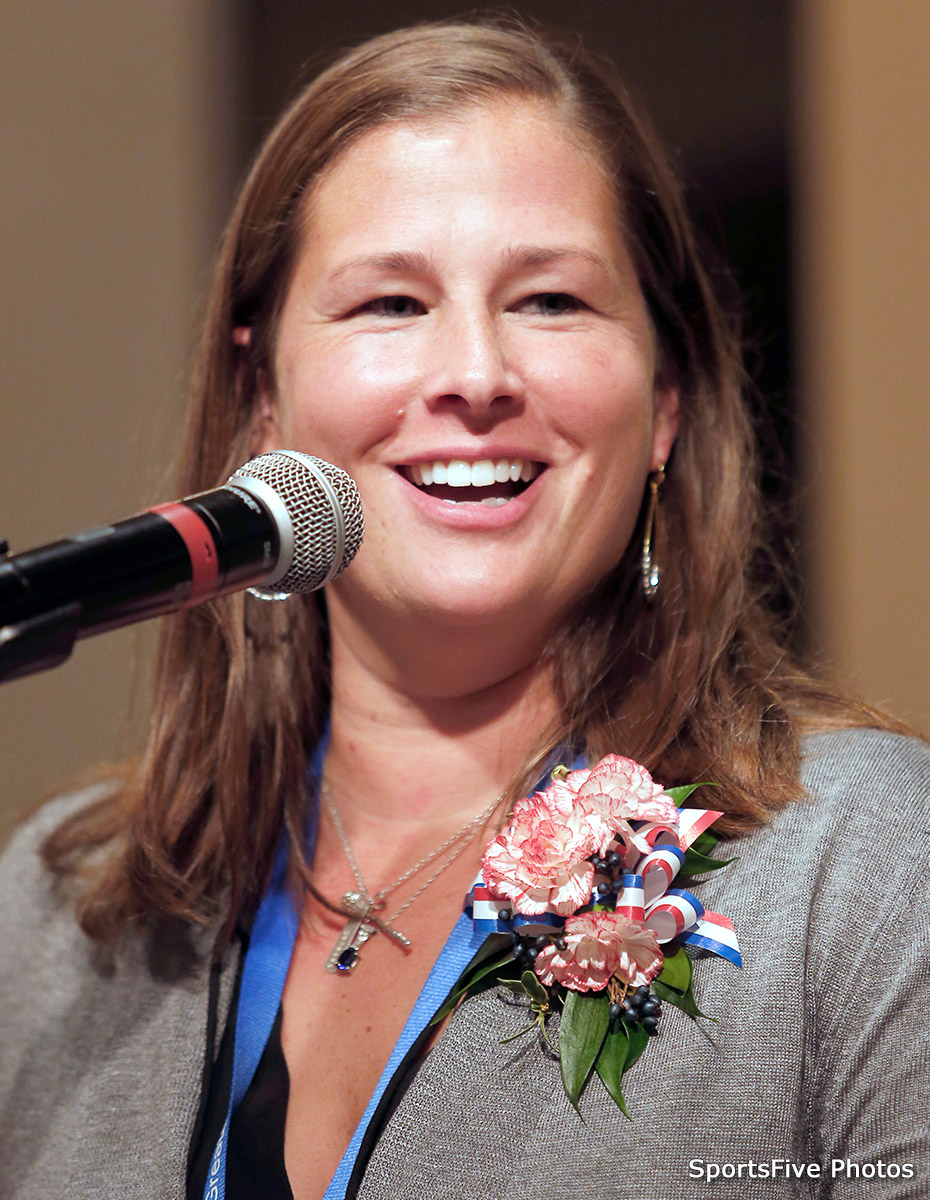 Highlights:
- At Penfield High School was a team captain, won their first Section V championship. Also was Penfield attacker of the year and a 1999 High School All American.
- Two year starter and senior year captain at SUNY Cortland where she helped the team to a 53-16 record, three SUNYAC title and three NCAA Division III tournament appearances.
- Two-time All-SUNYAC selection and finished third in career assists (66) and 17th in career points (118).
- Head Coach at RIT (2003)
- Head Coach at SUNY Geneseo (2004 to present).
- Two-time SUNYAC Coach of the Year.
- Ranked in Top 20 Division III history victory and winning percentage.
---
Ben Wineburg
Player / Coach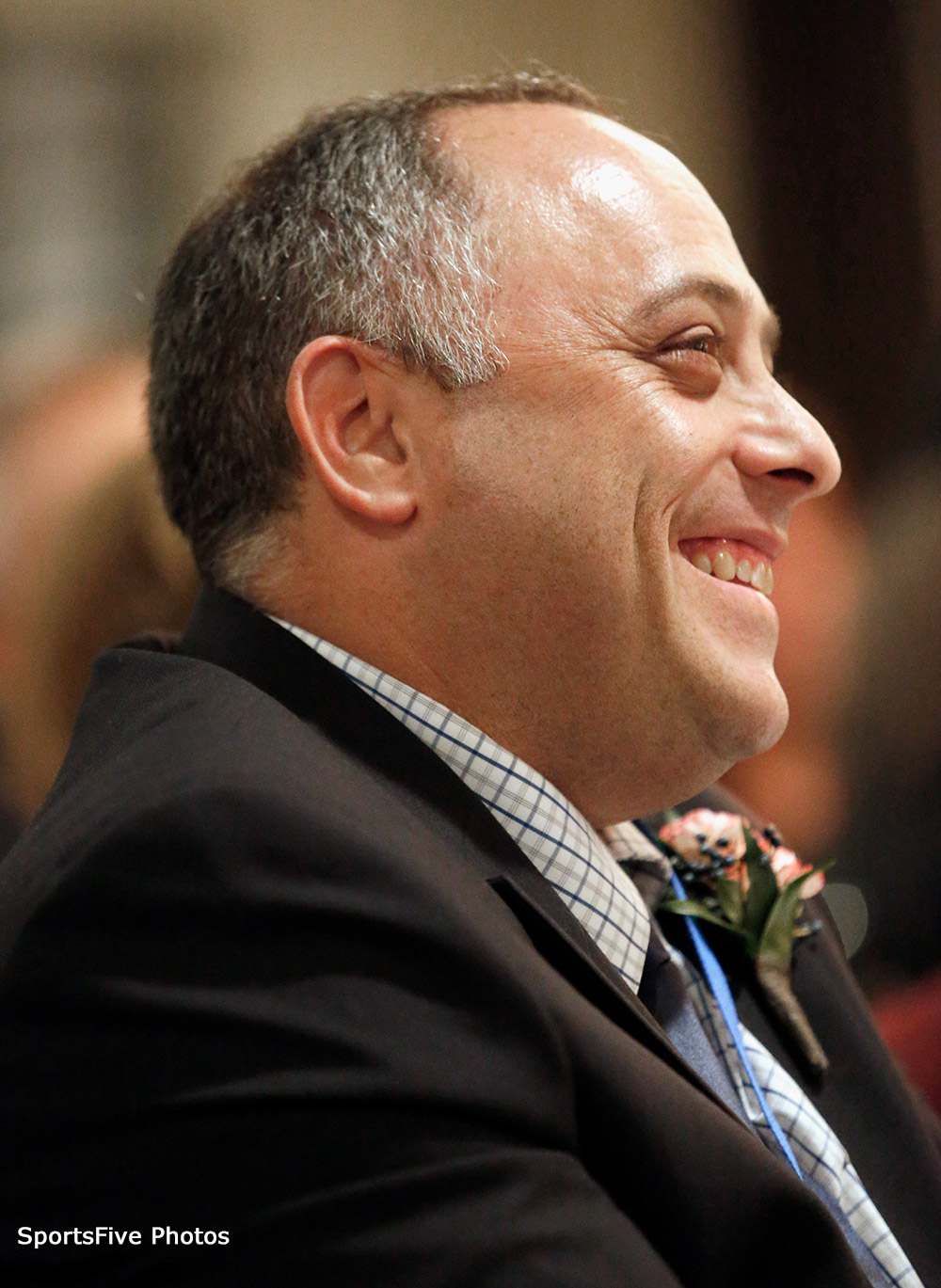 Highlights:
- At Auburn High School, All League (HM in 1991 and 1st team in 1992). Defensive MVP in Section 3 Senior Game. Auburn Hall of Fame inductee.
- At Nazareth College, Team Defensive MVP (1995 and 1996).
- At Nazareth in 1995, USILA 2nd team and NCAA National runner-up.
- AT Nazareth in 1996, team Captain, 1st team All-American, Division III National Champions.
- NCAA Division III National Player or the Year, National Goalie of the Year and MVP of the Championship game.
- Played in the USILA North-South Game.
- Nazareth Hall of Fame (2005)
- Assistant Coach at Nazareth in 1997 (DIII Campions). Assistant Coach at Alfred 1999. Current Head Coach at SUNY Brockport.
---
1972 Hobart Mens Team
Players / Coaches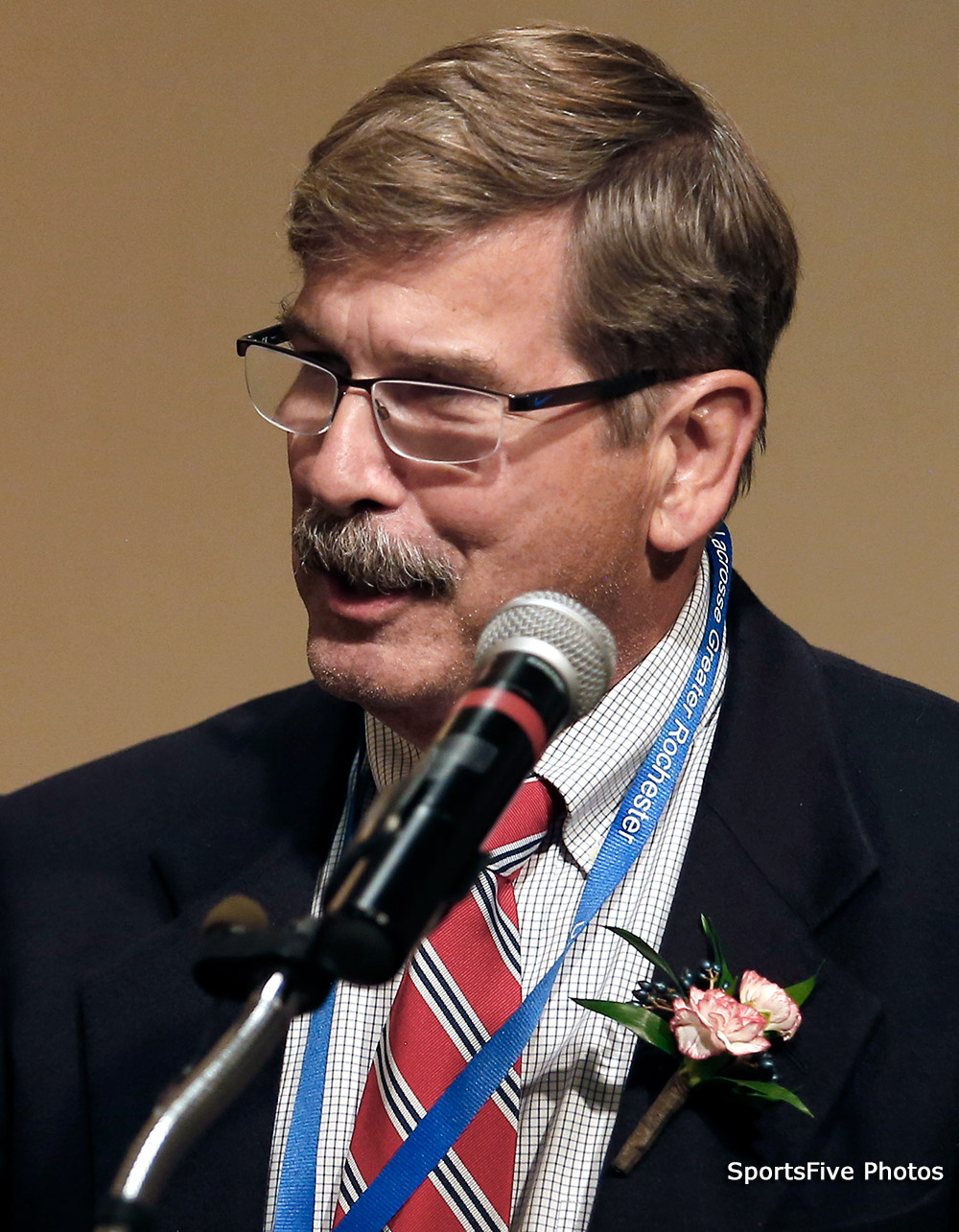 Highlights:
Head Coach: Jerry Schmidt
Assistant Coach: David Urick
Team Members: Donald Aleksiewicz, Lawrence Alexander, Timothy Anderson, James Barysh, John Basso, James Brennan, D. Richard Calver, David Creighton, William DiMenna, Edward Dinan, Roger Frankel, Jeremy Foley, Thomas Gaggin, Rick Gilbert, Christopher Green, C. Turner Hansel, Dennis Harrison, Gregory Hughan, Michael Kirwan, James Kraus, William Martancik, Kenneth Mason, Michael McAnaney, Kevin McCarthy, Kevin McLean, William O`Hara, Andrew Perry, Robert Raleigh, Richard Rubin, Anthony Russo, A. Reed Schroeder. Loren Stockton, John Van Etten, David Williams. Managers: Roger Frankel, William Hosking.
Highlights: Team of Distinction award (awarded 2007), First team to win a USILA National Championship (17-1). Five All-Americans. Five current Hobart Fall of Fame members.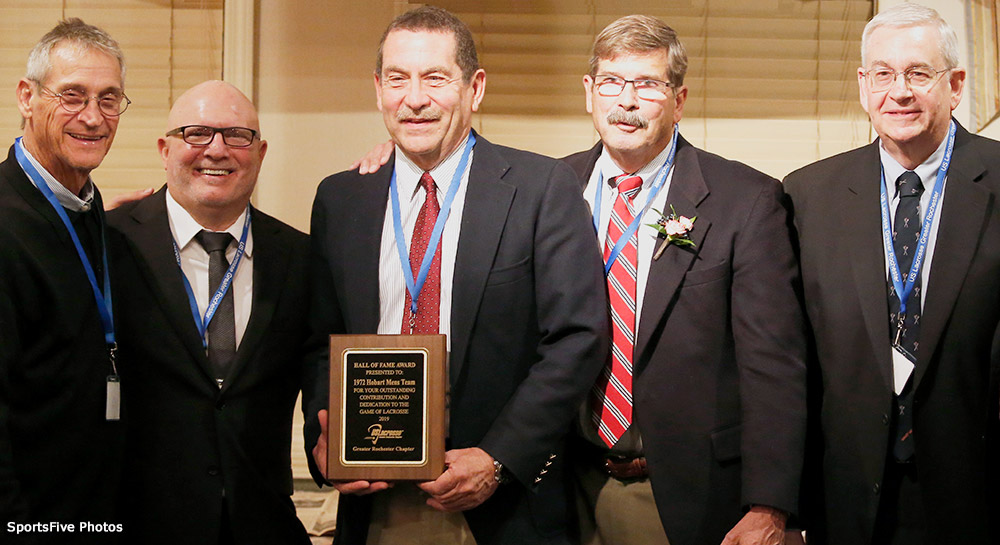 Speaking for the team was David Creighton. Also present were AJ Russo, Tom Gaggin, Rick Gilbert and Roger Frankel, who brought a display of memorabilia about the team.
---
Other Hall of Fame Stories are available for - 2018 - 2017- 2016 - 2015 - 2014 - 2013 - 2012 - 2011 - 2010 - 2009 - 2008.