For Fairport Teamwork is Priority
Fairport 2021
Class A - Monroe County League
In their last time out, the Red Raiders had a 17-3 record and went all the way to the NYS finals behind the efforts of Klay Stuver, Colin Peers and Gavin Ingalls among others on the offensive end and Tim Defendis in the goal. Fairport always seems to have a core of standout players, but this year it harder to see the core having lost opportunities to shine in 2020. Still, the majority of coaches in the section feel strongly that Fairport will be in the championship game again this year.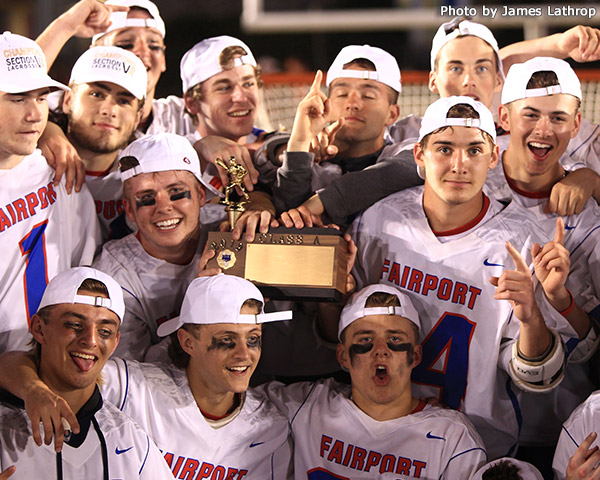 The core this year will center around at least five returning starters, beginning with senior defenseman Connor Fundis who is a three-year starter and although he is a top defender is also a threat to take a clearing shot. He will be playing at Albany next year. Joining him in front of the cage will be Josh Knapp who is a junior and a two-year starter. The third long pole will be senior Jack McDonald who is also back from 2019.
Rob Crowley returns as a third year starting midfielder who enters this year with 16g-4a from his sophomore year. He was named to the Class A All-Tournament Team in 2019 after scoring four goals in their 9-4 championship win against Hilton. Also at midfield is Joey Giggie, a junior who is yet another three-year varsity player and will be taking faceoffs this year. In the attack, Fairport will be looking for leadership from senior Kole Stuver who had 16g-9a as a sophomore. He gained great experience and confidence, scoring a goal and an assist in the NYS championship game.
Unlike many years, where specific "big name" individuals started the season with long resumes, the Red Raiders this year will need to focus on teamwork. Coach Mike Torrelli, in his eighteenth year, knows how important this is, "This year the Red Raiders will need to play together as a team. The strength of this group is its work ethic. This groups knows and understands the process that it will take to get back to the finals. They know they have to ALL do their jobs and know what their role is."
Fairport will play twelve games in the regular season and every one is a challenge, starting with Pittsford who some say they may play in the sectional finals. Other good matchups include Victor, Thomas, Penfield, McQuaid, Canandaigua, Brighton and Irondequoit.
Head Coach
Mike Torrelli 18th year 220-83
Assisted by John McGurk, Tim Soudan - R. Garrett - M. Ierlan - P. Gibbons
Some Key Players
Connor Fundis (12-D), Rob Crowley (12-M), Kole Stuver (12-A), Joey Giggie (11-FO/M), Josh Knapp (11-D), Jack McDonald (12-D)
Key Games
Pittsford, Victor, Thomas, CA, Penfield, McQuaid
See other stories as they are posted: Class A - Class B - Class C - Class D