Lacrosse Officials Year-End Awards
At their "Year-End Gathering" the members of the Genesee Valley Lacrosse Officials Association announced their annual Frank Mangione Award for Excellence award winner.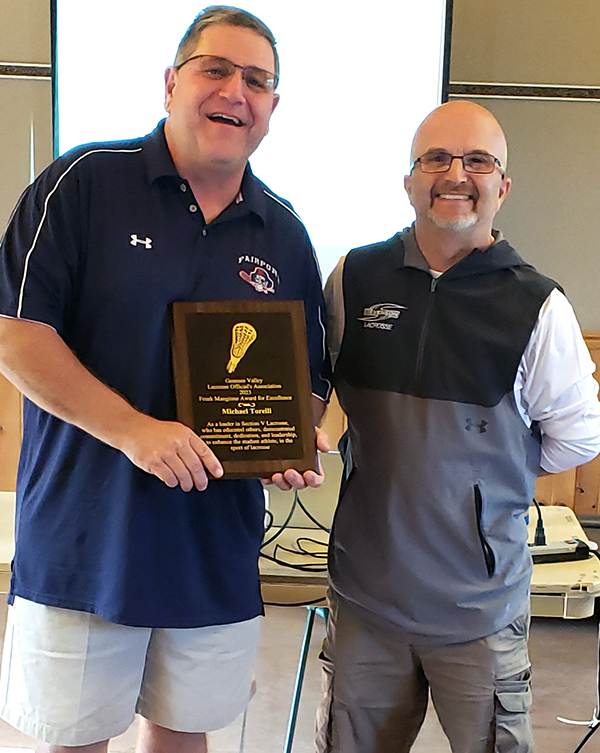 The award is given to a person who has demonstrated the highest ideals of professionalism, leadership, passion and above all, respect for the game of lacrosse at any level both on and off the field. Mangione served in many capacities within the organization for more than forty years.
The award, this year, was given to Mike Torrelli, the long-time Head Coach at Fairport. A 1982 graduate at Webster Thomas, he went on to study and play at Ithaca College before ending up at Fairport in 1990. For a number of years, he was an assistant coach to Randy Garrett before taking over as Head Coach in 2004. Since then, his teams have won six Section V titles and been to the New York State finals twice. Earlier this year he won his 250th game with the Red Raiders.
Rob Cantabene presented Mike with the award, speaking about his professionalism, his constant support to officials and to GVLOA.
In his acceptance remarks, he spoke about relationships, the many mentors who have helped him along the way, and how it is important for him to pass the help along to others.
Mike Simon, Coordination of Section V boys Lacrosse and his assistant Paul Wilson then made a new presentation, the Section V Official of the Year. This award, at the suggestion of Penfield Head Coach JJ Schembri, is selected by the Head Coaches of the section. Each league makes nominations and the group, as a whole, votes for the recipient.
Mike Simon made the presentation to long-time official and area rules interpreter, Scott Maloney. "This award is special to me", said Simon. The award "honors those who have a strong work ethic, knowledge of the rules of the game, and is a positive role model. The recipient is honored for their dedication to the game, their outstanding personal accomplishments as recognized by the Coaches of Section V boys lacrosse.
Scott spoke about losing his senior year of college lacrosse in order to complete his student teaching at Waterloo High School, where a new Head Coach, Mike Simon, hired him as an assistant. A tough sideline coach, an official once told him, "If you can do better, why not become an official?" He did and over the many years after has wondered why he didn't do it sooner. We are a brotherhood and I have made great friends. Thanks for this honor."
After dinner Al McLiverty asked for help from officials at the annual Shootout for Soldiers at Canandaigua. President Jim Malloy recognized six new first year officials and four returning second year officials.
The "Iron man Award" was given to Sean Wright for having officiated the most games this season (32). Long-time official Pete McCabe had 29 games.
The "annual report" for the organization included: 1257 assignments in 2023.