Week in Review - Week 10
EDITOR'S NOTE: This weekly summary touches on some of the games played in the recent past and highlights some games of interest in the current week. For more in-depth coverage, click on the DAY OF THE WEEK for more coverage for that day, including box scores, articles, and galleries.
There twenty-five tournament games played last week. There were seventy-two out of section games scheduled they all have been played. Section V teams won 43 and lost 29 (60%). There are no teams that are undefeated at this point.
| | |
| --- | --- |
| Games played last week: 25 | Games played this season: 332 |
| Leagues games played last week: 0 | Out of Section games last week: 0 |
| Mismatched Games (>8 pts): 11 | Close Games (<4 pts): 6 |
| Undefeated teams: 0 | Games scheduled for next week: Championships |
Looking Back
The 2023 Sectional tournaments began on Monday with single out-bracket games in classes B and D. Moving on to the quarterfinals were Haverling who won their game over Midlakes-Red Jacket 7-3 and Churchville-Chili who beat Gates Chili 16-4.
On Tuesday there were seven quarterfinal games today and in Class C the seeds held with Geneva, Pal-Mac and Wayne all advancing to the semi-finals on Friday at Canandaigua. In Class A Hilton #5 won their game with Rush-Henrietta #4 so the Cadets advanced with Pittsford, McQuaid and Penfield.
On Wednesday all of the quarterfinals in classes B and D were won by the higher seeded team except for # 7 Schroeder who, in a very low scoring close game, defeated #2 Canandaigua and moved on to play Spencerport in the semi-finals on Friday. Victor, who beat C-C were set to play Irondequoit, who beat Brighton. In Class D, Aquinas beat Haverling and was scheduled to play Newark who beat Mynderse. Penn Yan beat Bloomfield-Honeoye and was set up to play Marcus Whitman who beat Gananda.
Thursday was a off day.
On Friday in the Class A semi-finals, the top two seeds advanced to the championship round as Pittsford beat Hilton and McQuaid Jesuit defeated Penfield. In the Class C tournament, top-seeded HFL won their game with Geneva and #4 Wayne beat second seeded Pal-Mac 12-5.
On Saturday The teams were complete for Tuesday and Wednesday nights at St. John Fisher University, where the 2023 Section V champions will be determined. In the Class B semi-finals, Irondequoit came out with the first three goals, but Victor came back with the win. In the second game at Pittsford Sutherland, in a close game that was not determined until the fourth quarter, Spencerport defeated Schroeder 6-4, sending the Rangers to their first Sectional finals. In Class D, Penn Yan scored four goals in the first quarter and led at the half 7-3 on their way to a 13-3 win over Marcus Whitman. Aquinas scored four goals in the first quarter and five in the second and led 9-2 at the half.
Looking Ahead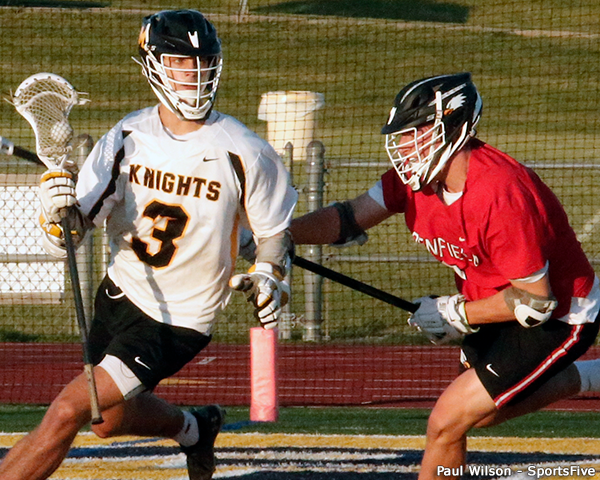 The four Section V tournaments will crown their champions on Tuesday and Wednesday nights at St. John Fisher University.
On Tuesday the first game (5:00) will determine the Class C champion as Wayne (#3) will play HF-L (#1). It will be new territory for new Head Coach John Hanss whose Eagles (14-4) have not played HF-L (13-4) this year who also have a new Head Coach in Eric Goodberlet.

In the second game (7:30), the Class A champion will be determined as second seeded McQuaid Jesuit plays top seeded Pittsford. McQuaid (13-3) has won their last five games. They have not yet won a Sectional Championship and their only appearance in the finals was in 2007 where they fell to Geneva (in Class B). Pittsford (16-2) is no stranger to the finals, finishing second in the last two years and having last won in 2017. The teams did not play during the regular season.
On Wednesday the first game (5:00) will determine the Class D champion as top seeded Aquinas (13-4) will play second seeded Penn Yan (11-7). The teams last met in the finals in 2018 and have played for the Championship five times. The Mustangs won four of those games and Aquinas is the only team that has defeated Penn Yan since 1996. The Mustangs lead the Section in championships with twenty-four.
In the second game (7:30) the sectional tournaments will end with the Class B finals. Third seeded Spencerport (13-5) will play top seeded Victor (16-2). It is the first trip to the finals for the Rangers who lost to Victor 14-4 in April, but the team has had some impressive wins since then including an overtime with against McQuaid and wins against both Webster teams in the tournament. The Blue Devils are still smarting from a 6-5 loss to Canandaigua in last year's semi-finals and are hungry for a championship with their last win in 2019.
All ticketing at the finals is electronic and should be purchased before you arrive at the stadium. The digital ticketing link is: https://gofan.co/app/school/NYSPHSAAV
Check out the times and the whole weekly list on the games page.