Week In Review - Week 9
EDITOR'S NOTE: This weekly summary touches on some of the games played in the recent past and highlights some games of interest in the current week. For more in-depth coverage, click on the DAY OF THE WEEK for more coverage for that day, including box scores, articles, and galleries.
There forty-one games played last week. There are seventy-two out of section games scheduled they all have been played. Section V teams won 43 and lost 29 (60%). There are no teams that are undefeated at this point.
| | |
| --- | --- |
| Games played last week: 41 | Games played this season: 307 |
| Leagues games played last week: 16 | Out of Section games last week: 8 |
| Mismatched Games (>8 pts): 17 | Close Games (<4 pts): 13 |
| Undefeated teams: 0 | Games scheduled for next week: Sectionals |
Looking Back
On Monday There were a couple of interesting results today, starting with an overtime win by Greece over Canandaigua. At Honeoye Falls-Lima, Brighton took a two goal third quarter lead and held on for the 7-4 win. Mynderse had a big win over Batavia-Notre Dame and McQuaid Jesuit had a 10-8 win over St Joes.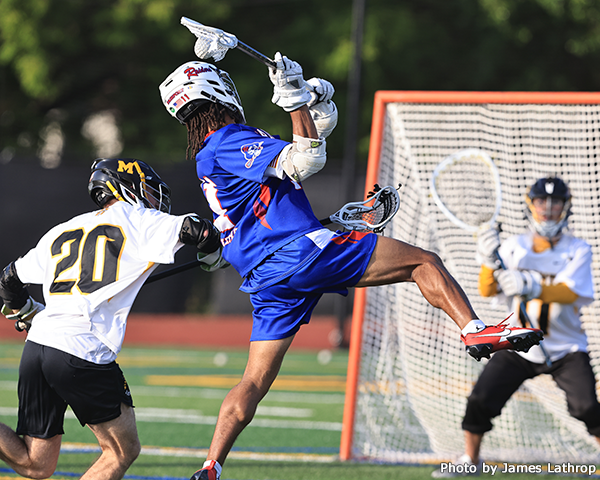 On Tuesday There were fourteen games played and it was the last game of the regular season for some teams. The Blue Panthers held off a fourth quarter surge by the Pride and held on for the 13-12 win. Aquinas, likewise held off a last quarter surge by the Lakers, winning 12-10 and locking up the GRALL title. Thomas won the battle at Webster and Penn Yan had a shutout against Clarence.
There ere no games on Wednesday.
There were four players named Canandaigua National Bank Offensive Players of the Week.Jackson McEnerney (Livonia-Avon) and Rex Kesselring (Pittsford) were the offensive honorees and Blake Dunton (Marcus Whitman) and Thomas Kirnie were the defensive Players of the Week.
On Thursday A four goal streak gave the Knights a 7-6 win over visiting Fairport. HF-L had a big win against Rush-Henrietta. Penfield beat Hilton and Canandaigua, in yet another low scoring game was the 3-2 winner at Thomas. The Saints had and exciting 9-8 win at Greece and Gananda won a 15-13 game against Kearney.
Friday was another off day.
On Saturday the golf event at Oak Hill was not the only program inconvenienced by the hard rain all day. The last six games of the regular season were played today. Bloomfield-Honeoye won their game with Brockport in "sudden victory". The Storm won their game with Gates Chili 9-4 and HFL beat Churchville-Chil 17-10, but the four other games were mismatched.
Looking Ahead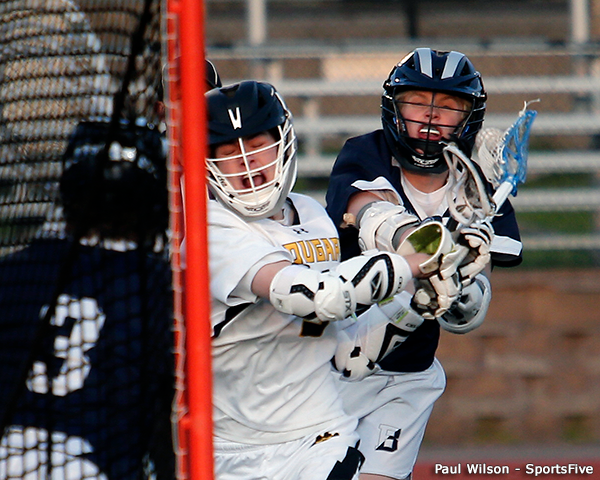 The four Section V tournaments start this week and by Saturday night, the finalists will be known.
On Monday there are out bracket games for Classes B and D. Gates Chili (#9) will play at Churchville-Chili (#8) in Class B. and the winner will play Victor (#1) on Wednesday. Midlakes- Red Jacket (#9) will play at Haverling (#8) and the winner will play Aquinas (#1) on Wednesday.
The Class A and Class C tournaments start on Tuesday with quarterfinals at the higher seed. In Class A East United-Eastridge is a Pittsford, Hilton is at Rush-Henrietta, Greece is at McQuaid Jesuit and Fairport is as Penfield.
In Class C Livonia is at Geneva, Batavia-Notre Dame is at Pal-Mac and Brockport is at Wayne.
On Wednesday, there are quarterfinal games for Classes B and D. In Class B, Victor (#1) plays one of the Chili teams. Brighton plays at Irondequoit, Schroeder plays at Canandaigua and Thomas is at Spencerport. In Class D, Aquinas (#1) plays Haverling or Midlakes, Mynderse is at Newark, Bloomfield is at Penn Yan and Gananda is at Whitman.
Thursday is a day off for all teams.
The semifinals start on Friday night with Classes A and C. The Class A teams will play at Victor at 5:00 and 7:00. The Class C teams will play at the same times at Canandaigua. On Saturday morning the Class B semifinals will be at Pittsford Sutherland high school at 11:00 and 1:30. The Class D teams are playing at Geneva at 11:00 and 1:30.
The Championships are at St. John Fisher University on Tuesday with Class C at 5:00 and Class A at 7:30. On Wednesday the Class D championship will be at 5:00 and the Class B Championship will be at 7:30.
Check out the times and the whole weekly list on the games page.