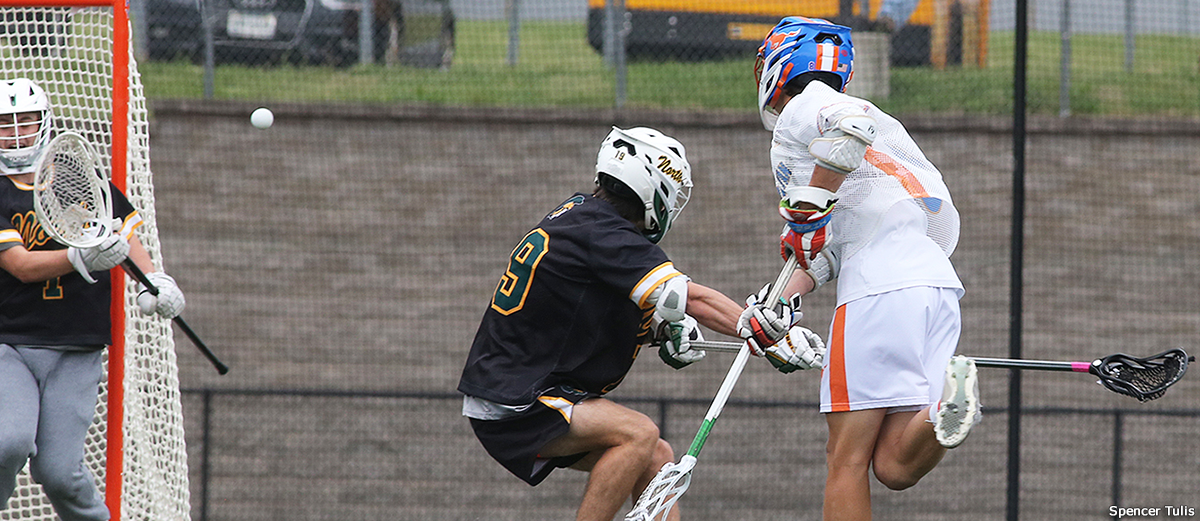 Saturday: Last Day of Regular Season - Rain
DAY IN REVIEW: SATURDAY - The golf event at Oak Hill was not the only program inconvenienced by the hard rain all day. The last six games of the regular season were played today. Bloomfield-Honeoye won their game with Brockport in "sudden victory". The Storm won their game with Gates Chili 9-4 and HFL beat Churchville-Chil 17-10, but the four other games were mismatched.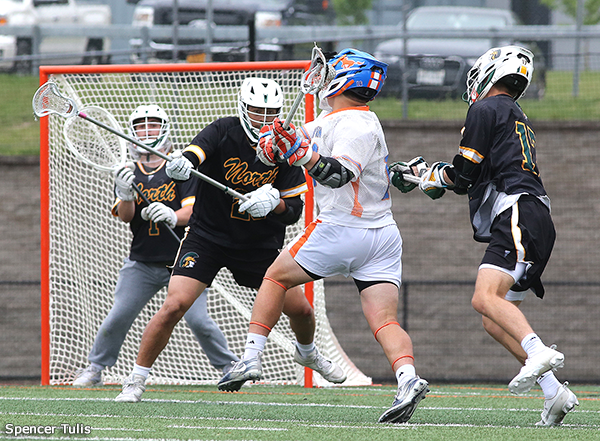 HFL-17 at CHURCHVILLE-CHILI-10 - A run of five goals in the bottom of the second and top of the third quarter gave the Cougars an 11-5 lead that was too much for the Saints to overcome. Contributing to the scoring for HFL (12-4) were 8th grade attackman Grady Goodberlet (5g-4a), junior attackman Chase Perryman (4g-5a), sophomore midfielder Mathew Brassie (2g-2a), and sophomore midfielder Quinn Kailbourne (2g). Junior defenseman Ben Cook scored his first Varsity goal and Kailbourne reached his 50th goal in the game. Facing off was Drew Angelo with 24+/5- = 83%. Churchville will host Gates Chili in the first round of the tournament on Monday.
Scoring for Churchville-Chili (3-13) were junior attackman Colin Duncan (3g), freshman attackman Jaxon Leonard (3g), senior face off midfielder Brock Osborne (1g-2a), junior attackman Dominic Hoch (2g), and senior face off midfielder Sean Levey (1g). [ BOX SCORE]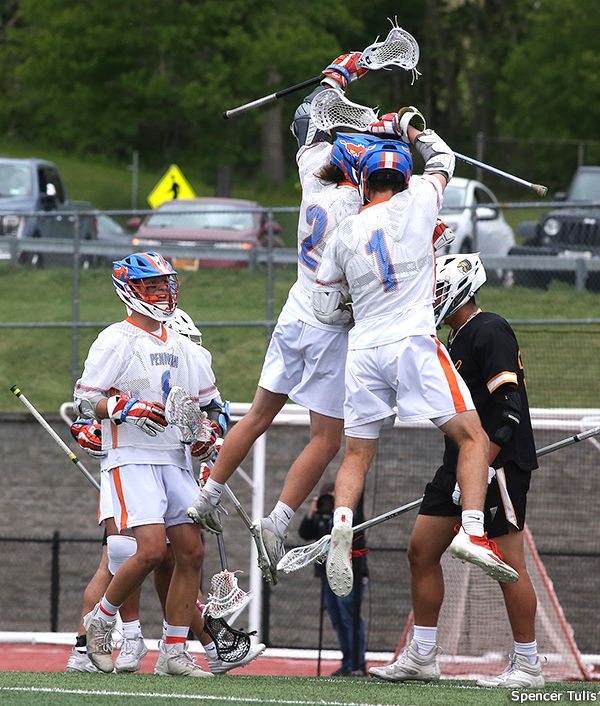 BROCKPORT-6 at BLOOMFIELD-HONEOYE-7 in overtime - Sophomore attackman John Blair (3g-1a) scored the overtime game winner for Bloomfield-Honeoye with an assist from Liam Roach with 0:27 left in overtime. Others scoring for Bloomfield-Honeoye (6-10) were Jonathan Nelson (2g-2a), Caleb Beadnell (2g), and Liam Roach (2a). Facing off for Bloomfield-Honeoye was sophomore Cody Whittaker with 14+/1- = 93% and in the goal was sophomore Ethan Stoddard with 8s/6ga = 57% (52 mins). There was no report from Brockport (4-10) at post-time. [ BOX SCORE]
WILLIAMSVILLE NORTH-2 at PENN YAN-13 - Penn Yan scored six unanswered first quarter goals on their way to a 13-2 win against Williamsville North. Leading the scoring for Penn Yan (9-7) were Braden Fingar (5g-2a), Carter Earl (3a), Bryant VanHousen (2g-1a), Teagan Fingar (2g-1a), and Caden Dixon (2g-0a). In the goal for Penn Yan was sophomore Will Thompson with 7s/2ga = 78% (44 mins), and freshman Aiden Griffiths with 1s/0ga = 100% (4 mins). The Mustangs will host Bloomfield-Honeoye on Wednesday. There was no available information for Williamsville North (12-3) at post-time. [ BOX SCORE]
GREECE STORM-9 at GATES CHILI-4 - The Storm posted a8 8-0 halftime lead and then took their foot off the pedal in the second half. Leading the scoring for Greece Storm (7-9) were Aiden Early (3g), Evan Roesser (3a), Andrew Hill (2g), and Matthew Ranalletta (1g-1a). Facing off for Greece Storm was Eric Odell with 11+/2- = 85%, and Carter Fabian with 2+/1- = 67%. In the goal for Greece Storm Jonathan Bucciarelli made 9s/4ga = 69% (48 mins).
Scoring for Gates Chili (2-14) were senior attackman Andrew Hewitt (1g-1a), junior attackman Owen Curley (1g), senior midfielder Giovanni Buonomo (1g), sophomore midfielder Oliver Sunday (1a), and junior attackman Quentin Cato (1g). [ BOX SCORE]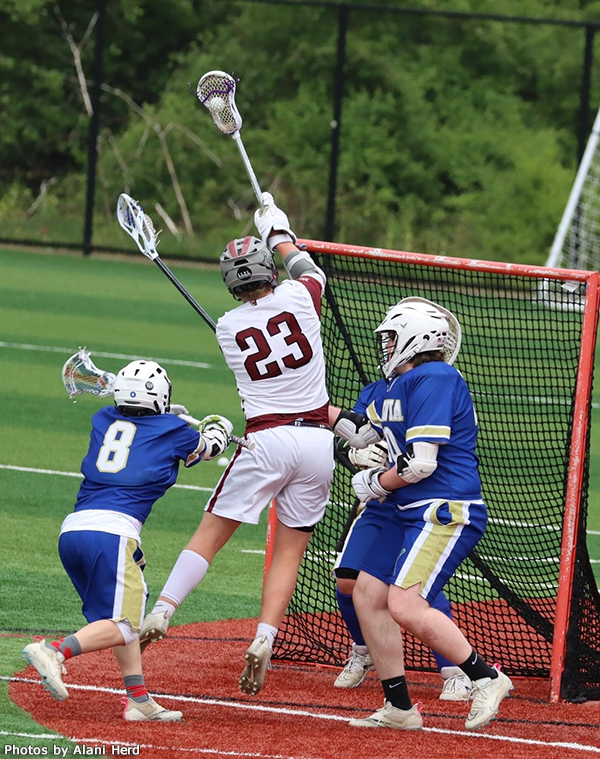 BATAVIA-NOTRE DAME-1 at NEWARK-20 - Thirteen different players scored goals for Newark (10-6) including Preston Steve (4g-7a), Sam Underhill (2g-2a), and Blake Steve (2g-1a). Sophomore defenseman Talen Kanaley, junior midfielder Kellen Foster, and junior defensive midfielder Giancarlo Colon scored their first Varsity goals and in the goal Carter Bumpus made 1s/0ga = 100% (36 mins). Newark will host Mynderse on Wednesday.
Scoring for Batavia-Notre Dame (1-15) were senior attackman Ryan Hamilton (1g), and senior attackman Cooper Hamilton (1a). Freshman goalie Branden Flanagan reached his 100th save with his 12s (now 105svs). [ BOX SCORE]
SALAMANCA-16 at HAVERLING-6 - Senior midfielder Zach House scored his first Varsity goal for the Rams who will host Midlakes-Red Jacket on Monday in the out bracket round. Others scoring for Haverling (2-13) were sophomore A/M Gavin Price (2g-1a), freshman A/M Drew Spears (1g-1a), and freshman midfielder Zach Colegrove (1g). In the goal for Haverling was freshman McLane Stermole with 20s/16ga = 56% (48 mins). There was no information available for Salamanca (9-7) at post-time. [ BOX SCORE]