Week In Review - Week 5
EDITOR'S NOTE: This weekly summary touches on some of the games played in the recent past and highlights some games of interest in the current week. For more in-depth coverage, click on the DAY OF THE WEEK for more coverage for that day, including box scores, articles, and galleries.
There forty-five games played last week. There are seventy-four out of section games scheduled and 39 have been played. Section V teams have won twenty-three and lost sixteen (59%). There are still two teams that are undefeated at this point and they will play each other on Tuesday: Canandaigua (8-0) and HF-L (6-0).
| | |
| --- | --- |
| Games played last week: 45 | Games played this season: 135 |
| Leagues games played last week: 8 | Out of Section games last week: 11 |
| Mismatched Games (>8 pts): 20 | Close Games (<4 pts): 13 |
| Undefeated teams: 2 | Games scheduled for next week: 48 |
Looking Back
On Sunday Aquinas won their rare Sunday game against Canisius.
On Monday HF-L was off to a great start at 5-0 after their win against East Aurora (Section VI). Chase Perryman scored his 100th goal in the game. Gananda controlled their game with Bishop Kearney who had their season opener.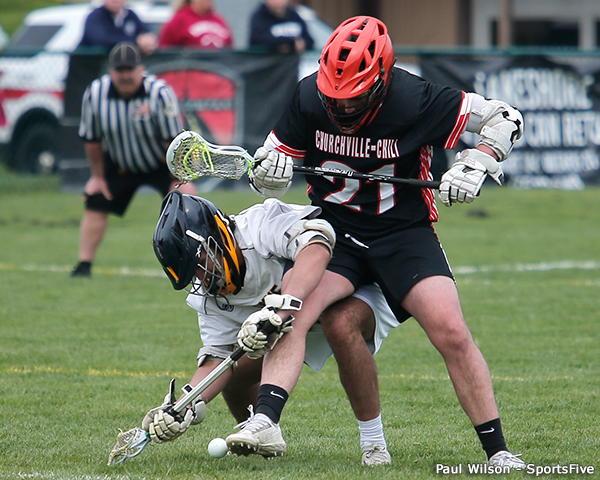 On Tuesday Although the majority of games ended in mismatches, there were a couple of exciting games. Topping the list was Canandaigua's 4-3 win at Brighton. Pittsford took an early lead and then never gave it up in the 8-6 win over visiting Irondequoit and Spencerport held Fairport scoreless in two quarters in their 7-3 win at home. Penfield scored four unanswered goals in the first quarter and then coasted to their 11-7 win over visiting Schroeder.
Canandaigua attackman Sean Olvany was named the Canandaigua National Bank Offensive Player of the Week and Hilton goalie Jason Mosher was named Defensive Player of the Week.
On Wednesday the Blue Panthers took the first quarter 2-0 and led at the half 3-1was defeated Waterloo.
On Thursday there was only one close game out of the twelve played today and Gates Chili used three overtime periods to get their first win of the season, Canandaigua handed Orchard Park their first loss of the season with their 12-6 win. Aquinas was a winner at Schroeder and Marcus Whitman had a win when they played Newark.
There were no games played on Friday.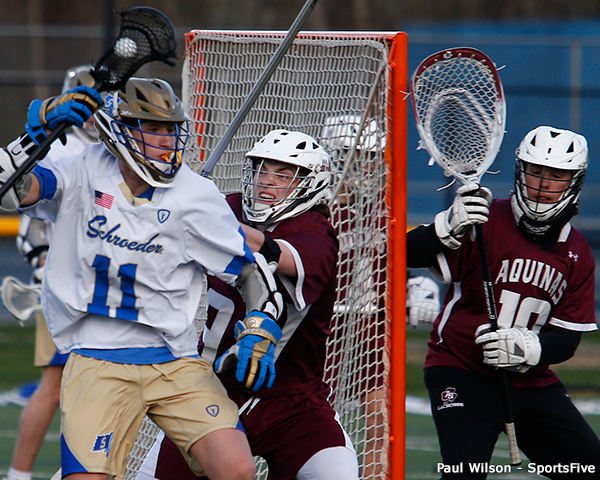 On Saturday Victor had a statement game with their 16-11 win over visiting JD. Irondequoit defeated Hilton, and McQuaid beat Brighton.
Looking Ahead
It is hard to believe it, but the regular season is hard over. There are both important league games and some interesting non-leagues games scheduled for this week.
There are two games scheduled for Monday. Pal-Mac is playing Wilson (Section VI) who are 1-6. Bloomfield-Honeoye is at Waterloo. Both teams are 1-3 in Finger Lakes competition and are looking for the win.
There are fourteen games set for Tuesday with many games that should be good ones. Perhaps the most interesting will be Canandaigua at HF-L. The Cougars and the Braves are the last two undefeated teams in the Section and after the games there will ne only one. Other games of interest include Hilton at R-H, Geneva at Marcus Whitman, McQuaid at Irondequoit, and Gates Chili at Thomas.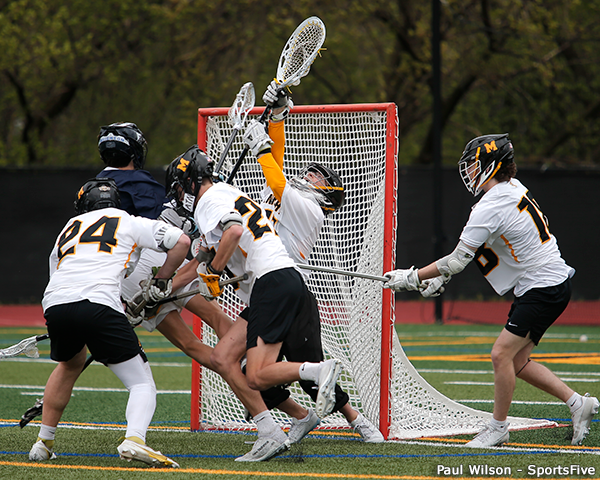 Haverling is at Penn Yan and Livonia-Avon is at BK on Wednesday.
On Thursday there will be lots to see as you pick between fourteen games. Some interesting ones include Brighton at Fairport, Penfield at East United-Eastridge, Newark at Mynderse, Spencerport at Victor, Hilton at Schroeder and Pal-Mac at Gananda.
On Friday, Marcus Whitman is at Nichols (Section VI).
The week finishes on Saturday with fifteen games including Batavia-Notre Dame Midlakes-Red Jacket and HF-L at Livonia-Avon. Baldwinsville will be at Canandaigua, Penfield is at Orchard Park and Don Bosco Prep (NJ) is at Victor,
Check out the times and the whole list on the games page.