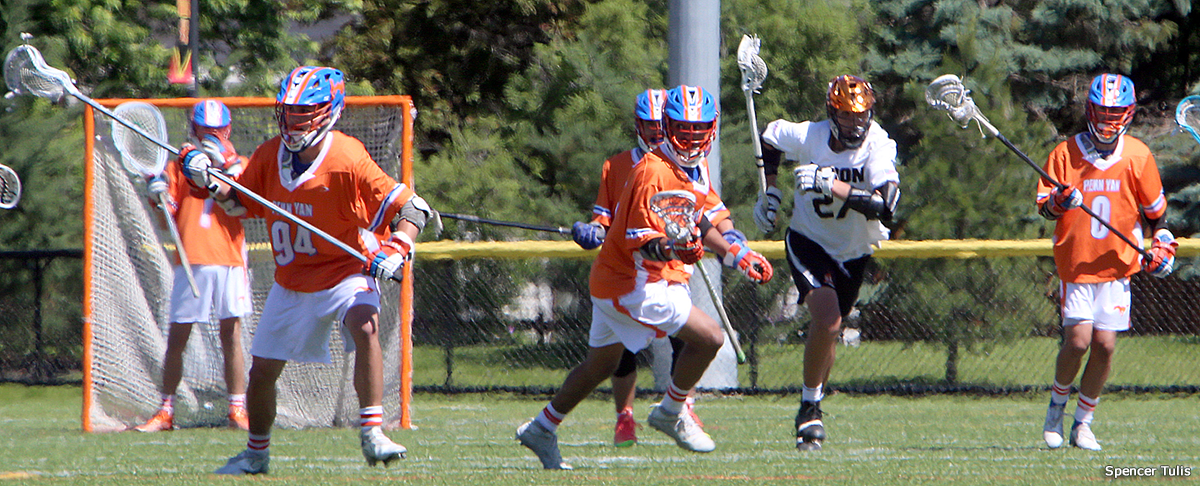 Fairport and CA to Semi Finals
Two Section V teams are moving on to the NYS semifinal games in Cortland on Wednesday. Fairport won their game against Clarence 17-4 and Canandaigua won a close 6-5 game against Hamburg. Penn Yan had a 12-11 loss to Akron and Pal-Mac fell to Lake Shore 10-4.
AKRON 12 - PENN YAN 11 - NYS REGIONALS - After a 2-2 first quarter, The Mustangs scored two in a row, taking a 4-3 lead on goals by Carter Earl and Teagen Fingar, but the next four came from Akron as Brale Abrams scored two and Travis Fry scored two. The half ended with the Tigers went into the break up 6-4.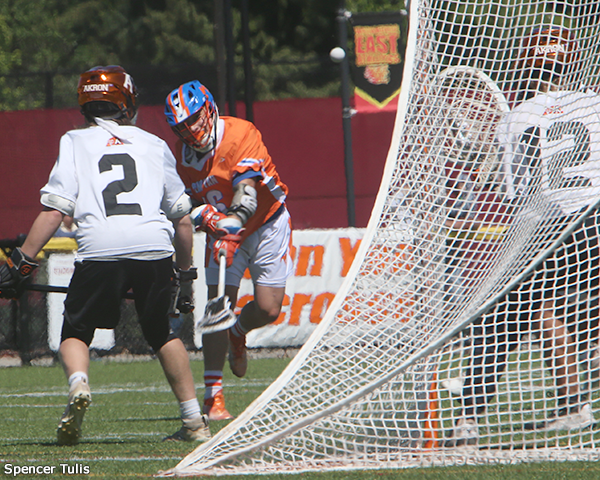 Tukker Fisher scored on a wing pass from Oliver Connelly in the first minute of the third quarter and two minutes later Teagen Fingar scored on a pass from his brother Braden and the game was tied at 6-6. Trace Hill scored on a loose ball on the crease, but Caden Dixon scored on a clearing pass from Earl and the teams were tied again. Dixon was on fire, producing two more goals and then the Mustangs took a 10-7 lead with a goal from Bryant VanHousen in man up at 4:08. Fry would not give up as he produced two goals in a just under two minutes, taking the score to 10-9. With 0:18 VanHousen scored after an outside dodge and the third quarter ended with the Mustangs up 11-9.
The last quarter belonged to the Tigers as Abrams scored three unanswered goals, the last with 1:05 left in the game. His last two goals were assisted by Fry who was dominate throughout the game. Although Penn Yan had one last set with just under one minute, they were unable to get a shot on the cage. Akron will play Chenango Forks (IV) on Wednesday at Cortland (3:00 PM). Stats were unavailable for Akron at post time. [BOX SCORE] - - More images in the photo gallery.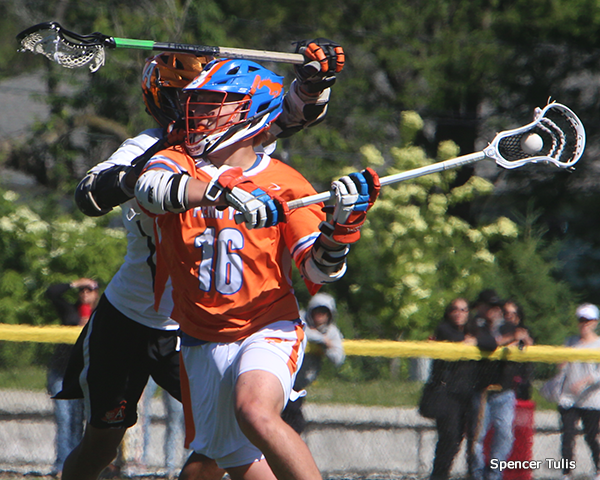 CLARENCE 4 - FAIRPORT 17 - NYS REGIONALS - The Red Raiders scored six unanswered goals in the first quarter and then cruised to the victory with fifteen different players making the offensive scorebook. Jackson Monte led the scoring with 2g-2a and Kyle Gould and Bobby Cameron both had 3g. Joey Giggie won 11 of six faceoffs and McLean Ralston made 5s (83%) in 29 mins. The Red Raiders will play Baker (III) at 4:00 PM in Cortland on Wednesday. Stats were unavailable for Clarence at post time. [BOX SCORE]
LAKE SHORE 10 - PAL-MAC 4 - NYS REGIONALS - Although Lake Shore senior Joiise John scored the first goal of the game, Pal-Mac took a 2-1 lead in the first quarter with a goal from Quinn Nolan and another from Mike Halsey. Early in the second, Jaden Kennedy scored for the Eagles for a 2-2 tie. Logan Babcock scored on a sidearm to the top right corner after receiving the ball from Riley Lich at 8:00. Keagan Hoesterey scored with 0:10 left in the half with an assist from Babcock and the Red Raiders had a 4-2 lead at the break. That was the end of the scoring for Pal-Mac as the Eagles scored five goals in the third quarter and three more in the last quarter. Lake Shore will play Westhill (III) on Wednesday at 6:30 PM. Stats were unavailable for either team at post time. [BOX SCORE]
HAMBURG 5 - CANANDAIGUA 6 - NYS REGIONALS - In another close game, the Braves held off a two goal surge in the last quarter to earn their ticket to the semifinals. The Bulldogs scored the first two goals and led 2-0 at 6:18. Junior midfielder Larry Voss scored at 7:48 on a fast break clear and a pass form senior attackman Carson Kummer and a minute and a half later Josh Gregoire dodged from the left and scored. At 3:09 the Braves started their scoring run with a front to back feed from Jaxon Grant to Nate Sheridan. Two minutes later Elliot Morgan tied the game at 2-2 when he scored with a sidearm shot from distance. With 0:09 Dom Gullace scored on an outside shot to give the Braves a 3-2 lead after twelve minutes.
Hamburg tied the game at 3-3 with a sweeping shot from senior Dylan Collins, but Canandaigua returned with two goals by Grant, one of which was assisted by Morgan. The Braves went into the halftime break up 5-3.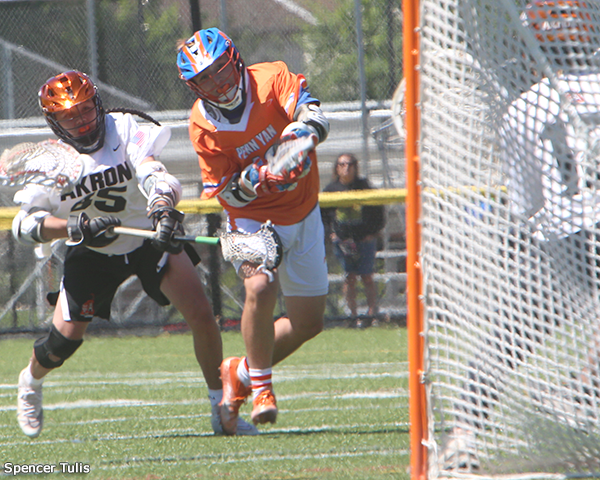 There was no scoring in the third quarter. Hamburg has been playing two goalies this year and Lukasz Barmosz who made 5s (50%) in the first half was replaced by junior Derek Benningfield in the second half. That worked out well for the Bulldogs as Benningfield made five great saves in the third quarter. Canandaigua had a couple of man up opportunities in the third, including one two-man down period but was unable to score on the hot goalie.
The Braves took a 6-3 lead in the first minute of the last quarter when, after winning his faceoff, Luke McCrobie picked up the ground ball and took it behind the cage where he dodged his faceoff middie and scored. That was the last goal for Canandaigua as the ball went up and down the field. Devin Collins scored for Hamburg on a dodge from out front at 8:45 taking the score to 6-4 and at 3:50 Dylan Collins scored again on a face dodge. There were a number of tense moments in the last three minutes but, with the help of of an man-up opportunity with 0:21 left, the Braves held on for the win. Canandaigua will play West Genesee (III) at 5:30 on Wednesday at Cortland. Stats were unavailable for either team at post time. [BOX SCORE]