Tuesday - Rangers Win in 3OT
DAY IN REVIEW: TUESDAY - Thirteen games were played and topping the list was Spencerport who played three overtime periods for their win at Rush-Henrietta. Pittsford defeated CA 7-2 and Gananda had a 9-8 win over Mynderse.
MIDLAKES-RED JACKET 6 - WATERLOO 13 - Jordan Kraft had 2g-5a and Scott Verdehem added 3g-2a for the Blue Devils. Peter Shangraw scored 5g-1 and won 17 of 19 faceoffs. Waterloo finishes their regular season at 6-10. There was no report from the Eagles at post time. [BOX SCORE]

RUSH-HENRIETTA 15 - SPENCERPORT 16 3OT - After a 6-1 first quarter, Rush-Henrietta scored eight goals before the half and from that point on, the game was back and forth with both teams playing hard lacrosse. There were nine ties in the game.
In the end it took almost three full overtime periods before sophomore attackman Anthony Rodrigues scored the game winner after picking up a ground ball at midfield. He finished with a team-leading 6g-4a. Auston Mandarano added 4g-1a. Rush-Henrietta had a great deal of ball-time as Mike Valent was credited with 29 of 35 faceoffs. Chase Petschke had 4g-3a and Killian Ceci had 4g-1a for the Royal Comets who finished their regular season at 7-8. Spencerport ends their regular season at 10-5. [BOX SCORE] - - More images in the photo gallery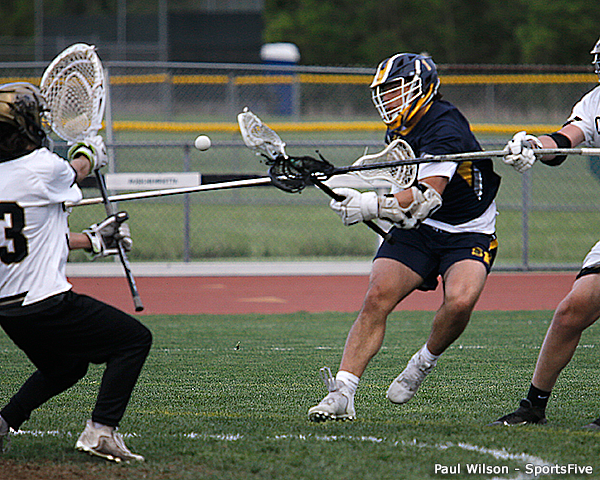 FAIRPORT 17 - GREECE STORM 4 - Kyle Gould had 6g-1a to lead the Red Raiders. Billy Meagher added 1g-3a and Jackson Monte had 3g. Fairport used three goalies who combined for 6s while Joey Gigi won 14 of 16 draws. The Red Raiders will finish their regular season playing McQuaid Jesuit on Saturday. Scoring for the Storm were Andrew Hill (3g) and Matt Ranalletta (1g). Sophomore goalie was credited with 21s (57%) for Greece who have two more games this week. [BOX SCORE]
BLOOMFIELD-HONEOYE 3 - MARCUS WHITMAN 19 - The Wildcats took a 12-3 lead into halftime and then held the Pride scoreless in the second half. Nine players made the offensive book. Leading the list were Tariku Blueye with 3g-3a and Kyle Murphy with 5g. Reiner Ga;;pgly won 12 of 17 faceoffs and Melkamu Blueye won 7 of 7 for Marcus Whitman who will play Gananda on Saturday. JD Allen scored 2g and John Blair scored the other goal for the Pride who have two more games this week. [BOX SCORE]
EAST UNITED-EASTRIDGE 4 - IRONDEQUOIT 19 - Cooper Moore had 4g-3a and Aidan Greco had 3g-3a for the Eagles. Nick Lepiane had 6s (75%) in his half and Sven Habitzreuther had 11s (85%) in his half in the Irondequoit cage. The Eagles will play Penfield on Thursday. There was no report from East United-Eastridge at post time. [BOX SCORE]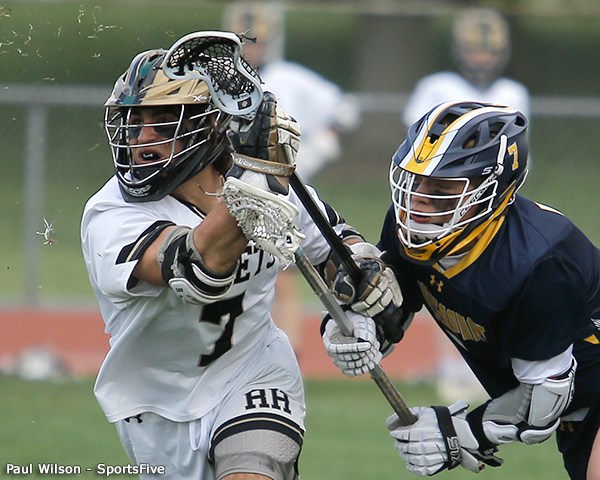 MYNDERSE 8 - GANANDA 9 - Brock Chasey (2g-3a) scored his two goals late in the last quarter to create a time and then win the game with 2:25 left. Drew Smith added 4g-1a for the Blue Panthers who have two more games this week. Mason Buckley led the Blue Devils with 1g-4a. Griffin Fitzgerald added 2g-1 and Dylan Tandle had 2g for Mynderse who also have two games left this week. [BOX SCORE]
HILTON 10 - BRIGHTON 5 - After a 1-1 tie, the Cadets took the lead and never lost it. They led 3-2 at the half and then added six unanswered goals in the third quarter. Aiden Cawley led the scoring with 4g and Cole Loewke added 1g-2 while William Salamone posted 3g. Michale Mitrano won 8 of 10 faceoffs and Jason Mosher made 12s (71%). Hilton will finish their regular season playing HF-L on Friday. Aksel Stanat posted 2g and Cal Oberst added 1g-1a for the Bruins who play Thomas on Thursday. [BOX SCORE]
CHURCHVILLE-CHILI 12 - GATES CHILI 2 - The Saints scored ten unanswered goals before Michael Alley scored for the Spartans. Blake Fennell scored the final goal of the game for Gates Chili and goaltenders Nathan Weise (12s/55%-36 mins) and Thomas Joseph Phelan (5g-71%-12 mins) split time in the goal for Gates Chili who will play Newark on Friday. Colin Duncan led the scoring for the Saints with 4g-2a while Jaxon Leonard had 3g-2a and Brett Seaman posted 2g-3a. Goalie Chris TerHaar made 4s (67%) for Churchville-Chili who finish their regular season at 10-6. [BOX SCORE]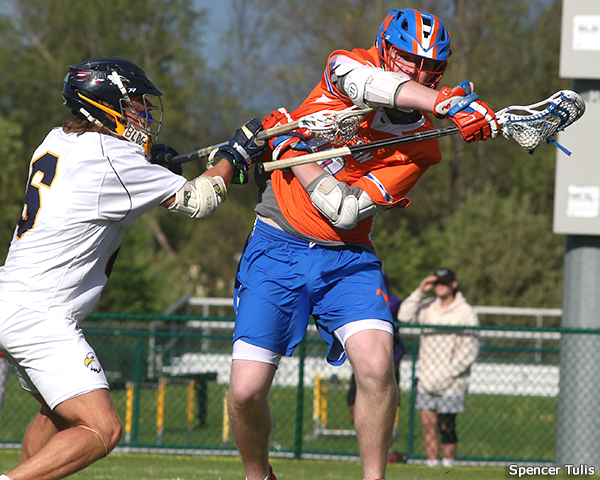 WAYNE 11 - PENN YAN 9 - The Mustangs led at the half 5-4 but the Eagles took off in the second half outscoring Penn Yan 7-4 for the win. Wayne saw 5g-1a from Nate Michel and six others mad the book for the Eagles who will finish their regular season on Thursday when they play the Lakers. Caden Dixon scored 4g and Teagen Fingar scored 3g-1a to lead the Mustangs who will finish up on Saturday against Thomas. [BOX SCORE] - - More images in the photo gallery
PITTSFORD 7 - CANANDAIGUA 2 - Ben Steingass had 3g and Luke Fliss had 3g for Pittsford who finish their regular season at 13-3. Jaxon Grant and Eric Platten scored goals for the Braves who finish their regular season at 11-5. [BOX SCORE]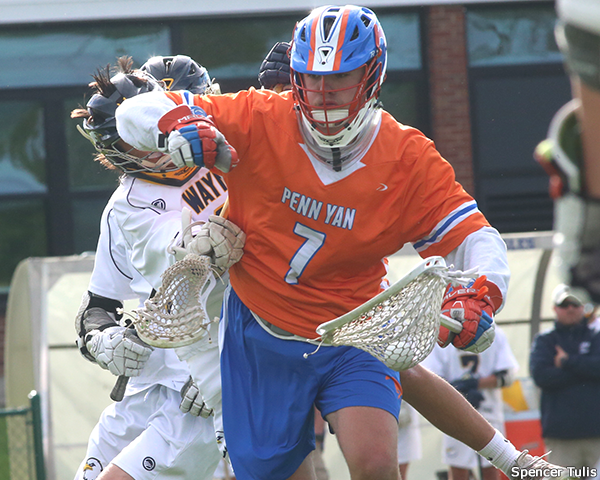 VICTOR 15 - THOMAS 2 - It was all Victor in this game as the Blue Devils held the Titans to six shots on cage while posting twenty of their own. Thomas Gravino had 5g-1a-10gbs and Jack Herendeen had 3g-4a. Sam Ricci won 12 of 19 draws. The win gives Victor an undefeated regular season (16-0) as they wait for the seeding this weekend. Thomas had goals from Reid Doolittle and Chase Gottstein. The Titans (9-5) have two more games scheduled for this week. [BOX SCORE]
PENFIELD 8 - SCHROEDER 5 - The five goals in the second quarter put the Patriots ahead for the rest of the way. Christian Brown had 3g, Sean Smith had 3g-1a and Alec Constable had 1g-2a for Penfield. Seamus Hand recorded 10s (67%) for the Patriots who will play Irondequoit on Thursday. Colton Ugine had 2g and Anthony DeRosa had 1g-2a for Schroeder who finish their regular season at 5-11. [BOX SCORE]
LIVONIA-AVON 9 - BISHOP KEARNEY 5 - Bishop Kearney announced this afternoon that they would not finish their schedule and would not play in the Section V Tournament, so this was their last game of the season. The Lakers had eleven players on the book, led by Jackson McEnerney with 3g-5a and Derrick Wigley with 4g-1a. Goalie Matt Beachel had 5s (56%). There was no stats from Bishop Kearney at post time. [BOX SCORE]
The Honeoye Falls vs Brockport game was moved to Wednesday at 6:30.