Livonia-Avon Looks For More
Livonia-Avon 2022
Class D - GRALL League
There was great disappointment last year, after winning twelve of their last fourteen games the Lakers fell to HF-L in their first championship appearance since 2012. Head Coach John Sciera who started the Livonia team in 2002 and coached there for six years, returned last year and brought with him an renewed vigor and excitement in the Lakers' program.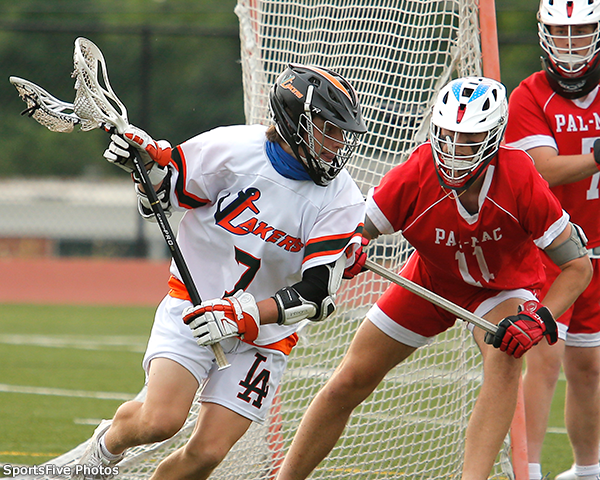 The team was so full of talent last year that although the Lakers lost five players on the offensive books, those five accounted for only 55pts out of the 382 that the team scored in 2021. Gone are Roman Volpe (17g-8a), Brendon Meyers (14g-7a) and defenseman A.J. Miller who had 54gbs and 23 takes.
Last year's leading offensive player, Jackson McEnerney, who led the team in goals, assists and points with 61g-30a is a three-sport athlete in his junior year. Matthew Connor is an A/M who is a six-sport athlete (football, soccer, wrestling, indoor and outdoor track, and lacrosse) and returns after turning in 158 faceoff wins (58%), 194gbs, 21tks and 25g-23a. Senior A/M Justin Skelly returns with 49g-26a and 60gbs and is also a three-sport athlete. He will play at Roberts Wesleyan next year. Skelly and Connor are captains for this year's team.
Senior attackman Derrick Wigley posted 28g-28a as a junior and plays both hockey and lacrosse as does junior midfielder Christian Rumfola who is a defensive middie who scored 13g-12a last year. Shane Malead is a senior midfielder (also a three-sport athlete) who returns with 7g-4a and 50gbs. Junior Matt Beachel and senior Nic Teachout return in the goal this year
Coach Sciera likes his team this year. "This year's Lakers team will be athletic and very competitive. This is a bunch of kids with high character. They are athletes on the field and scholars in the classroom. As a team the Lakers focus will be on the defensive end of the field this year with returners, Matt Beachel (G-11), Jon Crye (D-11), Owen Wetterings (D-10), Colby Percey (D-12). Newcomers Austin Randolph (D-11), and Mike Neckers (D-11) will all compete to shore up the Lakers defense."
Livonia-Avon plays a GRALL schedule this year and have schedule numerous games with other Class D teams. They will, most likely, be on the winning side of many mismatches this year, but will test themselves with Haverling, HF-L, and Pal-Mac.
Head Coach
John Sciera 3rd year 14-5 (previous at Livonia 61-53)
Assisted by - Mark Rumfola
Some Key Players
Matthew Connor (12-A/M), Justin Skelly (12-A/M), Derrick Wigley (12-A), Shane Malead (12-M), Jackson McEnerney (11-M/A), Christian Rumfola (11-M)
Key Games
GRALL match ups vs. Haverling and Aquinas and non-leagues vs. McQuaid, Hilton, HF-L
See other stories as they are posted: Class A - Class B - Class C - Class D