Penn Yan Looks for Number 26
Penn Yan 2022
Class D - Finger Lakes League
The Mustangs have won twenty-five Section V championships and have only lost one time since 1999 and given the losses to graduation and general youth of the team this year, winning the twenty-sixth will be a challenge.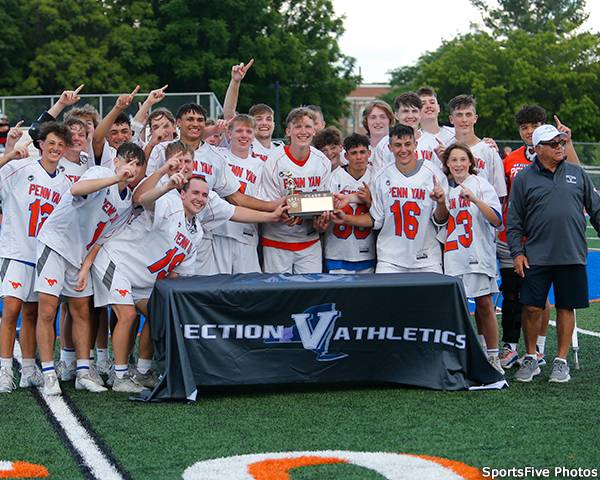 But we are talking about Penn Yan and youth, inexperience, and size does not play the same way in Penn Yan as it does in the rest of world. The coaches know how to win, they know how to prepare, and they know how to motivate. It is not a surprise that so many head coaches in the section pick the Mustangs to win again this year.
That being said, they did lose some talented players to graduation. Gone are All-American and Finger Lakes Player of the year Ayden Mowry (72g-18a), Finger Lakes Midfielder of the Year Mekhi Mahan (28g-12a), Finger Lakes Defenseman of the year Tyler Griffin and Section V MVP Max Broadman (48g-15a). Also gone are Devon Gerhardt (AM - 1st team), Mason Kuver (D - 1st) and Defenseman Kyler Lloyd. The graduated seniors posted 71% of last year's offense.
Carter Earl returns to the midfielder after scoring 18g-25a) as a sophomore. The Fingar family is represented for the fifth time as freshman Teagan joins the attack. Junior Anthony Druker is back in the defense and Griffin Emerson returns after making 85 saves (65%) last year.

Head Coach
Brian Hobart 19th year 270-90
Assisted by Harry Queener and Chris Redington
Some Key Players
Griffin Emerson (12-G), Carter Earl (11-M), Teagan Fingar (9-A) and Anthony Druker (11-D)
Key Games
The Mustangs will have interesting games in the Finger Lakes League including Geneva on 4/21, Pal-Mac on 5/12 and 6/17. They always look forward to playing Canandaigua who they visit on 4/16. The Mustangs have out of league games with Carthage, Fairport, Haverling, Clarence and Thomas.
See other stories as they are posted: Class A - Class B - Class C - Class D