Next Up for Terry Corcoran: Aquinas
The new Head Coach at Aquinas is the former Head Coach at McQuaid Jesuit. Terry Corcoran has taken over the L'il Irish team from Pat Olbrich who led the team from 2018.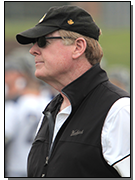 Aquinas was 8-7 last season, losing to Haverling 15-5 in the Class D quarterfinals.
Coach Corcoran led the Black Knights for three years with a record of 32-16. He was the GRALL Coach of the Year in both 2018 and 2019. A three-time All-American at Hobart, he helped Hobart win NCAA Championships in 1976 and 1977. He coached at Washington College, Penn, Skidmore and Elizabethtown where he was one of the winningest coaches in Division III history with 273 career wins. He is a member of several Hall Fames include the Rochester Chapter of USA Lacrosse.
Although Aquinas graduated eight seniors in 2021, including leading scorer Joey Sciortino (35g-11a, take-away specialist Alexander Kelsey and goalie Gavin Conlan (57%), Coach Corcoran had lots of key players returning including, assist leader Ryan Firmstone (24g-20a) and Angelo Palumbo (27g-14a) who also won 117 draws (60%).