Semi Finals: Thomas Over Victor - Pittsford Over McQuaid
Saturday: DAY IN REVIEW: Just like yesterday, two top seeds won and two third seeds beat second seeds. Pittsford was down 9-3 before scoring six goals in the final quarter and forcing two overtime periods to defeating McQuaid 11-10. Thomas scored early and kept the Blue Devils behind on their way to a 10-7 win in Class B. Fairport came back from a 5-3 half, scoring seven goals in the third quarter to punch their championship ticket with an 11-6 win over Hilton. Canandaigua scored six unanswered goals in the first half and finished 8-3 over Penfield. On Tuesday it will be Pittsford at Fairport in Class A and Thomas at Canandaigua in Class B.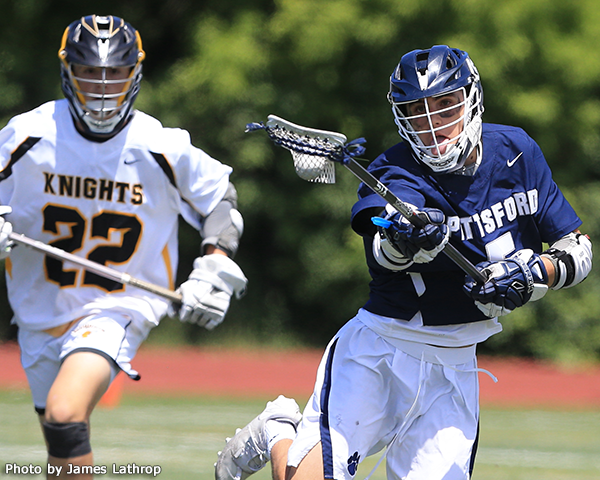 McQuaid Jesuit (#2) started the game with a 5-1 first quarter and led 7-2 at the half, but after being down 9-3 at the start of the last quarter, Pittsford scored seven goals to force overtime at 10-10. It took the second overtime period before sophomore attackman Quinn Whipple scored the game winner sending the Panthers to the championship game. There were no reports from Pittsford or McQuaid at post time. [BOX SCORE] More images are available in the gallery.
Canandaigua scored the first goal and then then next six before Penfield had their own run of three goals. Cam Tallman scored the last of his four goals to end the game with the Braves up 8-3. Tallman had 4g-1a, Jaxon Grant had 3g and Sam Bennett had 1g-2a for Canandaigua (16-1). Sophomore goaltender Jack Faiola made 3s/3ga (50%). Faceoff specialists Luke McCrombie (CA) and John Richiusa were and even match with Richiusa winning 8/14. Alec Constable scored two goals for the Patriots (12-4) and in the cage, Seamus Hand made 8s/8ga (50%) for Penfield. [BOX SCORE]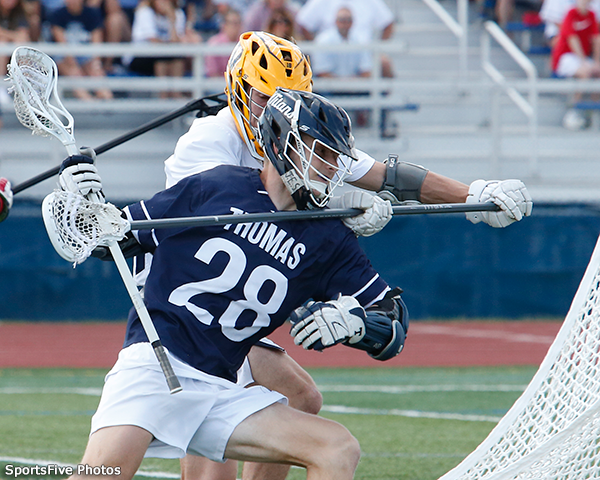 Thomas scored first and held the lead throughout their semi-final game at Victor. The second goal for the Titans was scored when senior goalie Ethan Ruller ran from his cage, all the way to the other cage and posted a one-on-one goal against Victor goalie Zach Pavia. Thomas led at the half 5-1 and although the Blue Devils stayed within range, scoring four goals in the third, they could not make up the difference. Titan scoring came from all over the field with five different players scoring at least two points and Ruller made 7s/7ga (50%). Cade Spencer led the pack with 3g-1a while Nathan Hoban has 3a. Likewise, Victor`s scoring came from six different players including sophomore M/A Thomas Gravino who had 2g as did senior midfielder Alex Seiler. Face off specialist Logan Callahan won 16/21 faceoffs and will end his season with 242 wins (86%) for the Blue Devils. Thomas moves on and will play at Canandaigua on Tuesday. [BOX SCORE] More images are available in the gallery.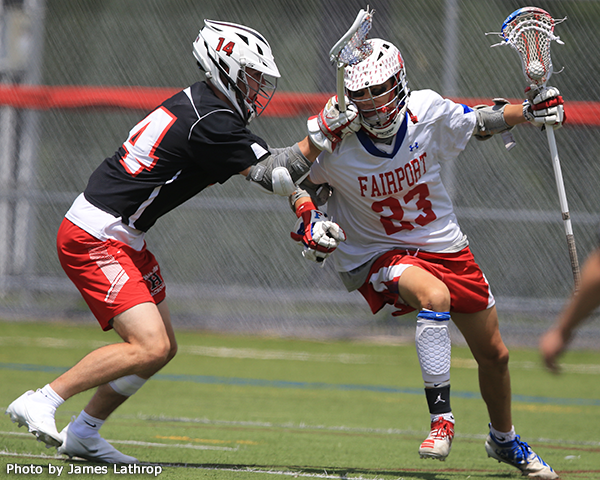 Hilton scored first and built up a 5-3 lead at the half, but Fairport had a big pep-talk at the halftime break and came out with seven unanswered goals in the third quarter before taking the 11-7 win. Key to victory was the faceoff work of Joey Giggie who won 18/20 draws for the Red Raiders. Sophomore A/M Jackson Monte sparked the scoring with 4g-2a. Rob Crowley added 2g-1a and six others made the scorebook. Senior middie Brendon Bostley led the scoring for the Cadets with 3g. [BOX SCORE] More images are available in the gallery.