Quarter Finals: From Thirty-One to Sixteen
Wednesday: DAY IN REVIEW: The quarter finals were played today, and there were fourteen winners and fourteen teams that ended their seasons. Following the season trend, almost all were mismatches with only the Irondequoit at Thomas game close, for most of the game. As expected, all the higher seeded teams won today and the top four seeded teams are now set for the semifinals.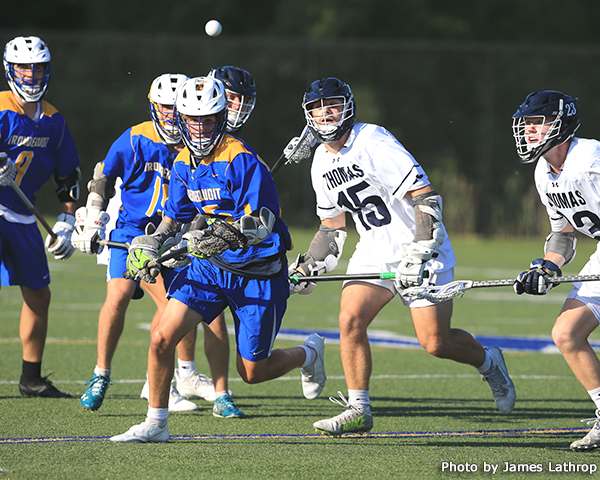 Irondequoit came right out of the box and ready to play, scoring the first three goals, but David Petz scored two of his 4g and Ronnie Garrow added another to leave the teams tied at 3-3 at the end of the first quarter. Thomas took off in the second quarter outscoring the Eagles 4-1 and that three-goal difference at the half was enough for the Titans to win 11-8. The second half saw the teams scoring at both ends of the field but when the score was 7-8 for the Titans, they scored three goals in a row to take final control. Spencer Cade score three goals for Thomas. Noah Gibson led the scoring for Irondequoit with 3g-1a and Ronnie Garrow had 2g-1a for the Eagles who finish their season at 7-9, Thomas (13-1) moves on to the semifinals at Victor on Saturday. [BOX SCORE] More images are available in the gallery.
Gananda finished their 6-11 season with a 21-5 loss to Pal-Mac tonight. Brock Chasey scored 2g for the Blue Panthers. There was no report from Pal-Mac at post time, but the Red Raiders will play at #2 Marcus Whitman on Friday. [BOX SCORE]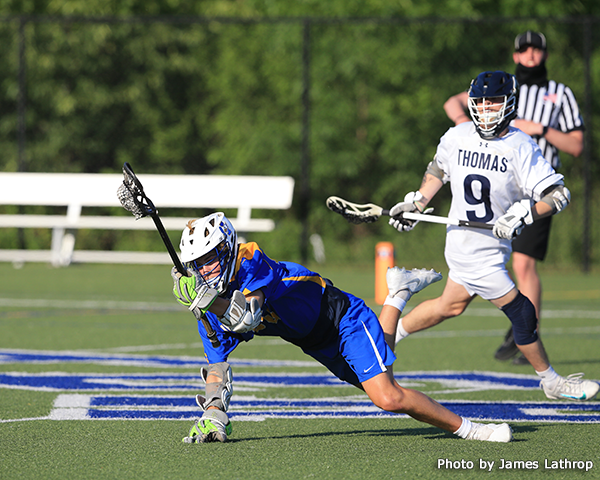 Pittsford scored early and often as they took an 11-2 halftime lead to a 16-7 win against Rush-Henrietta tonight. James Cook had 5g and Harrison Cross had 3g-2a to lead the ten players who made the offensive book. Killian Ceci scored 3g and Chase Petschke had 2g-1a for the Royal Comets. The pair of juniors will return next year with a combined 65g-43a. Mike Valent won 15/23 faceoffs for R-H who end their season at 6-9. Pittsford moves on the semifinals and will travel to #2 McQuaid Jesuit on Saturday. [BOX SCORE]
Hilton won their quarterfinal match against Greece 14-7 tonight. The Cadets led 8-5 at the half and scored five goals in the fourth quarter. Nine players made the book. Leading the pack were Jonathan Englert with 3g-2a and Joey DiMaria with 3g. There was no report from Greece (6-8) at post time. The Cadets will play at #1 Fairport at noon on Saturday. [BOX SCORE]
Honeoye Falls-Lima had a 15-1 lead at the half and finished with a 19-2 win over Midlakes-Red Jacket tonight. Brock Hill had 2a and Chase Peacock and Dylan Mattoon each scored one goal for the Eagles. There was no report from HF-L at post time. Midlakes-Red Jacket finish at 2-13 and HF-L (11-5) move on to play at Geneva on Friday. [BOX SCORE]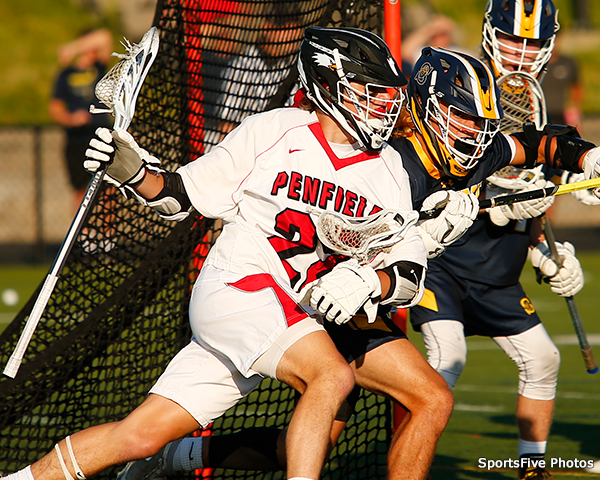 There were many moments in the game when the victor was not a done-deal. Penfield scored the first three goals and Spencerport scored the next three goals. Sam Cummings put the Patriots ahead at the top of the second, but the Rangers came back to tie at 4-4. Cummings scored again, but Spencerport came back with two and they held a 6-5 lead at the half. Penfield came alive in the third and scored five in a row. Three were by Jackson Saulpaugh who also had two assists to lead the Patriot offense. John Richiusa won 18/20 faceoffs for Penfield. Connor Mesh scored 2g-1a to lead the Rangers. His last goal, a coast-to-coast run and score with 29 seconds left in the game capped a season where he led the team in points and gbs. He ends his time as a Cadet with 66g-55a, 257gbs and 353 faceoff wins (66%). Spencerport ends their best season ever with a record of 13-3. Penfield (12-3) continues their season at Canandaigua on Saturday. [BOX SCORE] More images are available in the gallery.
Jamie O`Neil had 5g-3a to lead Haverling to a 15-5 victory over Aquinas this afternoon. Although close for most of the first quarter, the rams scored eight in a row to go up 12-2 in the third quarter. Hunter Cupp helped give the Rams ball time with his 16/22 faceoff wins. Joey Sciortino led the Aquinas effort with 2g-1a and Gavin Conlan made 19s/16ga (56%). Ethan Narby recorded 10s/5ga (67%) for Haverling who will play at Penn Yan on Friday. Aquinas ends their season at 8-7. [BOX SCORE]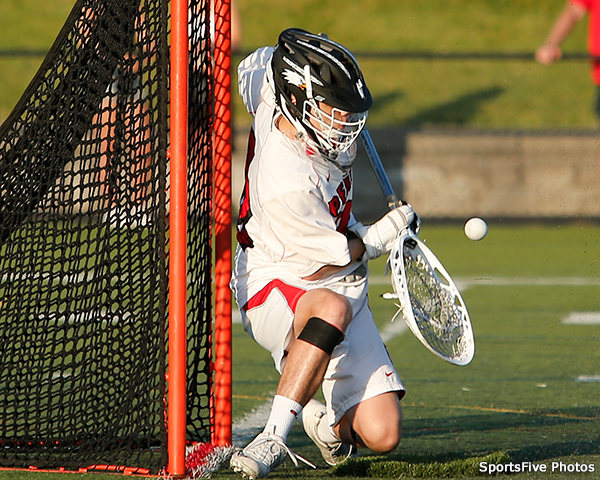 Marcus Whitman won their quarterfinal game against Bloomfield-Honeoye with a score of 19-1. Ryan Herod led the scoring for the Wildcats with 5g-4a and in doing so passed the 100 goals mark (finishing at 101 career goals). Aidan Royston added 3g-3a and Connor Tomion had 2g-2a for Marcus Whitman (13-2) who will play host Pal-Mac on Friday. There was no report from the Pride at post time. They end their season at 4-11. [BOX SCORE]
McQuaid Jesuit was a 19-1 winner over East United-Eastridge today as fifteen different players made the offensive scorebook. John Harding had 2g-4a and Max Ettinghausen had 5a and Paul Chiariello added 4g for the Knights (7-5). East United-Eastridge ends their season at 2-12. McQuaid will play at Pittsford on Saturday. [BOX SCORE]
Victor scored ten unanswered goals in the first quarter and went on to beat Brighton 15-5 tonight. Cal Lambert led in scoring for the Blue Devils with 4g-2a. Pax Marshall had 3g-1a and eight others made the scorebook. Logan Callahan won 14/15 faceoffs for Victor (13-1). Goaltenders Brady Robinson made 4s/3ga (57%) and Zach Pavia had 4s/2ga (67%) in his half. Olin Stanat had 2g in the game after leading the Bruins in goals, assists and points this year. Brighton ends thier season at 5-10 and Victor will host Thomas on Saturday. [BOX SCORE]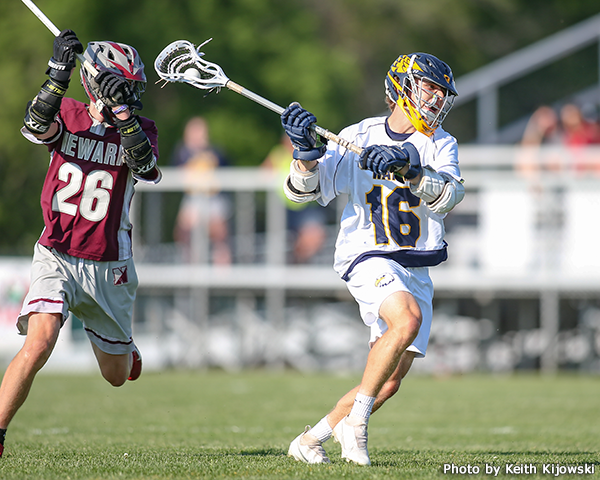 A dozen players scored for the Eagles as Wayne took a 16-6 win against Newark today. Andy Hamel has 2g-1a as did Noah Means and freshman middie PJ Ostrowski. Jack Acker made 7s/5ga (58%) for Wayne(9-7) who will play at #1 Livonia-Avon on Friday. There was no report from Newark (6-9) at post time. [BOX SCORE] More images are available in the gallery.
Canandaigua won a 15-4 victory over Webster Schroeder tonight as Sam Bennett (4g-1a), Dom Comella (2g-3a), and Elliott Morgan (3g-2a) led the seven players on the offensive scorebook. Anthony Vigneri made 5s/4ga (56%) for the 15-1 Braves who will host Penfield on Saturday. Brady Ruffalo had 3g for Schroeder who end their season at 2-13. [BOX SCORE]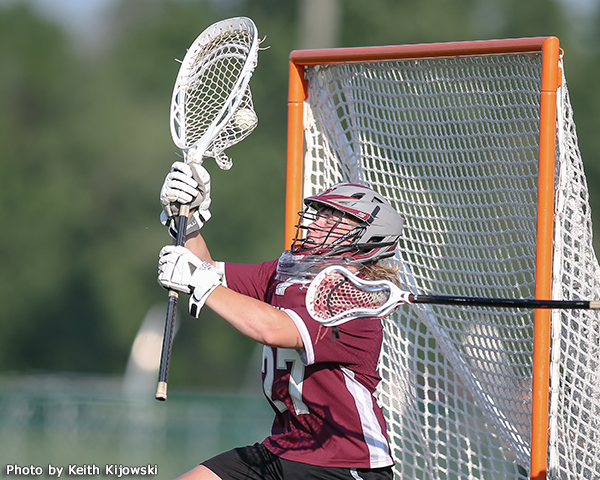 Garrett Kayser made 3s in his half and Luvon Boykins made 1s in his half to earn a 19-0 shutout against Batavia tonight. Thirteen players made the offensive book for the Geneva. Leading the pack was Max Miller with 3g-4a. The Panthers (11-5) will host HF-L on Friday. [BOX SCORE]
Penn Yan also had a shutout as they defeated Mynderse 19-0 tonight. Ayden Mowry scored 5g-2a and Devon Gerhardt had 1g-4a for the Mustangs (14-1) who will host Haverling on Friday. Mynderse ends their season at 5-13. [BOX SCORE]