Week In Review - Week 6
EDITOR'S NOTE: This weekly summary touches on some of the games played in the recent past and highlights some games of interest in the current week. For more in-depth coverage, click on the DAY OF THE WEEK for more coverage for that day, including box scores, articles, and galleries.
There were thirty-nine games played last week and although there were some exciting ones there continued to be a large number of mismatches. With travel concerns this season there are only ten out of section games scheduled and they all have been played. Section Five has won eight.
| | |
| --- | --- |
| Games played last week: 40 | Games played this season: 247 |
| Leagues games played last week: 17 | Out of Section games last week: 1 |
| Mismatched Games (>8 pts): 13 | Close Games (<4 pts): 10 |
| Undefeated teams: 0 | Games scheduled for next week: 26 |
| Donations to SportsFive Last Week: 4 | Total donations this year: 27 |
| BLaxFive Page Views Season: 525,682 | BLaxFive Users Season: 26,113 |
Looking Back
Given the shortened schedule this spring, games were played Monday through Saturday.
On Monday,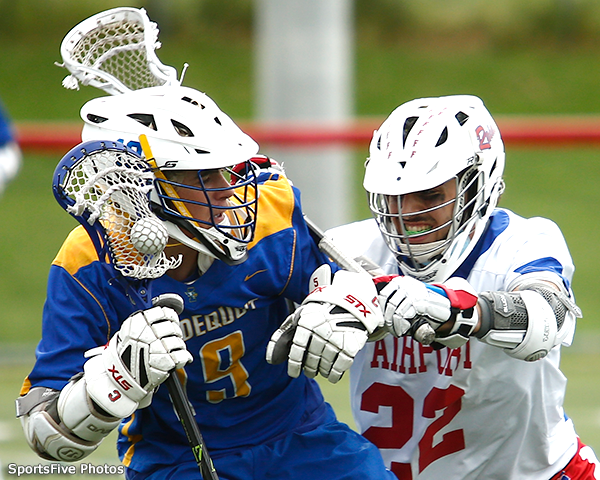 May 31st it was Memorial Day and there were two games played. Penfield scored six goals in the third quarter on their way to an 11-8 win at Irondequoit. It was another low-scoring defense-oriented game at Canandaigua where two goals in the last five minutes gave the Braves a 7-5 win over Victor at home.
On Tuesday, There were eight games played today and the smallest margin was when Geneva beat Pal-Mac 6-4. Penn Yan defeated Marcus Whitman 10-3 and Spencerport beat McQuaid Jesuit 9-5. Other winners today were Newark, Bishop Kearney, Aquinas, East United-Eastridge and Gananda.
On Wednesday Four more teams joined Batavia and BK as they finished the regular season today. Churchville-Chili, Greece, Pittsford, and Penfield finished and will wait for tournament seeding on Sunday. Irondequoit won a close one with Churchville-Chili. Victor won a close one with Pittsford and Brockport won a close one with East United-Eastridge.
On Thursday More teams finished their regular season today and although most games were mismatches once again, the Geneva at Wayne game provided some excitement as the Panthers won 10-7. NOTE: Long time Genesee Valley Lacrosse Officials Association member, Bob Mentz was met after his assigned game at Wayne tonight by a large group of friends and fellow officials as he was told that he will be inducted into the USA Lacrosse Rochester Chapter Hall of Fame this fall.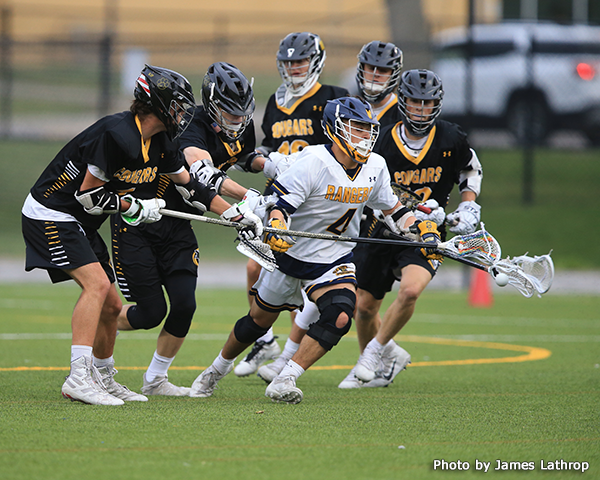 On Friday, Six games were played on the last Friday of the regular season and there were some good ones. Webster Thomas broke out in the second quarter, led 7-5 at the half and won 12-8 over McQuaid Jesuit. Newark scored five goals in each half and fought off a surge by Gananda to win 10-8. Brockport goalie Antonio DiEngeniis made 14s/6ga (70%) to help the Blue Devils beat Gates Chili 9-6 tonight. Other winners were Victor, Rush-Henrietta and Mynderse.
On Saturday It was the last day in the regular season and six games were played. It was Canandaigua over Penn Yan 9-3 and so for 2021 there are no undefeated teams. Gananda travelled to Medina for a 19-12 win. HF-L had a 14-10 win against Schroeder and Hilton surprised Spencerport with a 13-12 win.
Looking Ahead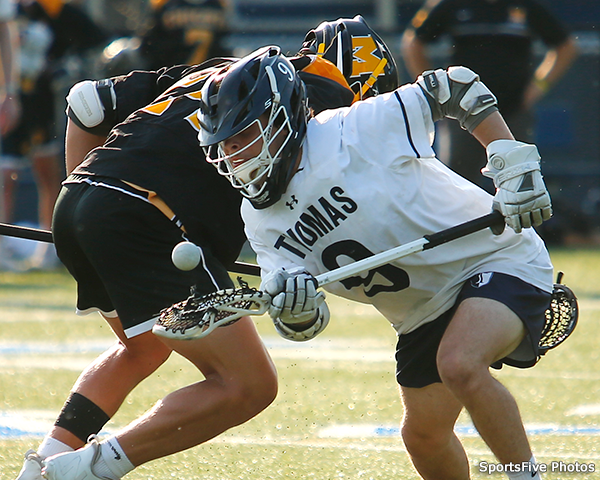 The Tournament seeds were announced on Sunday. The top seeds went to Fairport, Canandaigua, Livonia-Avon and Penn Yan. The Outbracket games are on Monday, quarter finals on Wednesday and semifinals on Friday and Saturday. Games will be played at the higher seeded team.
MONDAY
There are out bracket games for Classes B and D that will be played on Monday. In Class D #9 Waterloo will be at #8 Mynderse and the winner will play #1 Penn Yan on Wednesday. Mynderse (4-12) played Waterloo (2-14) twice during the regular season and Mynderse won both times. Will the third try be a charm for Waterloo?
In Class B there are three out bracket games on Monday. #9 Schroeder is at #8 Churchville-Chili and the winner will play #1 Canandaigua on Wednesday. The teams have not played this season. The Saints are 4-8 and the Warriors are 1-12. Gates Chili (4-11) will play at Brighton (4-9). When they played on May 19th, Brighton won 11-5. Also playing on Monday is Brockport (4-12) at Irondequoit (6-8). When they played on May 19th and the Eagles won 15-1.
WEDNESDAY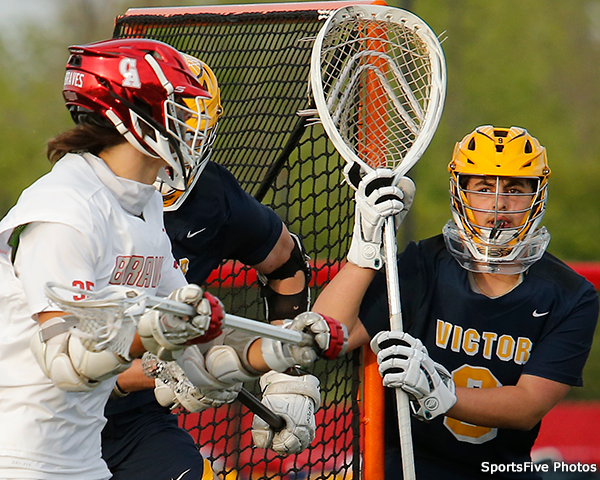 After a day off, there are thirteen quarterfinal games scheduled for Wednesday. In Class A, #5 Greece (6-7) is at #4 Hilton. The Cadets (7-9) are coming off a big overtime win against Spencerport. When the two teams played on May 12th Hilton won 9-7. #7 East United-Eastridge (2-11) will be at McQuaid Jesuit (6-5) and the teams have not played this year. Rush-Henrietta (6-8) is at Pittsford (7-6). When the teams played on May 12th Pittsford won 14-9.
In Class B #1 Canandaigua (14-1) will play the winner of the Schroeder/Churchville-Chili game played on Monday. The Braves beat Schroeder 13-7 on May 19th and CA did not play the Saints in the regular season. #5 Spencerport (13-2) is at #4 Penfield (11-3) and when they played on May 28th, Penfield won 12-8. The Patriots broke the Ranger`s eleven-game winning streak. #2 Victor (12-1) will play the winner of the Brighton/Gates Chili game. The Blue Devils beat Brighton 15-4 on Friday and did not play the Spartans in the regular season. #3 Webster Thomas (12-1) will play the winner of the Irondequoit/Brockport game on Monday. The Titans beat Irondequoit 14-5 on May 3rd and did not play Brockport this season.
In Class C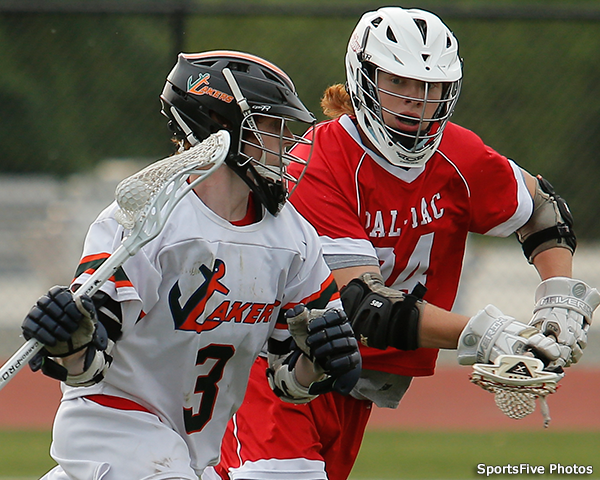 #5 Newark (6-8) is at #4 Wayne (8-7). They played on May 18th and Wayne was a 17-4 winner. #7 Batavia (0-11) is at #2 Geneva (10-5). They have never played in the past. #6 Midlakes-Red Jacket ( 2-12) is at HF-L (10-5) and they have not played each other before.
In Class D #1 Penn Yan will play the winner of the Mynderse/Waterloo game on Monday. Penn Yan (13-1) had shutouts against both teams during the regular season. #5 Aquinas (8-6) will be at #4 Bath (9-4) and on when they played on May 6th Aquinas won 11-9. #7 Bloomfield-Honeoye (4-10) will play at #2 Marcus Whitman (12-2). The Wildcats won their earlier meetin this season. #6 Gananda (6-10) is at #3 Pal-Mac (11-4) and the Red Raiders won their league game on May 22nd.
FRIDAY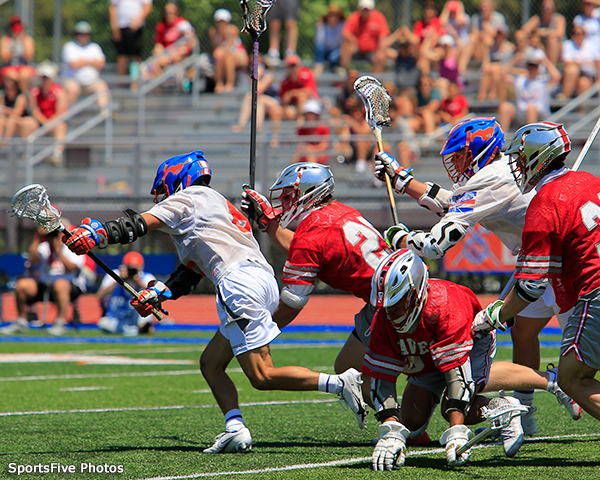 There will be two semifinal games for Classes C and D. In Class C #1 Livonia-Avon will play the winner of Waye/Newark and the winners of Geneva/Batavia and Midlakes-Red Jacket/HF-L will play. In Class D, winners will advance from Wedneday`s quarters.
SATURDAY
There will be two semifinal games for Classes A and B. In Class A #1 Fairport (8-5) will play the winner of of the Hilton/Greece Storm game. In the lower bracket teams will be determined on Wednesday. In Class B winners from the Wednesday games will play.
Of course, if your team is playing yours is the game of the week. Check out the times and the whole list on the games page.
The Week in Review: Weeks 1 and 2 - Week 3 - Week 4 - Week 5