And Then There Was None
Saturday: DAY IN REVIEW: It was the last day in the regular season and six games were played. It was Canandaigua over Penn Yan 9-3 and so for 2021 there are no undefeated teams. Gananda travelled to Medina for a 19-12 win. HF-L had a 14-10 win against Schroeder and Hilton surprised Spencerport with a 13-12 win. Tournament seeding will take place late Saturday or early Sunday.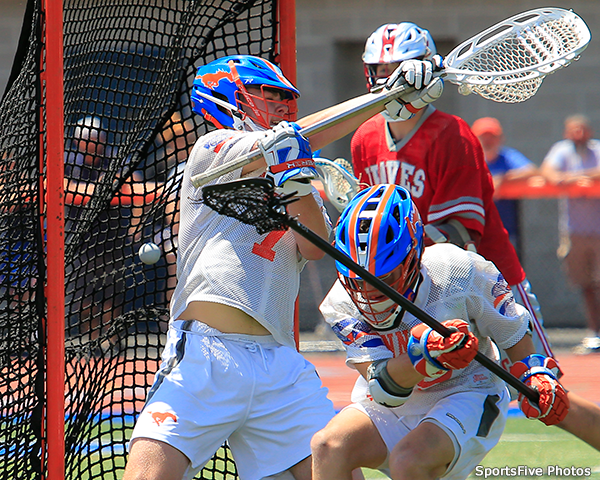 Penn Yan`s undefeated season came to end in the last game of the regular season when Canandaigua defeated the Mustangs 9-3 this afternoon. On the way to the game the Canandaigua bus broke down and the Canandaigua parents went to get them and drove them, caravan style, to the Penn Yan campus. The game was won on a hot day by a hot goalie, a stellar faceoff performance and five goals by senior midfielder Dom Comella. After a 1-0 first quarter lead, the teams both scored two goals to enter the half with the Braves up 3-2. Canandaigua opened it up in the third scoring five unanswered goals. Both teams scored one goal in the last quarter. In the CA cage, Jack Faiola made 4s/3ga (57%) and Luke McCrobie won 14/15 faceoffs for the Braves who end their regular season at 14-1. Penn Yan saw 2g from Ayden Mowry and will enter the Class D tournament with a record of 13-1. [BOX SCORE] More images are available in the gallery.
A strong second and third quarter performance gave Gananda enough for a 19-12 win at Medina this afternoon. Goalie Gavin Britton made 16s/12ga (57%) and Cohyn Reisman scored 8g-2a while Brock Chasey scored 3g-6a for the Blue Panthers who end their regular season at 6-10. [BOX SCORE]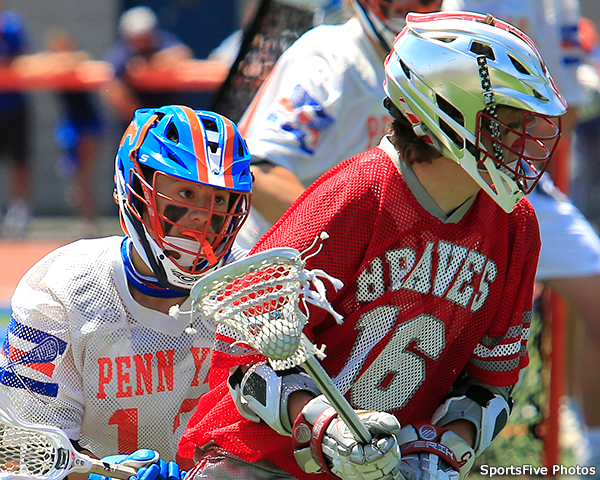 Hilton won their game with Spencerport 13-12 in overtime when Joey Dimaria scored his second goal of the game with 2:53 left in the overtime period. Spencerport scored the first two goals and led after one quarter 2-0. Hilton outscored the Rangers 3-1 in the second and the teams were tied at 3-3 at the half. Spencerport went ahead at the top of the third quarter and led at one point 6-5. Hilton then went on a scoring streak, scoring a total of seven goals and led after three quarters 10-7. With the Cadets up 12-9 Jayden Kittelberger scores two goals and Anthony Rodriguez added one to tie the teams at 12-12 with seven seconds in regulation. Hilton saw eight players make the scorebook. Johnthan Englert and Keagen Grim each had 2g-1a for Hilton who ended their regular season at 7-9. Anthony Rodriguez ended the game with 4g and Connor Mesh had 1g-6a and won 15/19 faceoffs for Spencerport who ended their reular season at 13-2. [BOX SCORE]
Bath scored first and held on to the lead until they posted an 11-5 win against Wayne at home. The Rams scored five goals in the first and led 5-2 at the half. Jamie O`Neil scored 5g-1a and Brady Dickson added 2g-2a while Ethan Narby made 11s/5ga (69%) in the cage for Bath. Hunter Cupp won 16/19 faceoffs for the Rams. Nate Michel scored 3g-1a and Noah Means scored 2g-1a for Wayne who finish their regular season at 8-7. Bath will enter the tournament with a record of 9-4. [BOX SCORE]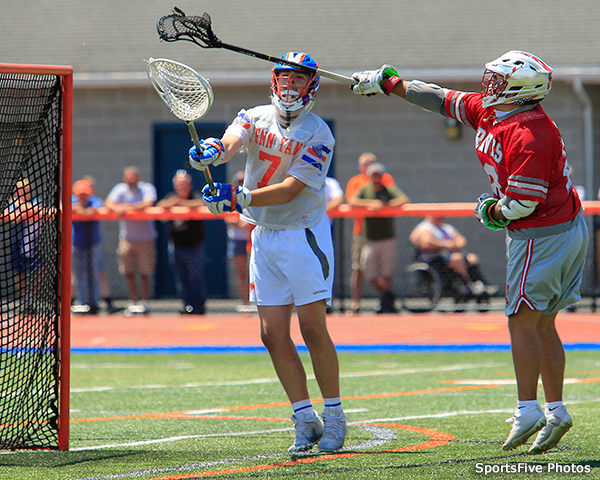 Honeoye Falls-Lima used even scoring to take a 14-10 game from Webster Schroeder. The Cougars had a 7-5 lead that the half and then scored five goals in the third quarter. Freshman M/A Braydn Trybuskiewicz led the scoring with 5g-1a and Matt Blythe had 3g-2a for the Cougars who end their regular season at 10-5. Nick Hauman scored 4g-1a and Brady Ruffalo had 4g for the Warriors who end their regular season at 1-12. [BOX SCORE]
Ten different players scored for Livonia-Avon as they ended their regular season with a 13-1 win over Midlakes-Red Jacket. Justin Skelly scored 5g and Jackson McEnerney scored 1g-4a for the Lakers (12-4). Goalies Nic Teachout made 2s/1ga (67%) in his 18 mins, Matt Beachel made 1s/0ga (100%) in his 12 mins and Aiden Brown made 1s/0ga (100%). There was no report from Midlakes-Red Jacket (2-12) at post time. [BOX SCORE]