Spencerport over McQuaid - Geneva Tops Pal-Mac
Tuesday: DAY IN REVIEW: There were eight games played today and the smallest margin was when Geneva beat Pal-Mac 6-4. Penn Yan defeated Marcus Whitman 10-3 and Spencerport beat McQuaid Jesuit 9-5. Other winners today were Newark, Bishop Kearney, Aquinas, East United-Eastridge and Gananda.
Penn Yan scored seven unanswered goals in the first quarter on their way to a 10-3 victory at Marcus Whitman this afternoon. That was the difference as both teams scored three goals in the rest of the game. The Mustangs had quite a bit more ball time in the first half with Mekhi Mahan (1g-1a) winning possessions at the faceoff X. Devon Gerhardt scored 3g-3a and Ayden Mowry had 4g while in the cage Griffin Emerson made 9s/3ga (75%) for the Mustangs (12-0). Ryan Herod, Kyle Murphy, and Connor Gorton each scored one goal for Marcus Whitman (11-2). Among the fans at the game was the Canandaigua Varsity team, who will play Penn Yan on Saturday. [BOX SCORE] More images are available in the gallery.
Newark had eight players on the offensive scorebook as the Reds defeated Waterloo 13-5 today. Bryson Croft had 4g, Devon Bulman had 1g-1a, Jayden Shepherd had 2g and Preston Steve had 2g-3a for Newark. Caleb George Cady made 14s/5ga (74%)for Newark. Zachary Merkley had 2g and Peter Shangraw had 3g for Waterloo. [BOX SCORE]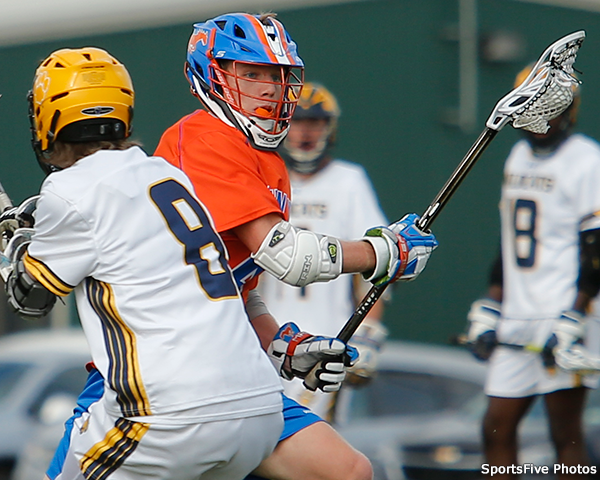 Brock Chasey scored 3g-1a and Steven LoTempio added 1g-1a as Gananda beat Mynderse 6-0 tonight. Gavin Britton had 9s in the shutout for the Blue Panthers. [BOX SCORE]
Geneva wasted no time and scored four goals in the first half while holding Pal-Mac scoreless. The second half saw the Red Raiders outscore the Panthers 4-2 but Geneva took home the 6-4 victory. Panther goalie Garrett Kayser had 11s/4ga (73%) as Max Miller scored 3g and Aiden Eighmey added 1g-2a for Geneva (9-5). Pal-Mac goalie Will Nichols also had a good day with 11s/6ga (65%). Quinn Nolan had 2g for the Red Raiders (10-4). [BOX SCORE]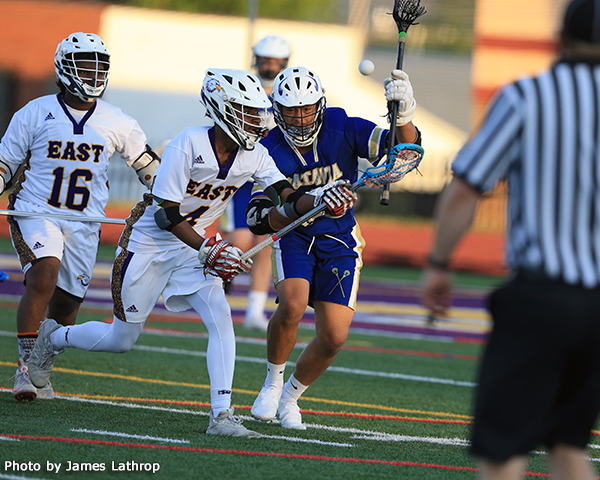 Spencerport came back hard after their first loss last week and beat McQuaid Jesuit 9-5 tonight. The first half saw a series of runs, starting with two goals from Spencerport followed by two goals from McQuaid. Justin Schnauber scored on a feed from Jacob Zimmerman to give the Rangers a 3-2 lead after the first quarter. Max Ettinghausen tied the score at 7:57 but then the Rangers scored the next three, McQuaid scored one and the half ended with the Rangers up 6-4. The Mesh brothers took over the in the second half and were involved in all six of the Spencerport goals in the last twenty-four minutes. Connor Mesh end the game with 4g-1a and Cameron ended with 1g-1a. Adam Birkbeck made 7s/5ga (58%) for Spencerport. Chris Woodard had (2g) and Max Ettinghausen had (1g-1a) for McQuaid (6-4). [BOX SCORE]
East United-Eastridge started with a 7-5 halftime lead to a 9-2 victory over Batavia tonight. Keenan Edwards scored 4g and Quaron Wright added 2g-1a for East United-Eastridge. Four others each scored 1g-1a and Ronald Dietz made 9s/2ga (82%). Ryan Hamilton and Noah Burke each scored one goal and goaltender Andrew Atwood had 9s/7ga (56%) in his 24 mins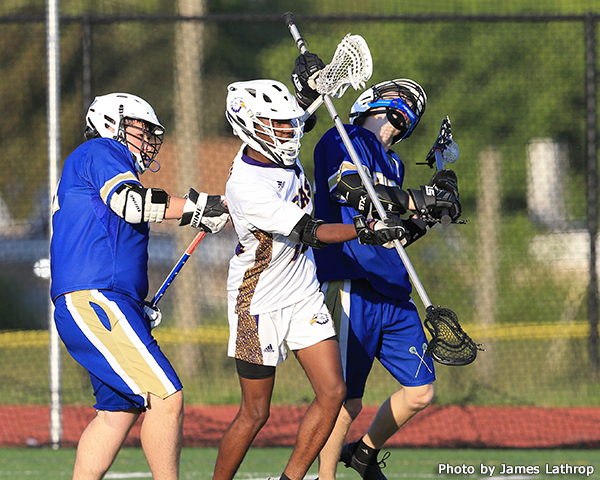 and Dustin Forsha had 7s/2ga (78%) in his 24 mins for Batavia. [BOX SCORE] More images are available in the gallery.
Aquinas score the first fifteen points in their way to a 15-2 win over Bloomfield-Honeoye this afternoon. Seven players from Aquinas were on the scoring table. Angelo Palumbo led the charge with 4g-2a and Joey Sciortino had 4g for AQ (8-5). Gavin Conlan recorded 4s/2ga (67%). JD Allen and Max Willix scored for the Pride. [BOX SCORE]
Bishop Kearney won their first game of the season tonight when they posted a 15-3 win at Brockport. Chris Parker had 2g-1a for Brockport. There was no report from Bishop Kearney at post time. This sixth game is their last for this year. They announced at the beginning of the year that they would not play in the sectional tournament this year. [BOX SCORE]