Week In Review - Week 3
EDITOR'S NOTE: This weekly summary touches on some of the games played in the recent past and highlights some games of interest in the current week. For more in-depth coverage, click on the DAY OF THE WEEK for more coverage for that day, including box scores, articles, and galleries.
There were forty-nine games played last week and although there were some exciting ones there continued to be a large number of mismatches. With travel concerns this season there are only eight out of section games scheduled and seven have been played. Section Five has won six.
| | |
| --- | --- |
| Games played last week: 49 | Games played this season: 110 |
| Leagues games played last week: 34 | Out of Section games last week: 3 |
| Mismatched Games (>8 pts): 21 | Close Games (<4 pts): 14 |
| Undefeated teams: 5 | Games scheduled for next week: 53 |
| Donations to SportsFive Last Week: 14 | Total donations this year: 15 |
| BLaxFive Page Views Season: 220,802 | BLaxFive Users Season: 12,495 |
Looking Back
Given the shortened schedule this spring, games were played Monday through Saturday.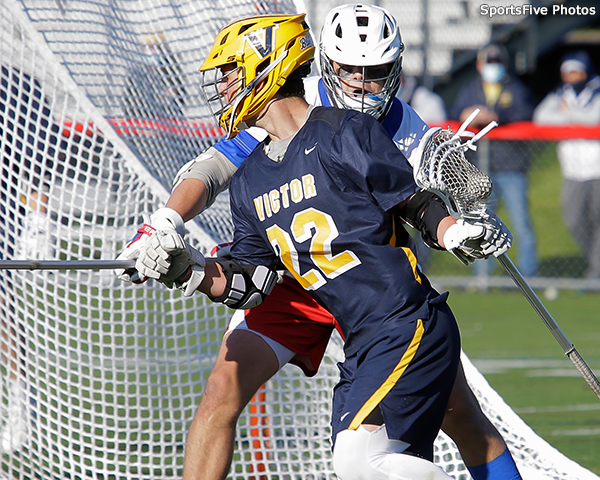 On Monday, May 10 Penfield used overtime to win their 12-11 game with Pittsford. There were four lead changes in a game that went right to the wire as the Greece Storm won a 9-8 victory over Churchville-Chili. Honeoye Falls-Lima had a good game against Hilton and with even scoring throughout the game won at home 11-8. Other winners were R-H, Fairport, Victor, Spencerport, Marcus Whitman, Canandaigua, Aquinas and Brighton
On Tuesday Mynderse scored first and shutout Midlakes-Red Jacket for the first half on their way to a 5-3 win on the road. Five goals in the first quarter by Livonia-Avon helped them take down one of the previously undefeated teams when the posted a 11-5 victory over Marcus Whitman. In a surprising game, Penn Yan travelled to Wayne and captured a 12-0 shutout behind the goalie efforts of junior Griffin Emerson. Gananda senior goaltender Gavin Britton made 6s/2ga (75%) as the Blue Panther won a 7-2 victory over Waterloo.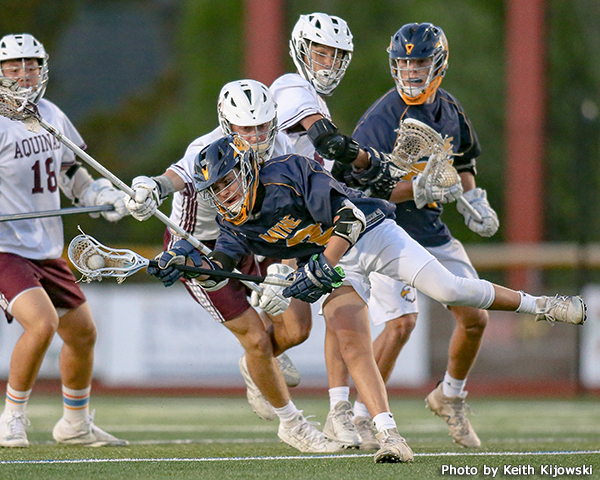 On Other winners were McQuaid Jesuit, Pal-Mac, Penn Yan, Geneva and Bath.
Wednesday saw senior faceoff specialist Logan Callahan give Victor a big advantage in ball time as he won 14/18 draws to help the Blue Devils beat Fairport 10-6. Rush-Henrietta took an early lead over visiting Pittsford, but in the second quarter the Panthers scored four in a row and at 6-4 continued to lead all the way to their 14-9 victory. In a very close game that had seven lead changes, Brighton, with a goal by Olin Stanat won their game against visiting Schroeder 12-11. In another good game, Hilton won against Greece Storm 9-7. Honeoye Falls-Lima (5-2) improved their winning streak to five with their 10-5 victory over Irondequoit. Although the first half was close with Canandaigua up 4-3, the Braves scored five unanswered in the second half to beat Penfield 9-3. Other winners were Thomas, Spencerport, Churchville-Chili and Canandaigua.
On Thursday in what may be one of the best first halves of the day, Wayne defeated their hosts, Aquinas 10-7 after six lead changes. Marcus Whitman outscored Bath 7-2 in the first half, and the Rams were unable to overcome the difference in the 10-7 win for the Wildcats. Other winners were Corning over McQuaid, Pal-Mac, Penn Yan, Livonia-Avon and Geneva.
On Friday, Penfield scored the last four goals in their 9-8 double overtime win against visiting Fairport.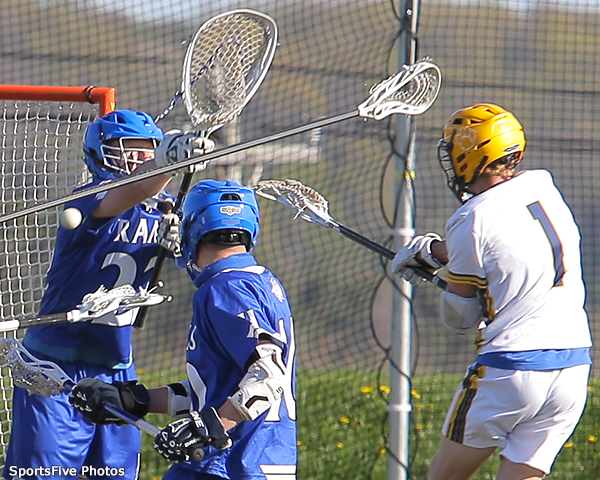 Webster Thomas took a 6-1 halftime lead and finished with an 8-4 victory over visiting Pittsford. One extra goal in the third quarter gave visiting Brighton the 8-7 victory over Honeoye Falls-Lima. Hilton won a 13-9 win at Schroeder after scoring five fourth quarter goals. Batavia scored the first seven goals, only interrupted by one goal by Waterloo, but then is was all Waterloo who scored the last eight goals in the game for a 9-6 win, Also winning were Greece and Rush-Henrietta.
The week ended on Saturday and after three lead changes, Gates Chili came alive after halftime and scored four third quarter goals to cement their 12-9 win at Brockport. Although Irondequoit scored the first two goals and led 3-1 after the first quarter, Victor went right to work and scored in batches throughout the rest of the game which they won 17-7. In a a game that was closer than they score indicated, Pal-Mac took a 7-4 win from Wayne. Canandaigua improved their record to 6-0 after defeating Ithaca (Section IV) 10-2. Other winners were Thomas, Livonia-Avon and McQuaid Jesuit.
Looking Ahead
After losses by Penfield, McQuaid and Marcus Whitman, there are currently five teams that are undefeated going into week four: Webster Thomas (7-0), Spencerport (6-0), Penn Yan (6-0), Canandaigua (6-0) and Victor (4-0).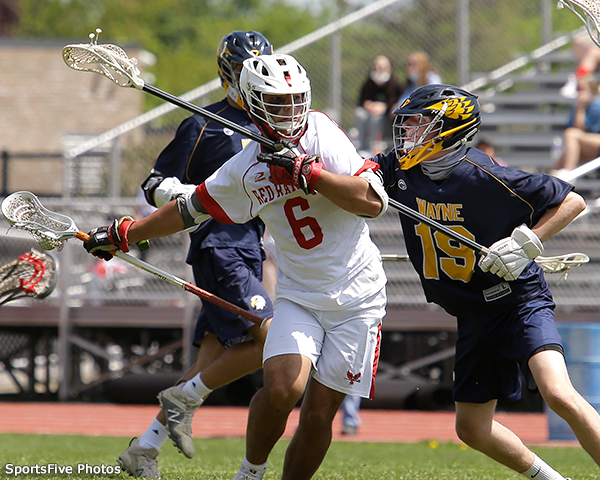 There are a dozen games scheduled for Monday. Fairport (2-3) plays at McQuaid (3-1) and Canandaigua is at Pittsford (3-3).
On Tuesday Marcus Whitman (7-1) plays Geneva (5-2) and Gananda is at Bath.
On Wednesday look for Thomas at Penfield, Brighton at Gates Chili and Hilton at Pittsford.
Eight games are scheduled for Thursday including Pal-Mac at Marcus Whitman and Midlakes-Red Jacket at Newark.
Eight of nine games on Friday are night games including Waterloo at Mynderse, McQuaid at HF-L, Fairport at Canandaigua, Pittsford at Brighton and Victor at Penfield.
Finishing week four on Saturday are eight games including Pittsford at Spencerport, Irondequoit at Schroeder and Newark at Mynderse.
Of course, if your team is playing yours is the game of the week. Check out the times and the whole list on the games page.
The Week in Review: Weeks 1 and 2