Mynderse Gets Win from Midlakes-Red Jacket
Tuesday: DAY IN REVIEW: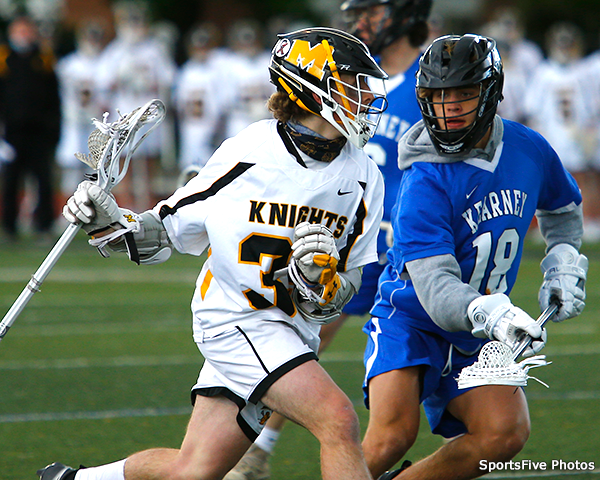 Mynderse scored first and shutout Midlakes-Red Jacket for the first half, on their way to a 5-3 win on the road. It was the first win for the Blue Devils this season and avenged their earlier 6-2 loss when they played the Eagles on May first. Junior midfielder Mitchell Dekanski led the scoring with 3g and freshman midfielder Dylan Tandle added 1g-1a. Senior goalkeeper Gino Poretta had 15s/3gs (83%) for the winners who will play Waterloo on Thursday. There was no report from Midlakes-Red Jacket at post time. [BOX SCORE]
Junior midfielder Paul Chiariello scored 6g-1a and senior attackman Max Ettinghausen added 4g-2a as McQuaid Jesuit defeated Bishop Kearney 14-2. Faceoff specialist Jack Miller won 17/18 draws while in the goal, senior Connor Winters recorded 12s/2ga (86%) in his 45 mins for the Knights (2-0). Next up is Corning on Thursday. There was no report or rosters from Bishop Kearney.[BOX SCORE] More photos are in the gallery.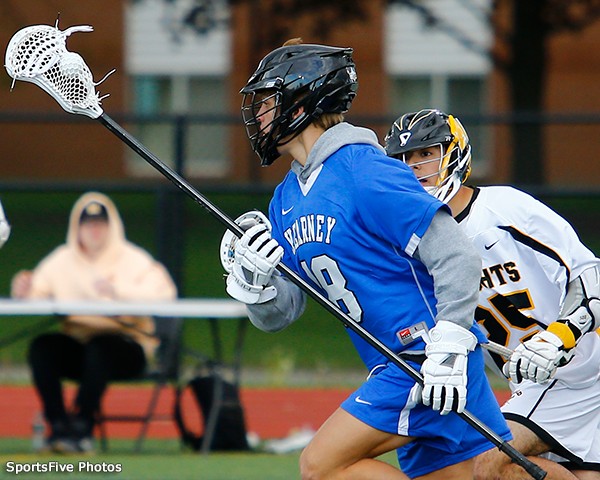 Pal-Mac held Aquinas scoreless for the first three quarters and end with a 15-2 win at home tonight. Eight offensive players made the scorebook for the Red Raiders. Topping the list were junior A/M Logan Babcock with 5g and freshman A/M Keagan Hoesterey with 3g-2a. Junior goalie Will Nichols made 5s/2ga (67%) and junior faceoff middie Quinn Nolan won 12/14 draws, picked up 15gbs and had 1g-1a for Pal-Mac. There was no report from Aquinas at post time.[BOX SCORE]
Five goals in the first quarter by Livonia-Avon helped them take down one of the previously undefeated teams when the posted a 11-5 victory over Marcus Whitman. Sophomore M/A Jackson McEnerney led the Laker scoring with 6g-1a and junior M/A scored an additional 2g-3a. Sophomore goalie Matt Beachel had a 67% day with 6s/3ga in his 44 mins in the cage. Livonia-Avon (4-3) will play Gananda on Thursday.[BOX SCORE]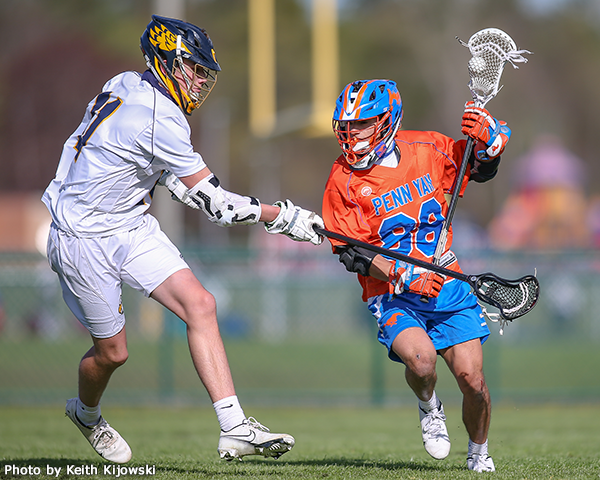 In a surprising game, Penn Yan travelled to Wayne and captured a 12-0 shutout behind the goalie efforts of junior Griffin Emerson (7s/0ga in 44 mins) and eighth grader Wil Thompson who saw no shots on in his 4 mins in the Mustang cage. Scoring was spread around the Penn Yan offense with senior A/M Max Brodmann posting 4g-1a, sophomore A/M Carter Earl with 3g-2a and senior A/M Devon Gerhardt with 2g-4a. Wayne senior goalie Jack Acker made 18s/12ga (60%) and received high marks from Penn Yan Head Coach Brian Hobart who commented that Acker "played an outstanding game". [BOX SCORE] More photos are in the gallery.
Ten different players contributed to the 20-3 Geneva win over visiting Newark tonight. Senior midfielder Nate Askin (3g-2a) and sophomore attackman Ryan Brown (2g-4a) topped the list of scorers. Junior goalie Garrett Kayser recorded 5s/3ga (62%) for the Panthers. Senior middie Brandon McNeil scored 2g for the Reds.[BOX SCORE]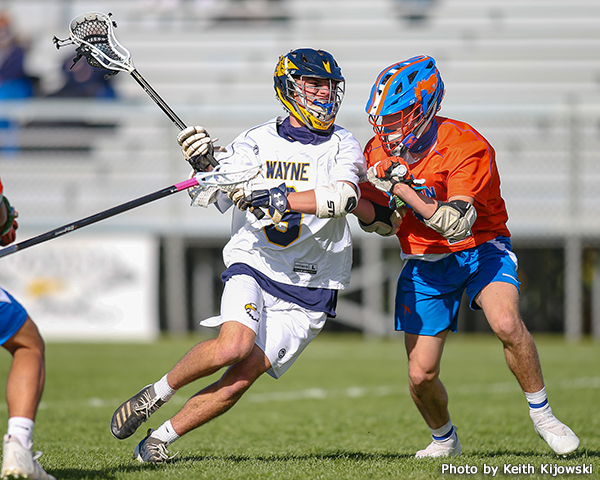 Haverling posted an 18-0 shutout in the game over visiting Bloomfield-Honeoye tonight. Sophomore goalie Ethan Narby recorded 7s for the Rams who had nine players score in the game. Junior attackman Jamie O`Neil had 7g-5a and Hunter Cupp won 19/22 draws for the Rams (2-2). [BOX SCORE]
Gananda senior goaltender Gavin Britton made 6s/2ga (75%) as the Blue Panther won a 7-2 victory over Waterloo this afternoon. Sophomore attackman scored 6g and his classmate Cohyn Reisman added 3g-1a for the winners. Peter Shangraw and Scott Verdehem eached scored once for Waterloo. [BOX SCORE]