Penfield Wins in Overtime
Monday: DAY IN REVIEW: It took overtime for Penfield to defeat The Panthers 12-11 tonight on the road. With Pittsford up 11-7 at the top of the fourth quarter but starting with 5:08 left in the game, Penfield scored four unanswered goals to tie the game at 11-11 with 2:11 left. With 2:04 left in overtime, senior attackman Sam Cummings scored the game-winner with an assist from Jake Fox.
Cummings ended the game with 4g and senior midfielder Chris Smith added 3g-2a. John Richiusa gave the Patriots lots of ball time as he won 23/27 faceoffs. Pittsford senior attackman Harrison Cross led scoring with 2g-2a and junior James Cook added 3g for the Panthers (2-2) who will play R-H on Wednesday. Penfield bumps to 4-0 and will play Canandaigua on Wednesday.[BOX SCORE]
There were four lead changes in a game that went right to the wire as the Greece Storm won a 9-8 victory over Churchville-Chili. Greece scored the first two goals, but Patrick Mitchell scored three in a row for the Saints and the quarter ended with the Storm up 3-2. The half ended tied at 4-4. It was all Storm in the third quarter as they posted four unanswered goals, but the Saints came back strong in the final stanza with four of their own. With 4:42 left in the game Brandon Pignato scored the last goal for Greece taking the score to 9-6. With 3:35 Churchville-Chili freshman middie Cameron Gefell scored and then with 0:20 Brett Seaman scored the final goal for the Saints. Senior midfielder Logan Yates paced the Storm with 2g-2a, and senior goalie Owen Infantino made 9s/8ga (53%). Senior middie Patrick Mitchell led the scoring for Churchville-Chili with 3g-1a.[BOX SCORE] More photos are in the gallery.
Eight offensive players scored for Rush-Henrietta as the Royal Comets defeated Brockport 20-8 at home. Sophomore midfielder Mike Valent had 6g and junior midfielder Chase Petschke and senior attackman Tommy LaRocca has 2g-4a. Brockport senior attackman Cole Beardsley led the scoring for the Blue Devils.[BOX SCORE]
Fairport took a 14-2 halftime lead and won their game against Schroeder 17-5 at home. A dozen different players made the offensive book for the Red Raiders. Topping the list were Kyle Gould, Jackson Monte and Jack Villareale who each scored 3g. Junior midfielder won 11/12 draws for Fairport (2-1). Junior middie Nick Hauman led the Warrior offense with 3g.[BOX SCORE]
Victor travelled to Section III to take a 14-8 win from Christian Brothers Academy. Senior faceoff specialist Logan Callahan gave the Blue Devils a great deal of ball time, winning 20/23 draws (87%) and picking up 15gbs. In his two games thus far this season he has won 44/48 (92%). Senior M/A Call Lambert led the scoring for Victor with 5g-1a and sophomore A/M Sam Gotham added 4g-1a. Sophomore attackman Joe Papa paced CBA with 3g and junior midfielder Dan Anderson added 2g-1a.[BOX SCORE]
Spencerport scored the first eighteen goals in the 19-1 win at Gates Chili tonight, boosting their record to 5-0. A dozen players made the scoring table with Connor Mesh and Jacob Zimmerman both scoring 3g-2a for the Rangers. Senior goalie Adam Birkbeck made 1s/0ga (100%) in his half and freshman Taylor Kaye recorded 1g.1ga (50%) in his half. Senior attackman Ethan Knauf scored an unassisted goal for the Spartans.[BOX SCORE]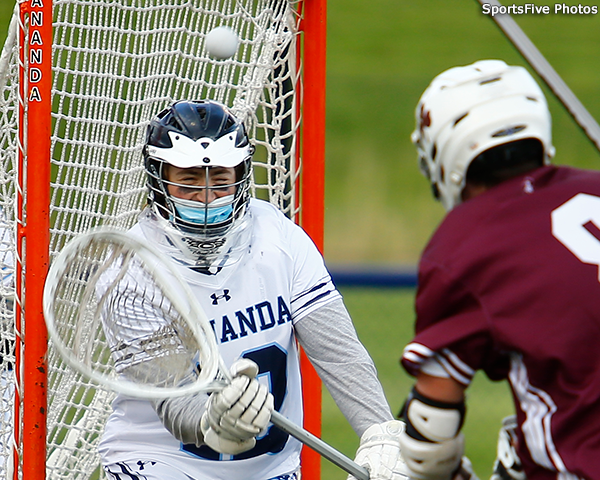 Honeoye Falls-Lima had a good game against Hilton and with even scoring throughout the game won at home 11-8. Eight players scored with senior midfielder Colt Green who had 2g-2a, freshman attackman had 3g-1a and senior attackman Matt Blythe added 3g for the Cougars (4-2). In the goal, sophomore Trevor Reese recorded 10s/8ga (56%). Senior midfielders Keagen Grim and Matthew Mojsej each scored 3g for the Cadets.[BOX SCORE]
Marcus Whitman improved the record to 6-0 with an 18-0 win against Batavia tonight. Twelve players contributed to the offensive scorebook, but senior A/M Ryan Herod boosted his season stats to 24g-25a with his 2g-7a effort today. Senior long stick Austin Smith won 12/13 draws and Andrew Atwood (7s/10ga - 24 mins) and Dustin Forsha (3s/8ga - 24 mins) earned the shutout.[BOX SCORE]
Canandaigua took control early, taking an 8-1 halftime score to a 12-5 win at Irondequoit tonight. Ten players scored for the Braves, including senior midfielder Dom Comella and Sam Bennett who each scored 3g. Sophomore faceoff specialist Luke McCrobie won 9/12 draws and added 1g-1a. Goalie Jack Faiola (11s/2ga = 85% -36 mins) and Anthony Vigneri (4s/3ga = 57% -12 mins) shared the goaltending duties for the Braves (4-0). Attackmen Ronnie Garrow and Noah Gibson each scored 2g-1a for the Eagles.[BOX SCORE]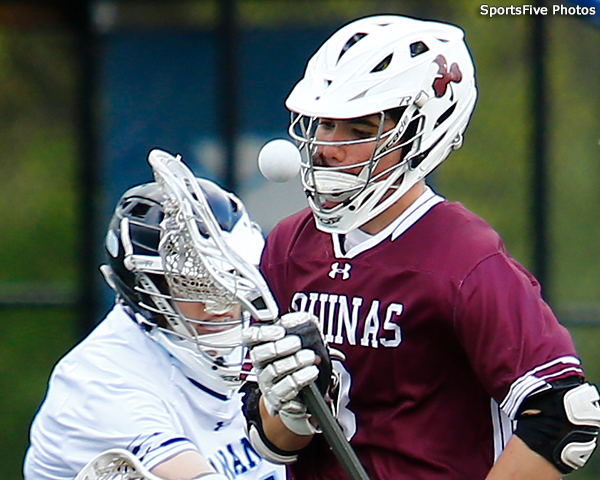 Aquinas improved their record to 3-1 with a 15-1 win at Gananda this afternoon. After building an 11-0 halftime lead, AQ unloaded the bench and saw nine player score points. Junior attackman Ryan Firmstone led the charge with 2g-3a while Angelo Palumbo and Joey Sciortino both added 4g. Gavin Conlan went 2s/1ga (67%) in 44 mins and Robert Goodridge went 1s/0ga (100%) in his 4 mins for the Blue Panthers. Sophomore midfielder Hunter Groh scored an unassisted goal and senior goalie Gavin Britton made 17s/15ga (53%) for Gananda.[BOX SCORE]
More photos are in the gallery.
Brighton scored seven unanswered goals in the second quarter as they defeated Bishop Kearney 11-4 at home. Six players scored one goal each and senior attackman Olin Stanat scored 5g-2a for the Bruins in their first win of the season. Senior face off specialist Sam Tourangeau won 18/19 draws junior goalie Paul Runge recorded 7s/4ga (64%). We have received no rosters or stat reports from Bishop Kearney.[BOX SCORE]