Week In Review - Week 1-2
EDITOR'S NOTE: This weekly summary touches on some of the games played in the recent past and highlights some games of interest in the current week. For more in-depth coverage, click on the DAY OF THE WEEK for more coverage for that day, including box scores, articles, and galleries.
There were sixty-one games played lsince the start of games on April 29th and although there were some exciting ones the majority were mismatches, demonstrating that some players worked more than others in the "year without games". With travel concerns at the moment there are only eight out of section games scheduled and four have been played. Section Five has won all four.
| | |
| --- | --- |
| Games played last week: 61 | Games played this season: 61 |
| Leagues games played last week: 27 | Out of Section games last week: 4 |
| Mismatched Games (>8 pts): 36 | Close Games (<4 pts): 11 |
| Undefeated teams: 8 | Games scheduled for next week: 51 |
Looking Back
Given the shortened schedule this spring, games were played every day of the week (include Sunday).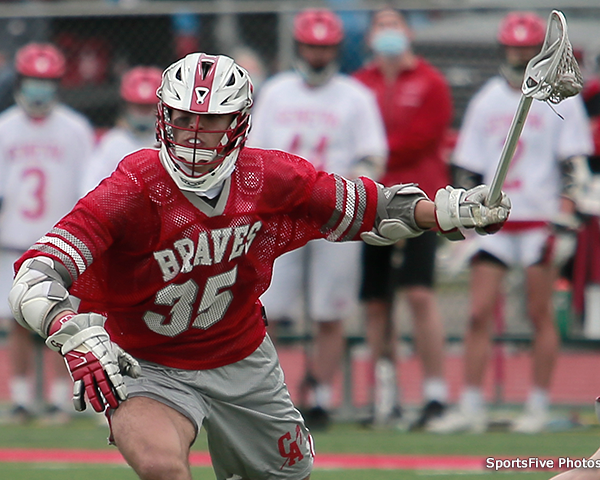 Opening day was Thursday, April 29th and four games were played and all were mismatches, with Penn Yan, Geneva, Thomas and Bloomfield-Honeoye the winners.
Hilton and Gates were winners on a cold Friday. Hilton stayed close the entire game and didn't take their first lead until 4:02 left in the game as they won a 12-11 at Brighton. Their strong win was on the backs of Devin Kluth (2g-2a) and Matthew Mojsej (2g-3a). Brighton's stand-out performance was from Sam Tourangeau at the draw (20/25) and on offense (2g-2a). Scoring was led by Olin Stanat with 3g-3a for the Bruins.
On the first Saturday there were five games. Penfield came back from an early deficit to defeat a strong Section III West Genesee team 9-8 in regulation. The Wildcats scored five of the first six goals, holding the Patriots scoreless for the first fourteen minutes. After the halftime break Penfield fought back hard and scored the next seven goals to take the lead back. Midlakes-Red Jacket scored first and went on to defeat host Mynderse 6-2. The other winners were Midlakes-Red Jacket scored first and went on to defeat host Mynderse 6-2. and Marcus Whitman.
A rare occurrence, two games were played on Sunday. Pittsford hosted a game with St. Joseph's (Section VI) and won it 12-11 with Harrison Cross scoring 3g-5a. Canandaigua travelled to Geneva where the Braves scored six goals in the first quarter on their way to a 12-3 victory over the Panthers.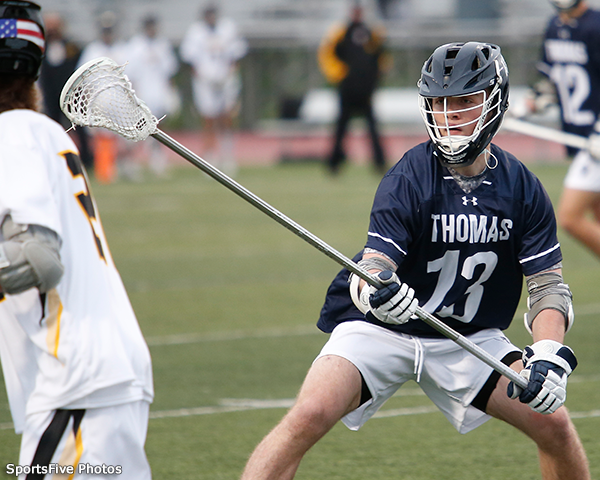 On Monday, May 3rd the (playing every day schedule" kicked it. In the closest game four goals in the last stanza were the pretty much the difference as HF-L defeated Livonia-Avon 12-7 at home. Other winners included R-H, Spencerport, Gananda, Thomas and Hilton.
The close game on Tuesday was The Little Irish`s 11-9 win over Livonia-Avon. Aquinas senior midfielder Zach Kelsey score three of his seven goals at the end of the game including the game winner. Other winners were Newark, Wayne, Geneva, Pal-Mac, Aquinas, and Marcus Whitman.
Wednesday was busy with nine games and in one of the few non-mismatched games, Fairport travelled to Pittsford in what the preseason coaches' poll said will be the Class A finals and as they predicted, Fairport won this one, but despite the 10-7 game it really could have gone either way. Greece Storm hosted Rush-Henrietta and won the battle 14-10 in what was a game of halves. Greece outscored The Royal Comets 6-2 in the first quarter and 5-2 in the second to take an 11-4 lead into halftime. In the third quarter R-H came alive and scored five goals while holding Greece to 1 and in the fourth quarter it was 2-1 Greece. Other winners were Victor, C-C, CA, Thomas (over Schroeder), Spencerport (over Irondequoit), HF-L and Penfield.
On Thursday there were two more shutouts, but the Penn Yan at Geneva was exciting for most of the game and the Aquinas at Haverling could have gone either way. Aquinas scored the first four goals of the game and held off a late push by Haverling to defeat the Rams 11-9. The eleventh goal was scored as time expired, and Haverling was in the game until the final seconds. The first half of the Penn Yan at Geneva looked like the game would go either way as both teams scored two goals in the first quarter and four goals in the second, resulting in a 6-6 tie. Penn Yan came out in the second half and scored four goals in the third and five more in the fourth while holding the Panthers to one goal in each stanza.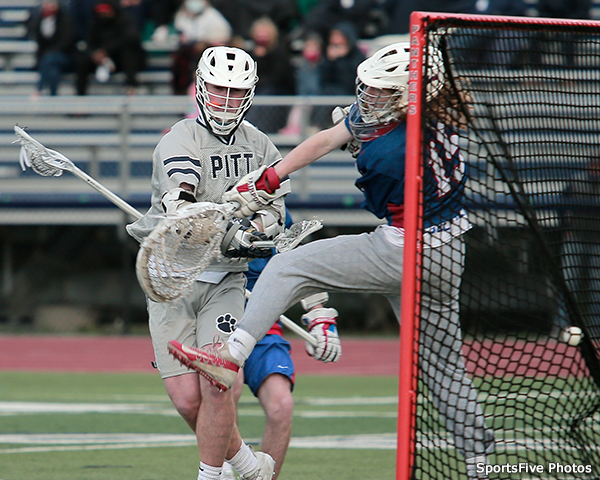 Other winners were Wayne, Marcus Whitman, Gananda, Pal-Mac and Livonia-Avon.
On Friday, in a rainy-muddy game, Marcus Whitman's Ryan Herod scored the game winning goal with 0:08 left on the clock to give the Wildcats an 8-7 win over Wayne. Irondequoit scored seven unanswered goals in the first quarter and led 9-2 at the half on their way to defeat Hilton 13-8. Also winning were Penfield, Spencerport, Pittsford, East United-Eastridge, HF-L and Greece.
The week ended on Saturday with eleven games with Thomas, Spencerport, Penn Yan and Canandaigua winning in good games. Webster Thomas scored the first goal of the game and although Fairport quickly tied it, the Titans went ahead early in the second quarter and never gave up the lead in their 7-5 win at Fairport. Canandaigua travelled to Corning (Section IV) and won a close 5-4 game against the Hawks. Five different CA players recorded one point and senior middie Dom Comella added 2g. Holding the Red Raiders to two first quarter goals, the Penn Yan scored three goals in the first two quarters and three more after the halftime break to take the 9-2 win. Pal-Mac junior goalie Will Nichols made an impressive 14s/9ga (61%) but Penn Yan goalie also had a good day with 92/2ga (82%). Pal-Mac junior faceoff specialist Quinn Nolan also provided a highlight with 11/15 (73%) winning draws. Also winning were Midlakes-Red Jacket, Marcus Whitman, Livonia-Avon, McQuaid Jesuit (against St. Joe's 10-8), Wayne and Haverling.
Looking Ahead
There are currently eight teams that are undefeated going into week three: Webster Thomas (4-0), Spencerport (4-0), Marcus Whitman (5-0), Penn Yan (4-0), McQuaid (1-0) Penfield (3-0), Canandaigua (3-0) and Victor (1-0).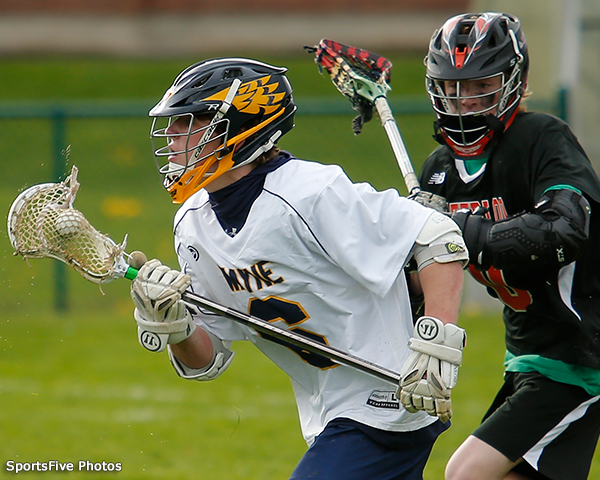 There are eleven games currently scheduled for Monday. Aquinas and Gananda are both 2-1. Victor travels to Section III to play Christian Brothers Academy. Penfield plays at Pittsford and Hilton at HF-L could be interesting.
On Tuesday Penn Yan is at Wayne and Marcus Whitman will play the Lakers.
Nine games will be played on Wednesday including Victor at Fairport, Greece at Hilton, and Canandaigua at Penfield,
McQuaid is scheduled to play at Corning on Thursday. Mynderse and Waterloo will see one team get their first win of the season.
On Friday R-H at C-C could be interesting, Pittsford is at Thomas and Fairport is at Penfield.
Finally, on Saturday the Wayne at Pal-Mac could be a tournament statement for either team. Canandaigua will host Ithaca (Section IV) and the McQuaid Jesuit at Hilton game could be fun.
Of course, if your team is playing it is the game of the week. Check out the times and the whole list on the games page.