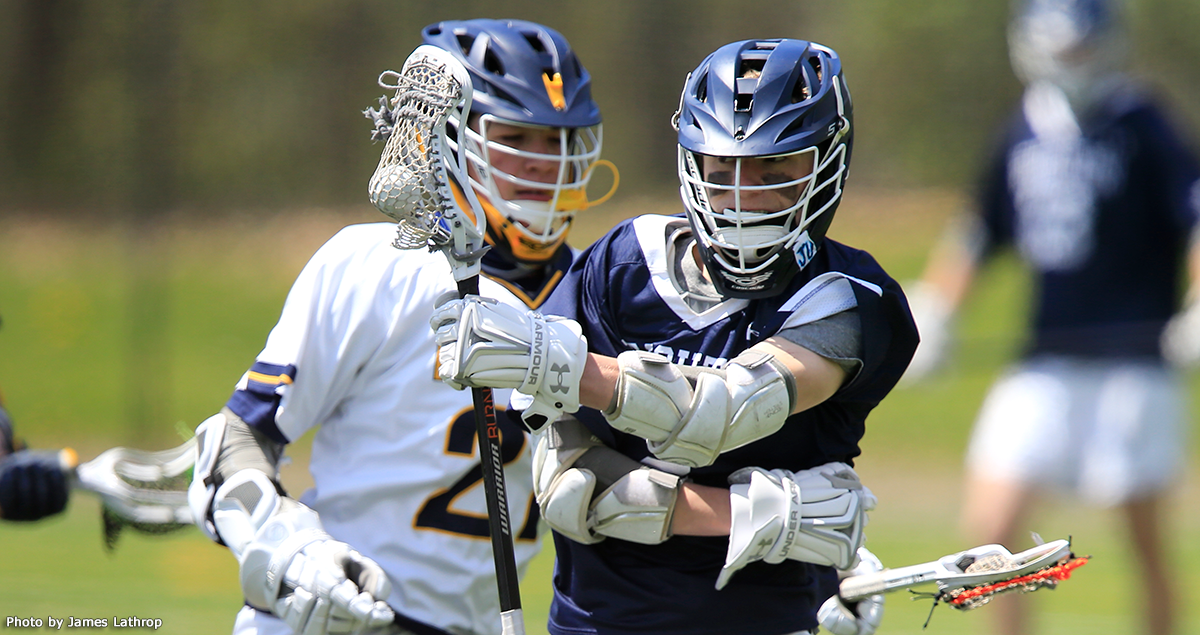 Thomas, Spencerport and Penn Yan Win
Saturday: DAY IN REVIEW: Webster Thomas scored the first goal of the game and although Fairport quickly tied it, the Titans went ahead early in the second quarter and never gave up the lead in their 7-5 win at Fairport this afternoon.
The spectators saw a very defensive game with Titan senior goalie Ethan Ruller making All-American saves and Fairport junior goalie McLean Ralston making 12s (63%). Ground balls were contested all over the field and both teams executed well run fast break clears. After a 1-1 first quarter, Webster scored two goals early in the second quarter and Fairport responded with one, giving the Titans a 3-2 lead at the halftime break. In the third quarter Thomas senior midfielder Ryan Prine scored two unanswered goals, giving the Titans a 5-2 lead after three quarters. David Petz scored for Thomas at 9:27, putting his team up 6-2 but Fairport's Jake Koonmen scored at 6:18 with an assist from Kole Stuver. Webster scored one more with 43 seconds left in the game, but the Red Raiders excited the crowd when Stuver scored with 17 seconds left and on the resulting faceoff junior long stick middie Josh Knapp took scooped up the ball at scored with 13 seconds left. The faceoff resulted in a Webster possession and the win.[BOX SCORE] More photos are in the gallery.
Midlakes-Red-Jacket took an 11-0 halftime lead to a 15-2 win from visiting Waterloo this morning. Junior midfielder Scott Verdehem scored both goals for Waterloo. There was no report from Midlakes-Red Jacket at post time.[BOX SCORE]
Livonia-Avon scored the first nine goals on their way to at a 14-2 win at Bloomfield-Honeoye this morning. Eight players made the scoring list for the Lakers. Leading the pack were sophomore A/M Jackson McEnerney with 4g-2a and junior M/A Justin Skelly with 3g-2a. Junior M/A Matthew Connor who scored 2g-1 led the team in ground ball production with 21 and 13/15 faceoff wins (81%). Laker goalie Matt Beachel had 5s/2ga (71%) in 38 mins and Nic Teachout made 1s/0ga (100%) in 10 mins. For the Pride Junior midfielder JD Allen and sophomore midfielder Evan Miller each scored one unassisted goal.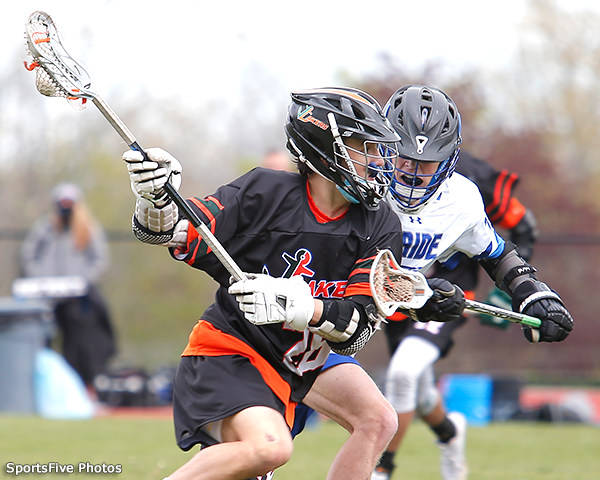 NOTE: The Pride roster contains fifteen hard working players and in this game, there were only three substitutes on the sidelines. Senior goalie Owen Saxby made some extraordinary saves among the 22s (61%) including several that were point blank. On several occasions, opponent Head Coach John Sciera was heard, yelling "good save" and "nice stop" to Saxby to which the senior simply said, "Thank you, sir.". BOX SCORE] More photos are in the gallery.
Canandaigua travelled to Corning (Section IV) and won a close 5-4 game against the Hawks. Five different CA players recorded one point and senior middie Dom Comella added 2g. Sophomore goalie made 8s/4ga (67%) for the Braves. Corning's Kelly DuPree had 2g and Eric Reazor made 16s for the Hawks (3-1). Canandaigua (3-0) will play Irondequoit on Monday.[BOX SCORE]
The coaches' preseason poll said the Class D finals would see Penn Yan and Pal-Mac as contestants and that the Mustangs would win and, in perhaps a preview, today, they did just that. Holding the Red Raiders to two first quarter goals, the Mustangs scored three goals in the first two quarters and three more after the halftime break to take the 9-2.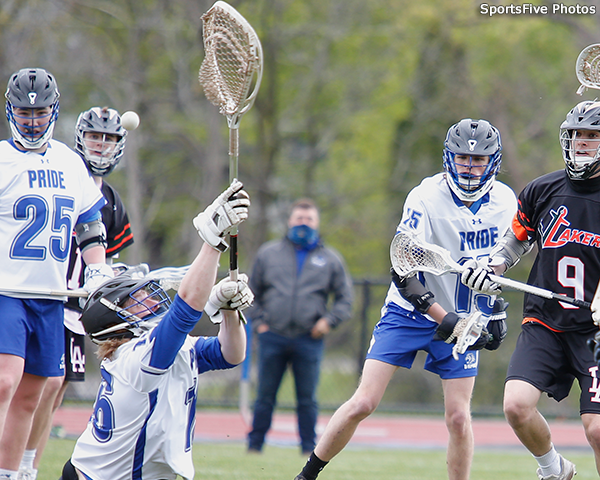 Pal-Mac junior goalie Will Nichols made an impressive 14s/9ga (61%) but Penn Yan goalie also had a good day with 92/2ga (82%). Pal-Mac junior faceoff specialist Quinn Nolan also provided a highlight with 11/15 (73%) winning draws. Penn Yan senior A/M Devon Gerhardt had 2g-4a and his classmate Ayden Mowry added 4g-1a to pace the Mustangs (4-0) who will play Wayne on Tuesday. Next up for Pal-Mac is Aquinas also on Tuesday.[BOX SCORE]
Geneva fought back from a 5-4 half with five goals in the fourth quarter to defeat host Aquinas 10-7. The game was tied three times. Geneva scored was balanced with Ryan Brown (2g-2a) and Kaleb Waters and Daniel Write both adding 3g-1a for the Panthers. Aquinas had scoring from seven players. Joey Sciorting (2g-1a), Zach Kelsey (2g) and Noah Olbrich (2a) led for the Little Irish.[BOX SCORE]
McQuaid played a close game with St. Joseph's (Section VI) starting with a 2-2 first quarter. In the second quarter the Knights outscored the Marauders 4-2 which was the difference in the 10-8 victory. Senior attackman Max Ettinghausen scored 5g and senior middie Cam Hocker added 3g for the Knights in their season opener. Senior faceoff specialist Jack Miller won 14/18 draws and senior goalie Connor Winters recorded 9s/8ga (53%). The Knights will play Bishop Kearney on Tuesday. Stats for St. Joseph's was unavailable at post time.[BOX SCORE]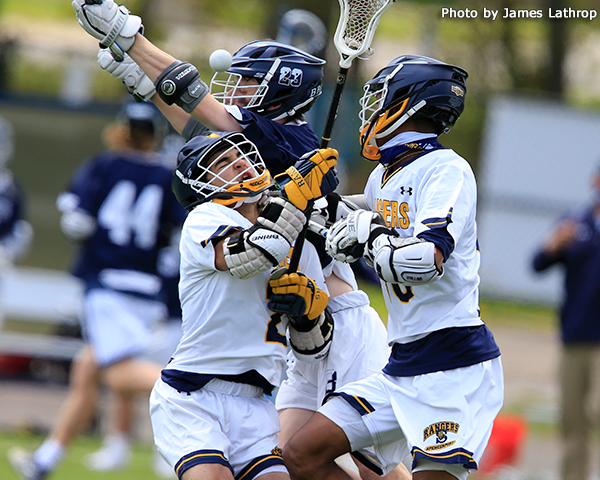 After a close first quarter that ended in a 2-2 tie, Spencerport scored six unanswered goals extending into the third quarter until Brighton's Olin Stanat scored an unassisted goal with 2:50 left. After three quarters the Rangers were up 9-3. Brighton outscored Spencerport 3-2 in the final stanza but the Rangers celebrated the 11-6 victory at home. Eight players made the offensive book for Spencerport. The list was led by senior midfielder Connor Mesh with 2g-4a and freshman attackman Anthony Rodriguez with 3g-1a. Senior goalie Adam Birkbeck made 10s (62%). Five Brighton players made their book with senior attackman Olin Stanat (2g-2a) and senior midfielder Sam Tourangeau (2g-1a) leading the list. Spencerport advances to 4-0 and will play Gates Chili on Monday. Brighton will play Bishop Kearney, also on Monday.[BOX SCORE] More photos are in the gallery.
Bath won their first game of the season this afternoon with an 18-3 victory at Newark. Junior attackman Jamie O`Neil led the Rams with 6g-5a) while his classmate, midfielder Brady Dickson added 2g-4a. Senior midfielder Hunter Cupp added 5g and won 18/21 draws for the Rams who play Bloomfield-Honeoye on Tuesday. Newark will play Geneva on Tuesday.[BOX SCORE]
Ten players from Wayne made the scorebook as the Eagles took a 13-1 win at Waterloo this afternoon. Senior A/M Andy Hamel led the list with 4g-2a. Goaltending duties were handled by Jack Acker 2s/1ga (67%) in 27 mins, Noah Gauvin 1s/0ga (100%) in 13 mins and Dylan Coene 0s/0ga in8 mins. Wayne will play Penn Yan on Tuesday. There was no report from Waterloo at post time.[BOX SCORE]
Marcus Whitman improved their record to 5-0 with a 13-2 win against visiting Gananda this morning. Senior A/M Ryan Herod scored 6g-4a, boosting his record this season on 23g-18a. Sophomore midfielder Connor Gorton added 2g-3a and Austin Smith won 15/18 draws for the Wildcats who will play Batavia on Monday. Sophomore Cohyn Reisman and Drew Smith each scored once for Gananda who will play Aquinas on Monday.[BOX SCORE]