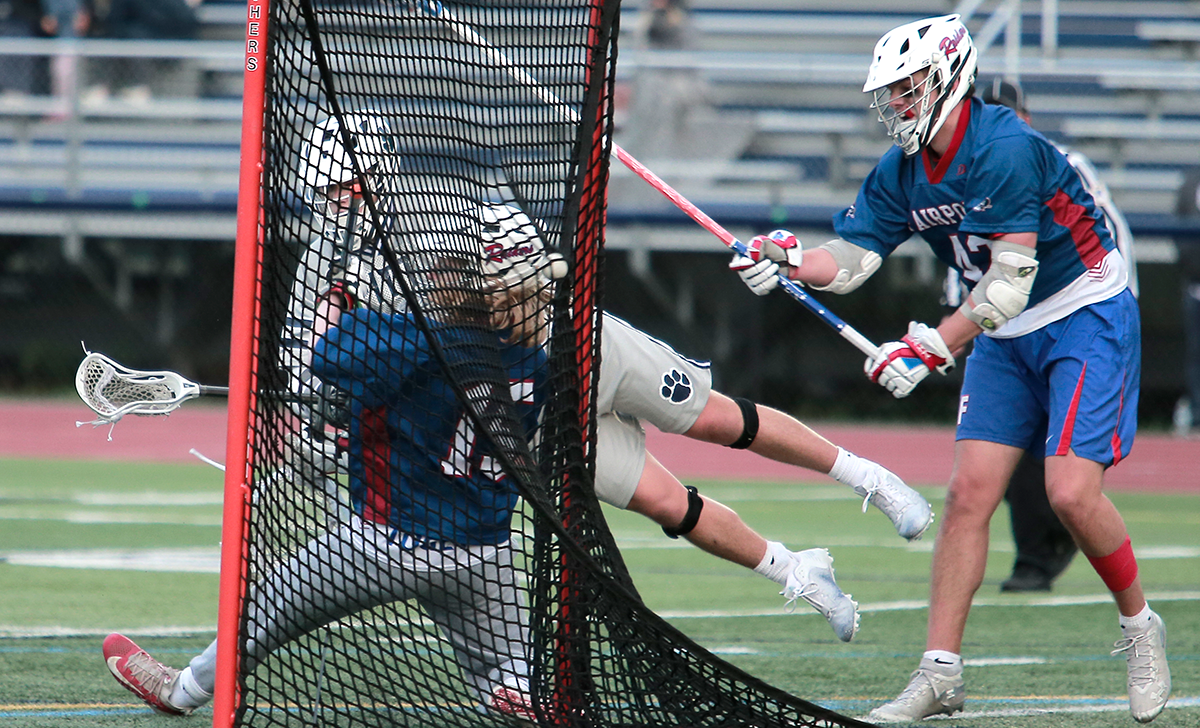 Fairport Wins First Meeting with Pittsford
Wednesday: DAY IN REVIEW:In one of the few non-mismatched games this year, Fairport travelled to Pittsford in what the preseason coaches' poll said will be the Class A finals and as they predicted, Fairport won this one, but despite the 10-7 game it really could have gone either way. Read the story here. More pictures are available in the gallery.
In another Class A matchup Victor hosted Hilton (2-1) in their season opener and took the 13-8 win. The teams were tied at 3-3 at the end of the first quarter and then the Cadets scored four goals in the second and went into the halftime break up 7-5. There must have been some halftime speech by first year Head Coach Dan Stone, as the Blue Devils came out of the break holding Hilton to just one goal in the fourth quarter while their offense scored eight goals. Senior midfielder Keagen Grim lead the Cadets in goals with 3g and his classmate Matthew Mojsej scored 2g-1a. Hilton will play Irondequoit on Friday and Victor will play Christian Brothers Academy (Section III) on Monday. There was no report from Victor at post time.[BOX SCORE] More pictures are available in the gallery.
It was Class A day, as Greece Storm hosted Rush-Henrietta and won the battle 14-10 in what was a game of halves. Greece outscored The Royal Comets 6-2 in the first quarter and 5-2 in the second to take an 11-4 lead into halftime. In the third quarter R-H came alive and scored five goals while holding Greece to 1 and in the fourth quarter it was 2-1 Greece. The Storm had eight players make the offensive book. Leading them were Senior attackman Brandon Pignato with 4g-3a and senior midfielder Logan Yates who added 3g-2a. The Royal Comets had five players on the book. Junior middie Killian Ceci had 3g-2a and his classmate Chase Petschke added 3g. Senior goalie Owen Mix and junior goalie Isaac Craft combined for thirteen saves for R-H who will play Spencerport on Friday while Greece plays Brockport.[BOX SCORE]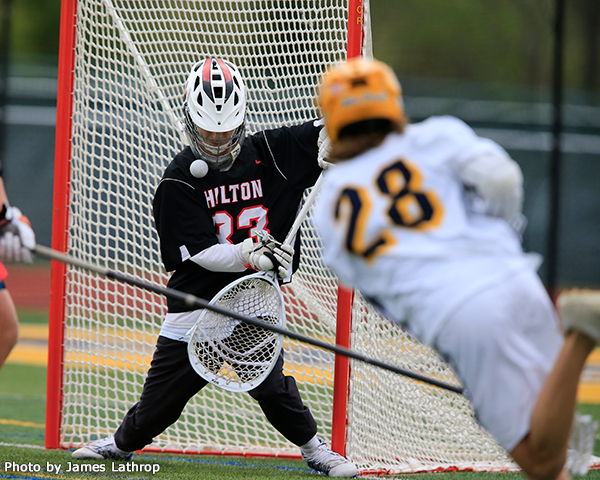 In the battle of Webster, Thomas defeated Schroeder 17-2. The Titans scored the first goal and never lost the lead. Neither team scored in the last quarter. Junior midfielder Nick Hauman scored 2g for the Warriors who were playing their season opener. Eight players from Thomas made the scorebook. Leading the pack was junior attackmen David Petz with 3g-4a and Evan Pashalidis with 6g. Senior midfielder Ryan Prine added 6a. In the cage were Ethan Ruller with 7s/3ga (70%) in 33 mins and Owen Dalberth with 4s/0ga (100%) in 15 mins. Thomas (3-0) will play Fairport on Saturday. Schroeder will play Pittsford on Friday.[BOX SCORE]
Penfield held the Spartans scoreless until the third quarter on their way to a 17-3 win over Gates Chili. Thirteen different players scored for the Patriots. Leading the list was junior attackman Alec Constable who racked up 6g-1a. Senior attackman Jackson Saulpaugh added 1g-5a and faceoff specialist Sam Schlifke won 13/16 (81%) of his draws for Penfield (2-0). Three different players scored a single goal for the Spartans (1-2) who will play HF-L on Friday. Next up for the Patriots is Churchville-Chili.[BOX SCORE]
Churchville-Chili scored the first seven goals in their 16-2 victory over visiting Brockport this afternoon. Senior attackman Cole Beardsley scored both goals for the Blue Devils. Freshman attackman Colin Duncan tallied 6g-1a and senior midfielder Patrick Mitchell posted 3g-6a. Senior midfielder Patrick Mitchell added 3g-6a for the Saints in their season opener. Junior goalie Chris TerHaar made 7s/2ga (78%) for the Saints while Antonio DiEngeniis made 14s for the Blue Devils who will play the Greece Storm on Friday while Churchville-Chili plays Penfield.[BOX SCORE]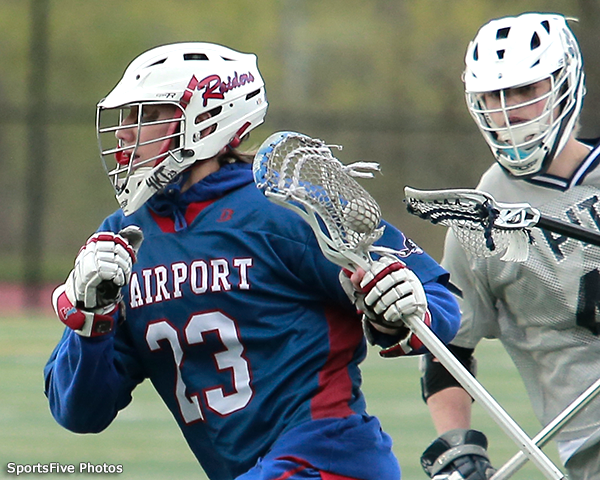 Senior attackman Matt Blythe recorded 4g-4a to lead Honeoye Falls-Lima in their 15-3 win over visiting East United-Eastridge tonight. Eleven different players helped in the effort. Freshman attackman Oliver Grisdale had 1g-1a to lead the visitors. Freshman goalie Ethan Wright played in the last quarter and made 2s/2ga. His classmate Ronald Dietz did the heavy lifting in the first three quarters and made 8s for EU-E who will play Batavia on Friday while HF-L (2-2) plays Gates Chili.[BOX SCORE]
It was a first for Spencerport as they defeated Irondequoit 13-3 at home. Although the first quarter resulted in a 2-2 tie, the Rangers scored five unanswered goals in the second to take a 7-2 into the halftime break. While Spencerport held the Eagles to a single second half goal, the Rangers added six more. Goaltender Adam Birkbeck recorded 12s (80%) and the offensive goals were spread between eight players. Leading the pack were senior midfielder Connor Mesh (2g-4a), senior attackman Tyler Gostling (4g) and senior middie Jacob Zimmerman (3g-1a). Three different players scored a single goal for Irondequoit while senior goalie Charles Chodack turned away 13s (50%). Spencerport (2-0) will play Rush-Henrietta on Friday while Irondequoit takes on Hilton.[BOX SCORE]
Canandaigua scored six unanswered goals in the first half and then played it even as they coasted to a 10-4 win against visiting Brighton. Sophomore goalie Jack Faiola recorded 10s/4ga (71%) while at the other end of the field senior attackman Sam Bennett scored 4g-1a to lead the five players making the scorebook for the Braves. Faceoffs, however, went to the Bruins as Sam Tourangeau won 14/20 draws. Four different Brighton player each scored one goal while goalies Thomas D`Angelo 11s/10ga (52%) in 46 mins, Paul Runge 1s/0ga (100%) in 2 mins shared time in the goal. Next up for Brighton is Spencerport on Saturday while CA will play Corning. [BOX SCORE]