Two Late Goals Give Aquinas the Win
Tuesday: DAY IN REVIEW: Livonia-Avon travelled to Aquinas tonight in the closest game of the day. After a 3-3 tie at the end of the first quarter, Livonia scored three unanswered goals to lead at the half 6-3. The Lakers led most of the game as they ended the third quarter up 8-6. The last quarter was all Aquinas as they outscored the visitors 5-1.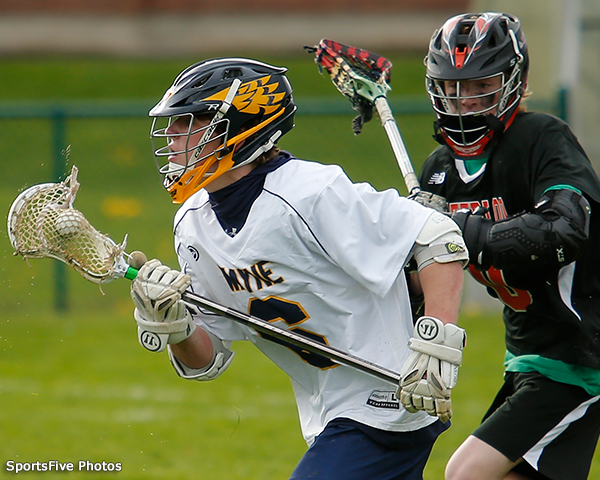 Senior midfielder Zach Kelsey score three of his seven goals at the end of the game including the game winner. Junior attackman Ryan Firmstone added 3g and in the cage senior Gavin Conlan made 17s (65%) for Aquinas. Junior Derrick Wigley (2g-3a) and his classmate Justin Skelly (2g2a) led the Laker offense. Aquinas will play Bath on Thursday while Livonia plays Newark. [BOX SCORE]
Newark led 14-4 at the half and cruised to a 20-5 win over visiting Batavia. Senior attackman Bryson Croft and sophomore attackman Preston Steve each scored 4g-4a and senior midfielder Brandon McNeil added 3g-4a. They were among the twelve players making the scorebook for the Reds. Senior midfielder Devon Harmon won 22/23 face offs and junior goalie Caleb George Cady made 6s (55%). Junior attackman Noah Burke scored 2g and sophomore midfielder Alexander Bartz had 2a for the Blue Devils who will play East United-Eastridge on Friday.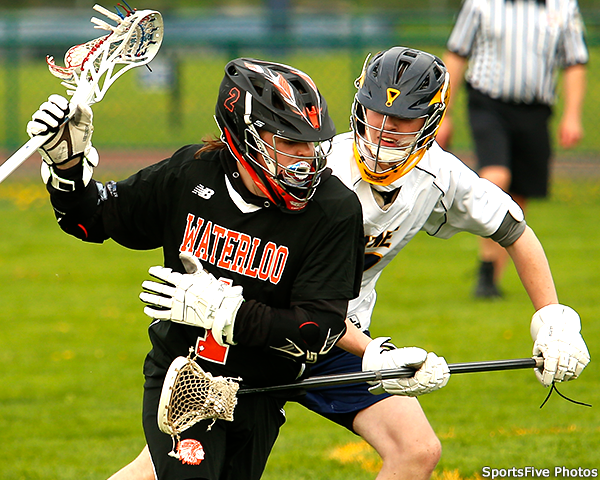 Newark will play Livonia-Avon on Thursday. [BOX SCORE]
Pal-Mac increased their record to 2-0 with a win 20-3 victory at Midlakes this afternoon. Four players scored at least five points for the Raiders. Sophomore attackman Mike Halsey had 2g-5a and junior A/M Riley Lich added 4g-3a. Junior midfielder Quinn Nolan won 17/18 faceoffs (94%). Junior goalie Will Nichols (3s/1ga=75%) and freshman Peyton Lich (4s/2ga=67%) shared time in the goal for Pal-Mac. No report from Midlakes-Red Jacket at post time. [BOX SCORE]
Marcus Whitman outscored Bloomfield-Honeoye 13-2 in the first half and ended the game with a score of 21-2 in Finger Lakes play at Bloomfield. A dozen players made the scorebook which was led by senior A/M Ryan Herod with 5g-6a and junior A/M Connor Tomion who added 5g for the Wildcats. Senior face off specialist Austin Smith won 20/21 draws and Jordan LaHue (9gbs) and Zack Lovejoy (11gbs), both defensemen/long stick middies led the ground ball effort for Whitman who will play Waterloo on Thursday. For Bloomfield-Honeoye, JD Allen and Max Willix each scored 1g and Jake Colf added an assist for the Pride who will play Gananda on Thursday [BOX SCORE]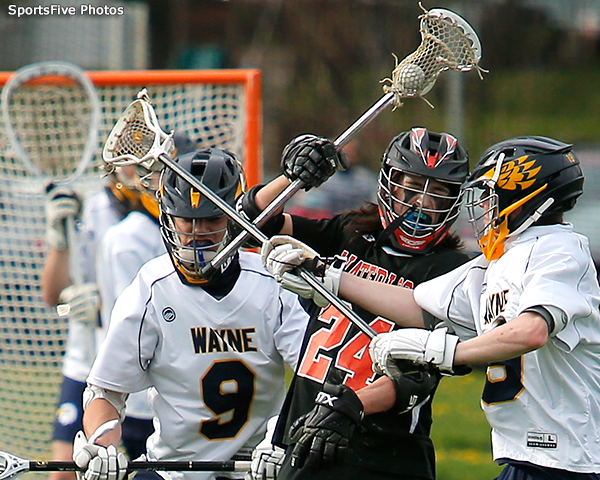 Wayne scored the first goal and never looked back in their 15-2 win over visiting Waterloo this afternoon. Senior goalie Jack Acker had 5s/2ga(71%) in 31 mins and freshman goalie Noah Gauvin had 2s/0ga(100%) in 17 mins. A dozen players made the scorebook which was led by senior A/M Alex Bolt who had 6a and senior Andy Hamel who added 3g-1a for the Eagles. They will play Midlakes-Red Jacket on Thursday. There was no report from Waterloo at post time. [BOX SCORE]
Game photos are in the gallery.
Geneva used a steady run of goals in the first three quarters and went home from Mynderse with a 14-0 shutout. Junior goalie Garrett Kayser 2s/0ga(100%) played for 36 mins and junior Luvon Boykins 0s/0ga finished the game for the Panthers. Sophomore attackman Ryan Brown scored 3g-4a and Aiden Eighmey and Max Miller each scored 4g-1a for Geneva. Mynderse senior goalie Gino Poretta recorded 15s/14ga(52%) for the Blue Devils who have Pal-Mac on Thursday. Geneva plays Penn Yan also on Thursday. [BOX SCORE]
Bath was able to play close with Penn Yan in the first quarter which ended with the Mustangs up 3-2, but Penn Yan took off after that and finished with a 15-7 win at home tonight. Nine players scored points for the Mustangs. Leading the list were seniors A/M Devon Gerhardt who had 2g-5a and Ayden Mowry who had 5g-2a. Five players from the Rams each scored 1g and junior attackman Jamie O`Neil scored 2g-3a for Bath in their season opener. Next up for Bath is Aquinas on Thursday a while Penn Yan plays Geneva. [BOX SCORE]