Five Mismatches on Monday
Monday: DAY IN REVIEW: There were six games played on Monday and five were mismatches.
In the closest game today, four goals in the last stanza were the pretty much the difference as HF-L defeated Livonia-Avon 12-7 at home. The Cougars led 3-1 after the first quarter and 6-4 at the half. After outscoring the Lakers 2-1 in the first, they added 4-2 in the last quarter. Junior attackman Matt Blythe led in scoring with 5g-1a and his classmate Chase Perryman added four more goals. For the Lakers,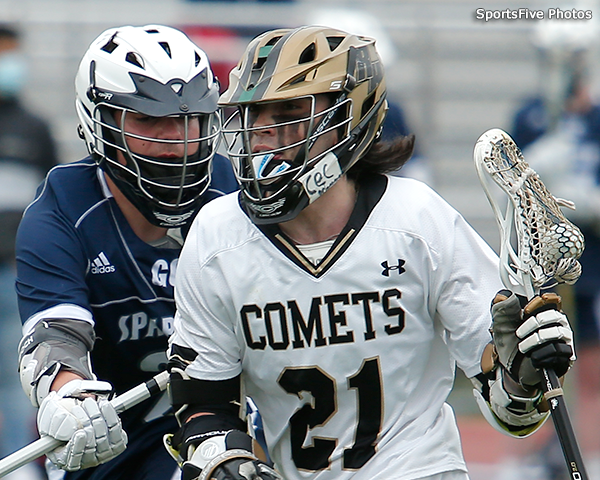 Justin Skelly scored 2g-3a and Jackson McEnerney added 3g while sophomore goalie Trevor Reese made 12s (50%). HF-L will play East United-Eastridge on Wednesday and Livonia-Avon will play Aquinas tomorrow. [BOX SCORE]
Gates Chili travelled to Rush-Henrietta where the Royal Comets took control quickly in their season opener and posted a 17-3 victory. Nine different players made the offensive book for R-H which was led by junior midfielder Chase Petschke with 3g-3a and senior attackman Tommy LaRocca with 4g-2a. R-H junior goalie Isaac Craft made 5s (62%). Senior attackman Ethan Knauf had 2g-1a for the Spartans (1-1) who will play Penfield on Wednesday. R-H will play the Greece Storm on Wednesday. [BOX SCORE] Game photos are in the gallery.
Nine players helped in the scoring for Gananda when they travelled to Batavia to beat the Blue Devils 18-1. Sophomore offensiveman Cohyn Reisman recorded 7g-1a and Brock Chasey scored 3g-5a to lead the Blue Panthers. Senior goalie Gavin Britton had a shutout with 6s in his three quarters in the cage. Senior midfielder Dawaundrick Murrell scored for Batavia who will play Newark tomorrow. Next up for Gananda is Bloomfield-Honeoye on Thursday. [BOX SCORE]
Thomas and Irondequoit played a close first quarter, but then the Titans took off, scoring eight unanswered goals and coasted to a 14-5 win on the road. Ten players from Thomas made the scorebook with junior attackman David Petz setting the pace with 4g-2a and his classmate Evan Pashalidis adding 3g-1a. Senior goalie Ethan Ruller made 11s (79%) in forty-five minutes in the goal.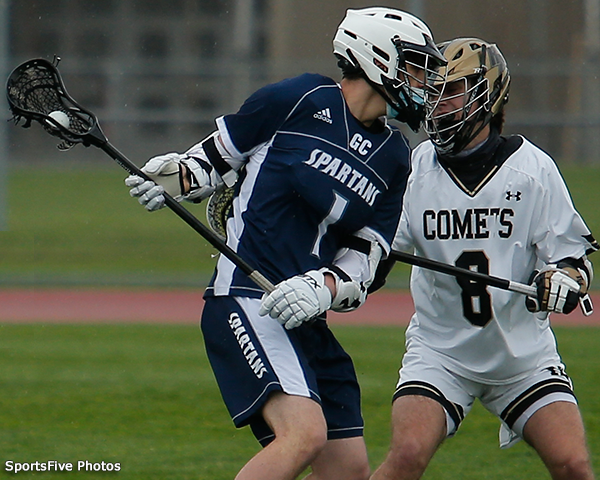 Five different Irondequoit players each scored one goal and senior attackman Ronnie Garrow had 1g-1a for the Eagles. Senior goalie Charles Chodack made 15s (52%) for Irondequoit who will play Spencerport on Wednesday while Thomas is playing Schroeder.[BOX SCORE]
Hilton scored six goals in the first quarter and six more before the half as they took a 17-5 victory at Brockport. Steven Miller (2g) and Chris Parker (1g-1a) each scored two points for the Blue Devils and junior goalie Antonio DiEngeniis recorded 19s (55%) for Brockport (0-2) who will play Churchville-Chili on Thursday. There was no report from Hilton at post-time. [BOX SCORE]
Spencerport travelled to Greece where they scored eight first quarter goals and held the Storm to one goal in the first three quarters before finishing with a 1702 win. Ten players made the offensive book with Justin Schnauber scoring 3g-4a, Cameron Mesh adding 1g-5a and Connor Mesh adding 1g-5a for the Rangers. Next up for Spencerport is Irondequoit on Wednesday. There was no report from the Storm at post-time. [BOX SCORE]