2020 Awards
There are only two awards section-wide awards for the season that wasn't, one by Section V and one by US Lacrosse.
Section V Scholarship
Section V awards a $250 scholarship to one member from each sport. Student-athletes apply for the scholarship, submit a resume, transcript, letter of recommendation for his/her coach and be endorsed by the Athletic Director. In addition, the applicant submits a response to the following: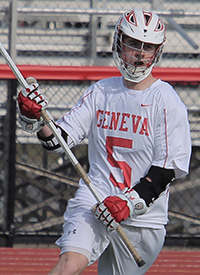 "Section V is committed to excellence in interscholastic athletics while supporting an education-based learning environment."
1. Interscholastic athletics is intended to be an extension of the classroom. What lessons have you learned from playing high school sports? (Include how your participation in interscholastic athletics has contributed to your personal growth.)
2. What role will these lessons play in your future endeavors? (Include how learning these lessons at a young age will prepare you for success in the future.)
The winner for boys lacrosse is:
Bob Scott Award
*US Lacrosse announced in the spring that there would be no All-American or All-Academic awards this year. They later decided that the Bob Scott Award would be given.
US Lacrosse sponsors an annual award in honor of long-time Johns Hopkins Head Coach Robert Scott. It recognizes a senior player "who truly honors the game of lacrosse, is invested in the development of the game in his community and is an exemplary member of his team."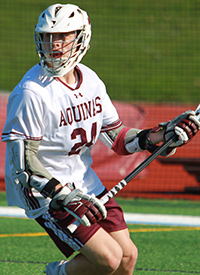 The Head Coaches had an on-line vote and selected, for 2020:
The Michigan State bound Olbrich was named to the GRALL Super sixteen list in his junior year. In his letter of recommendation, Assistant Coach Mike Kelly wrote:
"I have been honored to coach Tanner for the past three years. I have seen his work ethic in the weight room, after school shooting, off season work outs and his commitment to team first-hand. He has developed into a complete player. This award should go to the player that shows all these attributes but as important the player his teammates and coaches trust and admire. When the game is on the line the players and myself wanted the ball in Tanner's stick. He showed grit and determination in every game he played."