Colin Peers Selects SUNY Cortland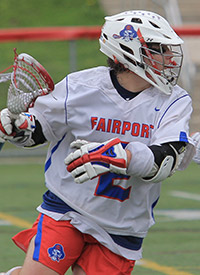 Another top tier attackman from Fairport has announced his plans to study and play lacrosse at Cortland next fall. Red Raider senior Colin Peers will start his third year on the varsity with 44g-36a after a strong junior year where he posted 36g-22a. As a result he earned Class A All-Tournament, first team All-League (MC-d1) and All-Section Five second team honors.
Playing on the current Red Dragon roster are Jon Ecker (Wayne), Matt Zarzycki (R-H), Anthony Marcuccilli (Geneva) and Ethan Parks (Penfield). He will join Evan Alfano (Schroeder) and Ryan Haugh (Livonia-Avon) after the 2020 season.
SUNY Cortland is often called the home of lacrosse coaches, as many dozens of high profile lacrosse coaches studied there. Included in the list of college coaches are Bill Tierney (RIT, Denver, Princeton), Paul Wehrum (Union, Herkimer), Mike Waldvogel (Yale, Fairfield), Sid Jameson (Bucknell),Jim Acee (Farmingdale), Dave Urick (Hobart, Georgetown), Jack Emmer (Cortland, W&L, Army), Jim "Ace" Adams (Army, Penn, Virginia), Willis Bilderback (Navy), Dick Edell (Baltimore, Army, Maryland), Richard "Dick" Garber (Massachusetts), Richard "Richie" Moran (Cornell), Robert "Bob" H. Scott (Johns Hopkins), and Roy D. Simmons Jr. (Syracuse).