Cal Lambert Commits to Army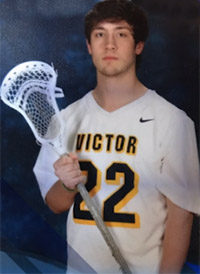 A three-sport athlete, Victor junior midfielder Cal Lambert has announced his commitment to attend the US Millitary Academy at West Point after his graduation in 2021. "Cal knew early on yhat West Point was a perfect fit. Cal is ready to serve his country and test himself at the highest level." says Head Coach Jim Andre.
Cal said when talking to Coach Alberici, "I knew I was going to be a cadet. I think playing three sports really helped me grow as a lacrosse player and a person. I'm looking forward to my years at the academy and the experiences and opportunities beyond."
After making the Varisty team as freshman, a shoulder injury sidelined the midfielder for his sophomore season, but he is looking forward to this spring.
"It is always exciting to have a player commit to playing lacrosse at it's highest level, Division 1. To have a player do this at Army West Point, is even more special as we are so Proud of Cal in his choice to serve our country,"