Le Moyne gets not 3 but FOUR more from Section Five
Updated: Let's make that FOUR recruits for Le Moyne as Penfield goalie, Travis Wagner made his commitment a year ago! A two year starter for the Patriots, he will start his senior year with 312 saves (65%). After a seventy percent season last year he was named first team all-league honores (MC-d1) and was a Connors and Ferris Player of the Week in April.
Make that three Le Moyne commitments from Section Five as Alec Russell anounced his decidion to joint Jagger Kerr and Seth Benedict in next year's freshman class. The Victor attackman ended last season with 21g-5a. Seventy-nine percent of his thirty-eight shots last season were on cage and seventy percent of his shots on resulted in goals.
Le Moyne College Head Coach Dan Sheehan picked up two more section five players who have committed to play after graduation this spring. Committing to the Dolphins are Geneva defenseman Jagger Kerr and senior midfielder Seth Benedict from Marcus Whitman.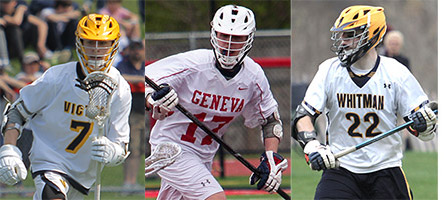 Benedict started playing for the Wildcats in eight grade and will start his last year with 129g-99a. He led his team, last year in goals, assists and ground ball production. He was named to the Class D All-Tournament team last year and to the Messenger-Post All Star team (three times).
Kerr will start his fourth year on the Geneva team after being named to the All Section second team, the Class C All-Tournament team and the Finger Lakes Defenseman of the Year. Not shy about moving up field, he recorded three goals and seven assists last season.
There are currently eight Section Five alums playing for Le Moyne including Sean Emerson (Penn Yan), Mike Northrup (Schroeder), Sam Lambert (Victor), Evan Kelly (Aquinas), Nate Arnold (Pal-Mac), Connor Haims (Pittsford), Will Pieterse (Pittsford) and Devin Andrews (Canandaigua.