Alumni Figure in on Indoor Worlds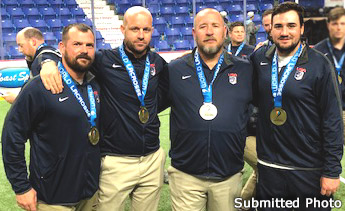 Section Five was well represented in the 2019 Men's Indoor World Championships in September. Penn Yan Head Coach, Brian Hobart, sent along an alumni snapshot taken after the USA team look the bronze medal.
The team finished 4-3 overall and just missed qualifying for the gold medal game. It was the fifth consecutive bronze for Team USA.
Fairport alum Blaze Riorden scored 12g-10a. On the coaching staff were Peter Milliman (Brighton), Chris Schiller (McQuaid) and Brian Hobart (Penn Yan).