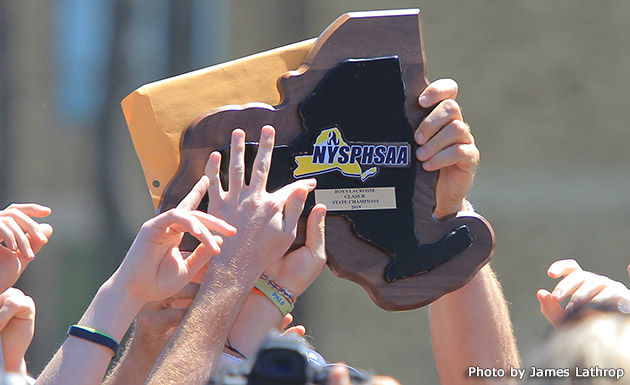 2019 Season Wrap Up
Batavia joined with both Attica and Notre Dame (to form what we called BAND) and otherwise the teams remained the same with thirty-five playing in Section Five this year. There were 1,129 players on the rosters at the during of the season and 914 on the final rosters. Fairport carried the largest roster with forty-one players and Spencerport had the smallest with sixteen.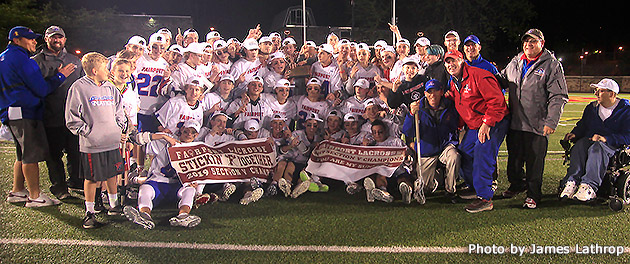 There were four classes for the sectional and NYS tournaments. Two of the four top seeded won their championships. Fairport (#1) beat Hilton (#3) 9-4 in Class A. In Class B Victor (#2) defeated Canandaigua (#1) 7-6 in the last six seconds of regulation and in Class C, Geneva (#1) defeated Wayne (#2) 10-1. In Class D, Penn Yan (#2) won their twenty-fourth Sectional title with a 10-9 overtime win against Pal-Mac (#1).
The first game of the season was played on March 21st, when Livonia-Avon defeated Brockport 11-9. The last regular season game was played when Marcus Whitman beat Eastridge 15-8. The 314 regular season games were played and helped to determine the league championships. In Monroe County-1 it was a three-way tied between Fairport, Hilton and Pittsford. In MC2, Victor took the championship and in MC3 Brighton was on top. Geneva won the Finger Lakes title and McQuaid Jesuit won the GRALL title.

At the end of the year, the Section Five Head Coaches selected the post-season award winners. The coaches selected their All League players. Then, after reviews of over twenty-four nominations, they selected six US Lacrosse All-Americans and six All-Academics. Named All-Americans were Sutton Boland (Victor), Jack Brennan (Irondequoit), Joe Camp (Wayne), Shawn Doran (Hilton), Conner Fingar (Penn Yan) and Jack Gallina (Pal-Mac). Named US Lacrosse All-Academics were Marc Belles (Canandaigua), Mason Gasbarre (Fairport), Stevie Katz (Thomas), Ryan McEvily (McQuaid Jesuit), Michael Mitchell (Penfield) and Brett Olney (Irondequoit).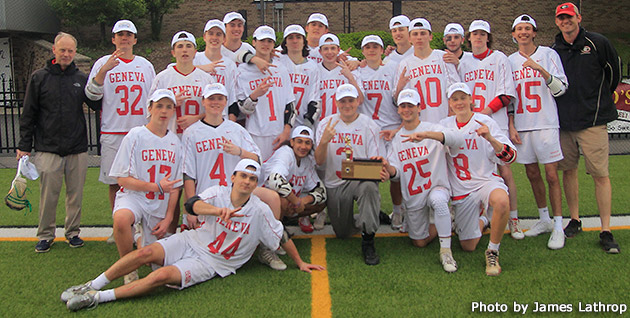 The Monroe County Division 1 Player of the Year was Shawn Doran. Sutton Boland was the Division 2 Player of the Year and Jack Brennan was Division 3 Player of the Year. The Bob Scott nominees were Matt Cronk (Fairport), Patrick Sanna (Pittsford) and Riley Schmeer (Spencerport). The Section Five and US Lacrosse Bob Scott Award winner was Riley Schmeer (Spencerport).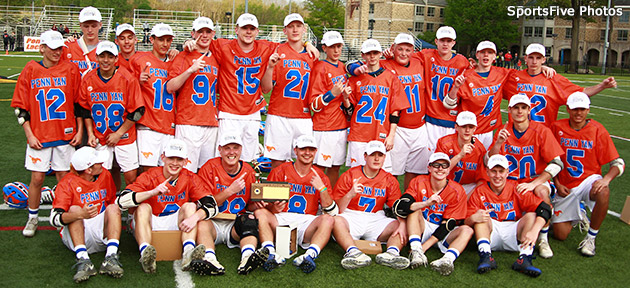 The Finger Lakes Players of the Year were attackman Zach Baker(Pal-Mac), midfielder Jake Gallina (Pal-Mac), defenseman Jagger Kerr (Geneva), goalie Talyn Pierce (Newark) and Joe Camp(Wayne) who was selected as the Finger Lakes Player of the Year.
The GRALL Player of the Year was attackman Ryan McEvily (McQuaid Jesuit).
Penfield (Class A), Batavia-Attica-Notre Dame (Class B), Honeoye Falls-Lima (Class C) and Marcus Whitman (Class D) were awarded the Steve Morgan Sportsmanship Awards by the Genesee Valley Lacrosse Officials Association.
After the regular season, there are several championship opportunities for teams that qualify. Fairport(Class A), Victor (Class B), Geneva (Class C) and Penn Yan (Class D) were the Sectional Champions in 2019.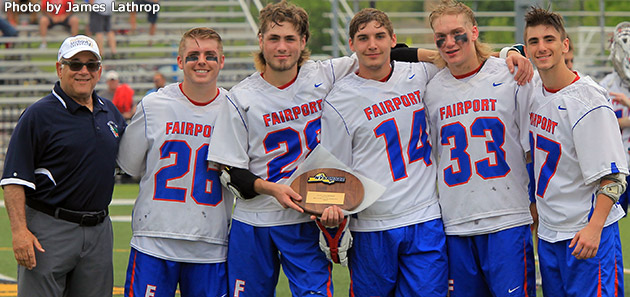 All Tournament teams were selected for each Class. The MVPs for A, B, C and D were Colin Peers (Fairport), Jack LaRue (Victor), Sam Miller (Geneva) and Connor Fingar (Penn Yan).
The SportsFive Players of the Year were Jack Brennan (Irondequoit) in offense and Sutton Boland (Victor) in defense. The Sportsman of the Year was Devin Campbell (Bloomfield-Honeoye).
The final games of the year are the New York State Tournament. Section Five hosted quarter final games. Fairport defeated Orchard Park 5-1 in Class A. Victor came to live in the fourth quarter and scored five unanswered to defeat Hamburg 8-4 in Class B. East Aurora fought back from a 4-0 deficit to defeat Geneva 8-6 in Class C and Penn Yan came back from an early deficit to defeat Eden 8-5. Section Five hosted two of the semifinals and Fairport and Victor won a trip to the finals. Penn Yan lost, in Syracuse, to LaFayette.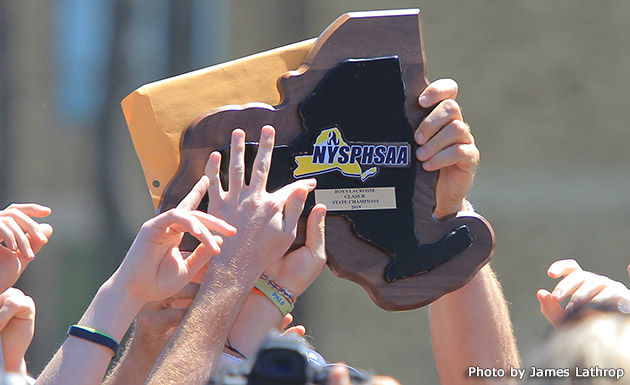 All four Championship games were held at St. John Fisher College. Fairport lost 10-6 to Massapequa in Class A. Victor won their fourth NYS Finals in five years today with a 9-7 win over John Jay. Shoreham-Wading River won their fourth State Title with a 12-7 win over Jamesville-Dewitt and LaFayette/Onondaga came back from behind to defeat Briarcliff 9-8 in OT.
At the end of the season sixty-two seniors have made college commitments. They will join the over three hundred players from Section Five who are currently playing at all college levels.