Canandaigua in the Finals!
Section V sent two teams to the NYS semifinals and Fairport lost to a strong Baldwinsville, and Canandaigua used defense and faceoffs to beat West Genesee and move on to the championship round on Saturday.
BALDWINSVILLE 13 - FAIRPORT 5 - NYS SEMIFINALS -Although the Red Raiders scored the first goal and led at the end of the first quarter, the Bees scored five unanswered goals before the half and cruised to the victory.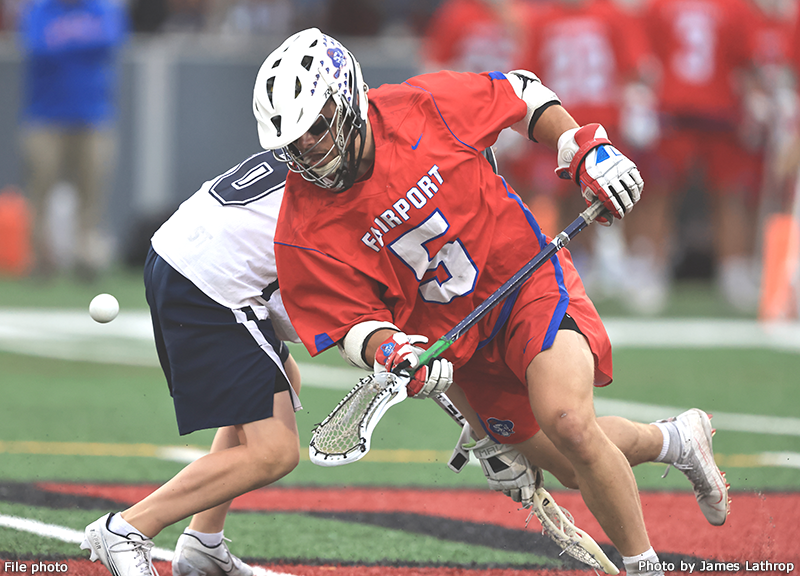 The Baldwinsville defense pressed hard, were strong and quick and they were skilled at driving the ball handlers into doubles. On the other end of the field Trey Ordway led scoring with 4g and Colin Doyle had 1g-3a. Nicholas Cary made 5s (63%). Baldwinsville will play Northport (Sect XI) at 12:30 on Saturday at Hofstra. Fairport ends their season at 17-4. Stats for Fairport were not available at post time. [BOX SCORE]
WEST GENESEE 1 - CANANDAIGUA 5 - NYS SEMIFINALS -The Canandaigua offense scored the goals, but it was the defensive end of the field that won the game for the Braves and sent them to the Championships at Hofstra on Saturday. The last time that the Wildcats were held to one goal was in 2014 when Fairport beat them 10-1. The hard-hitting long sticks were tenacious, playing hard to the ball while closing off adjacent receivers and, in the goal, junior goalie Jack Faiola made a bunch of clutch saves that took the wind out of sails of potential Wildcat surges.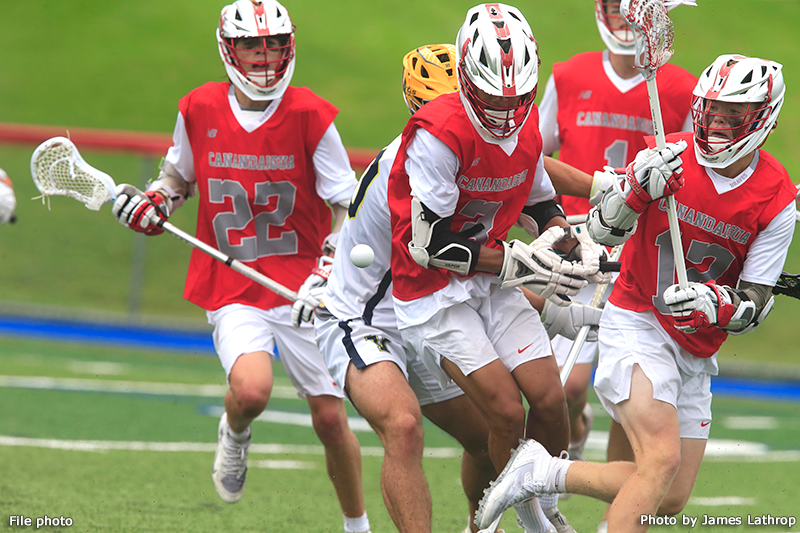 The Braves had most of the ball time in the first half, much of that due to the faceoff wins by junior faceoff specialist Luke McCrobie who seemed to come up with wins when they were needed most.
The lone goal in the first quarter was on a sweep by Jaxon Grant. Early in the second quarter sophomore attackman Sean Olvany drove to the crease and with 3:29 left in the half senior midfielder Elliott Morgan scored on a wild sidearm from outside. Liam Burns scored on a pass from Ryan Mahoney to give the Wildcats their only goal in the game. The half ended with the Braves up 3-1.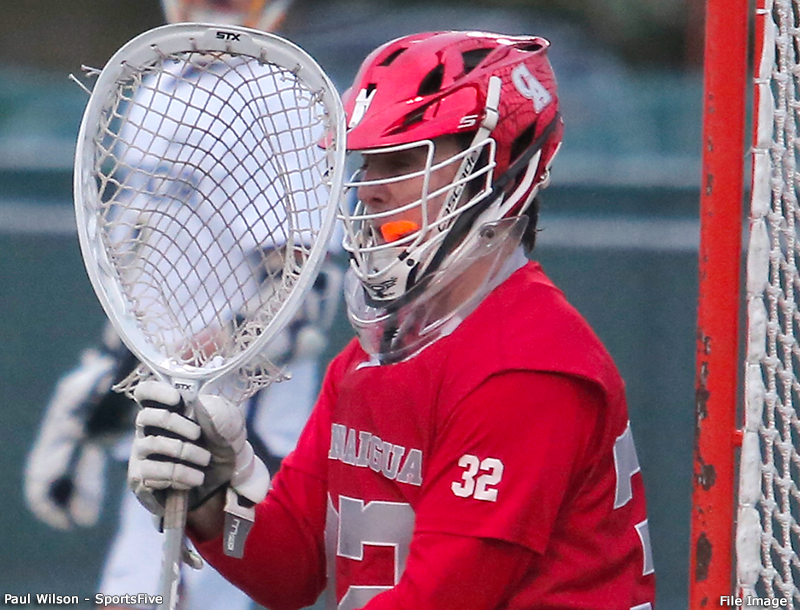 The third quarter was all defense on both ends of the field as goalies and defensemen limited shooter to outside shots. seniors Eric Platten, Mason Bolster and Brady Comella pressed hard on key players from West Genesee and knocked down passes that they then scooped up as pushed down field.
Sophomore middie Braden Gioseffi scored on a sweep at 9:28 and Olvany scored on the crease with a pass from junior attackman Nate Sheridan at 5:34 and the rest of the game was just waiting to see if the Wildcats could mount a comeback.
Canandaigua will play in the Class B Championship against Garden City (Sect VIII) at 3:00 PM on Saturday at Hofstra University. [BOX SCORE]