Thomas Takes McQuaid Jesuit
Friday: DAY IN REVIEW: Six games were played on the last Friday of the regular season and there were some good ones. Webster Thomas broke out in the second quarter, led 7-5 at the half and won 12-8 over McQuaid Jesuit. Newark scored five goals in each half and fought off a surge by Gananda to win 10-8. Brockport goalie Antonio DiEngeniis made 14s/6ga (70%) to help the Blue Devils beat Gates Chili 9-6 tonight. Other winners were Victor, Rush-Henrietta and Mynderse.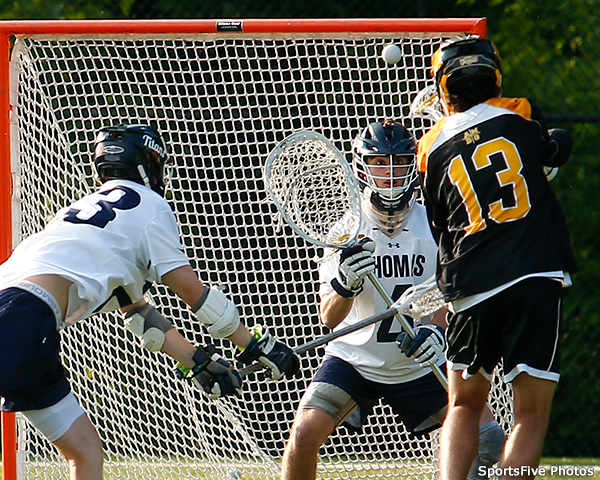 There were two lead changes in a close game for Thomas who defeated McQuaid Jesuit 12-8 this afternoon in Webster. The Knights took a 3-1 lead after the first quarter, but the Titans came back in the second with six strong goals while hold McQuaid to two. Still under control as the third quarter started, four goals by Thomas put the Titans up 11-6 at the start of the fourth quarter. The first four shots on by the Knights were goals, including one open net during a ten man ride that, over the season, has been very successful for the Titans, but not this time. Thomas Goalie Ethan Ruller reset and made 8s/8ga as the game progressed. Connor Winters, in the cage for McQuaid also had an open net goal against, when their ten man ride was broken. Winters finished with 14s/12ga (54%). As usual, the Thomas offense was spread around, with seven players making the book. Leading the list was David Petz with 2g-3a and Evan Pashalidis had 3g-1a. The Knights had ten players on the offensive book. Max Ettinghausen led his teams in scoring with 2g-2a. McQuaid finished their regular season at 6-5 and Thomas finished at 12-1. [BOX SCORE] More images are available in the gallery.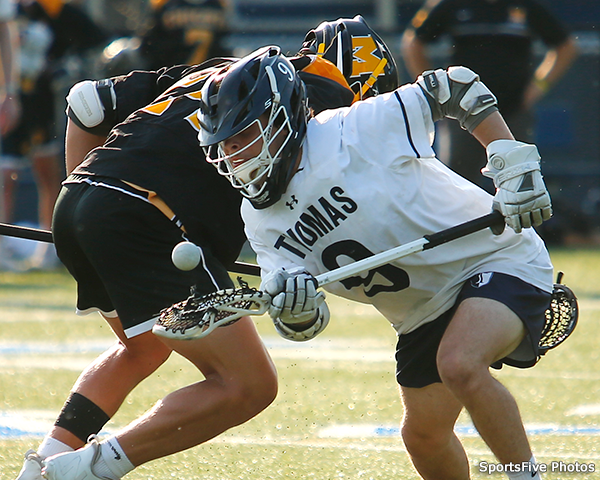 Victor outpaced Brighton 9-1 in the first half and ended the game with a 15-4 victory at home. Eleven players made the scorebook for the Blue Devils with Sam Gotham leading with 3g-1a. Logan Callaham won 9/12 faceoffs. Four different players each scored one goal for Brighton who finish their regular season at 4-9. Victor finishes at 12-1 and both will wait to see how they make out in the Class B seeding on Sunday. [BOX SCORE]
Newark took a 2-1 lead in the first quarter and never gave it up, despite a four-goal surge by the Blue Panthers in the third quarter, winning 10-8. It was the first three-game winning streak for the Reds since 2013. Goaltender Caleb George Cady had 12s/8ga (60%) and Preston Steve had 3g-4a for the Reds who finish their regular season at 6-8. Drew Smith scored 3g-1a for Gananda who will finish their season tomorrow when they play Medina. [BOX SCORE]
Brockport finished their (4-12) regular season with a 9-6 win over Gates Chili tonight. Chris Parker scored 5g-1a, Cole Beardsley had 2g-3a and Matt Post had 1g-3a for Brockport. In the goal Antonio DiEngeniis had 14s/6ga (70%). Brady Knauf had 4g and Ethan Knauf had 2g-2s while Nathan Weise made 10s.9ga (53%) for the Spartans who end their regular season at 4-11. [BOX SCORE]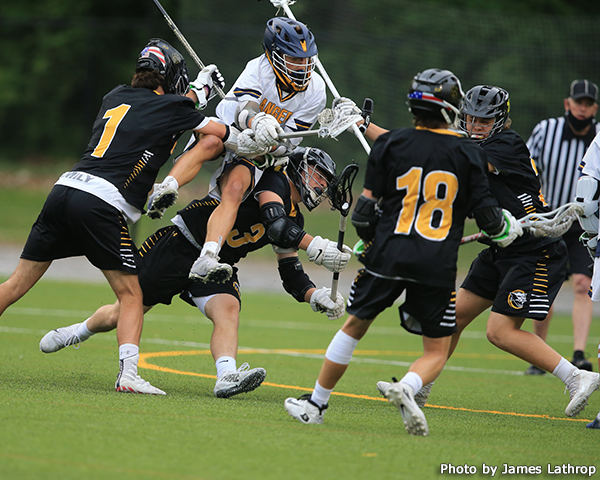 Rush-Henrietta scored eight unanswered goals in the first half on their way to a 16-1 win against East United-Eastridge tonight at East High. Royal Comte goalies Isaac Craft recorded 4s/0ga (100%) in his half and Owen Mix added 2s/1ga (67%) in his half. Junior midfielder Chase Petschke led the scoring with 5g-2a and his classmate Killian Ceci added 2g-3a for Rush-Henrieta who finished their regular season at 6-8. East United-Eastridge finished their regular season at 2-11. [BOX SCORE] More images are available in the gallery.
Mynderse finished their regular season at 4-12 with a 9-3 win against Waterloo this afternoon. Scott Verdehem had 2g for Waterloo who finish their regular season at 2-14. There was no report from Mynderse at post time. [BOX SCORE]