Geneva Over Wayne
Thursday: DAY IN REVIEW: More teams finished their regular season today and although most games were mismatches once again, the Geneva at Wayne game provided some excitement as the Panther won 10-7. NOTE: Long time Genesee Valley Lacrosse Officials Association member, Bob Mentz was met after his assigned game at Wayne tonight by a large group of friends and fellow officials as he was told that he will be inducted into the USA Lacrosse Rochester Chapter Hall of Fame this fall.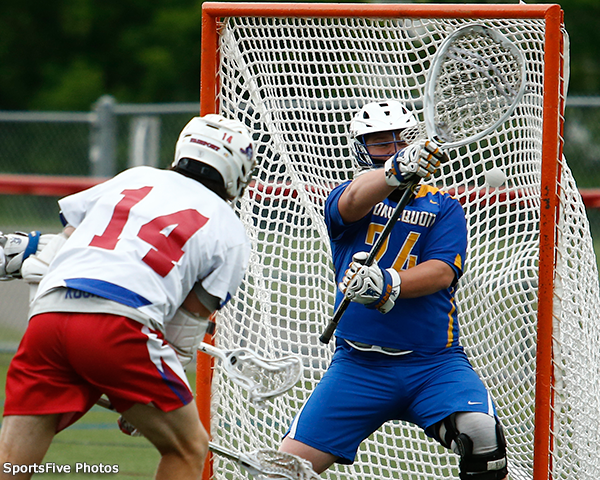 Fairport scored nine first half goals while holding the Eagles scoreless on their way to a 16-6 win over visiting Irondequoit this afternoon. After a thirty-minute lightning break, faceoff specialist Joey Giggie went to work and won 15/18 draws. Eleven Red Raiders made the offensive book. Leading the list were Kole Stuver (2g-3a), Rob Crowley (4g) and Trey Terzo (3g). There was no report from Irondequoit at post time. [BOX SCORE] More images are available in the gallery.
After a 9-1 first half, Newark scored eight more to post a 19-9 win over visiting Bloomfield-Honeoye this afternoon. Preston Steve led the scoring with 4g-3a along with Bryson Croft with 2g-2a. Goalie Caleb George Cady made 12s/9ga (57%). JD Allen score 7g and Owen Baader added 1g-1a for the Pride who finish their regular season at 4-10. [BOX SCORE]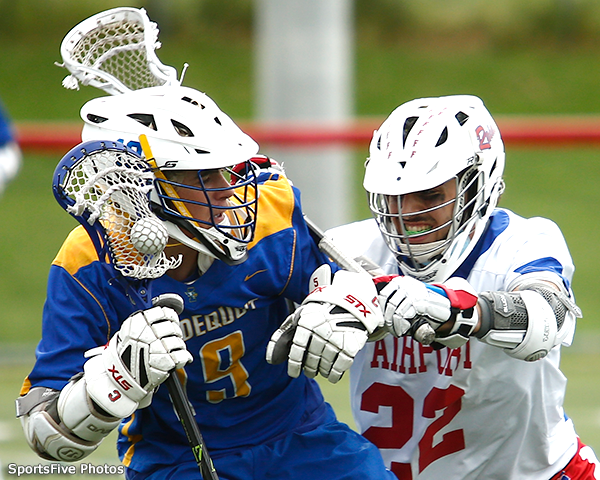 It was a shutout for Will Nichols who made four saves to help Pal-Mac to an 18-0 win against Waterloo this afternoon. A dozen Red Raiders made the scorebook and most scored a single goal. Riley Lich was the high scorer with 4g-2a and Damian Knaak had 2g-3a for the Red Raiders who have one game left. [BOX SCORE]
Bath scored nine goals in the first quarter and seven more in the second to post a 19-2 win over Midlakes-Red Jacket this afternoon. Brody Baldwin had 5g and Ian DiDomineck and Jamie O`Neil each had 4g for the Rams. Goalie Ethan Narby made 5s/2ga (71%). There was no report from Midlakes-Red Jacket at post time. [BOX SCORE]
The Panthers outscored the Eagles 4-1 in the first quarter, but Wayne came back with three in the second to enter the halftime break with Geneva up 5-4. Geneva then scored three unanswered goals in the third and despite a rally by Wayne in the fourth quarter, it was a 10-7 win for Geneva. Garrett Kayser recorded 9s/7ga (56%) for the Panthers while, at the other end of the field, Aiden Eighmey had 3g-2a and Max Miller had 3g-1a. Geneva finishes their regular season today at 10-5 and will wait until Sunday to see where they end up in the seeding. Alex Bolt scored 2g-1a and Andy Hamel added 2g for Wayne who have one game left. [BOX SCORE] More images are available in the gallery.
Marcus Whitman scored the first five goals in the game as they went on to post a 12-5 win over Aquinas this afternoon. Goaltender Robert Craine made 11s/4ga (73%) and Aidan Royston scored 5g-2a for the Eagles who end their regular season at 12-2. Aquinas goalie Gavin Conlan made 12s/12ga (50%) while Joey Sciortino scored all four goals for the Irish who end their regular season at 8-6. [BOX SCORE]