Irondequoit over Gates Chili
Wednesday: DAY IN REVIEW: Four more teams joined Batavia and BK as they finished the regular season today. Churchville-Chili, Greece, Pittsford, and Penfield finished and will wait for tournament seeding on Sunday. Irondequoit won a close one with Churchville-Chili. Victor won a close one with Pittsford and Brockport won a close one with East United-Eastridge.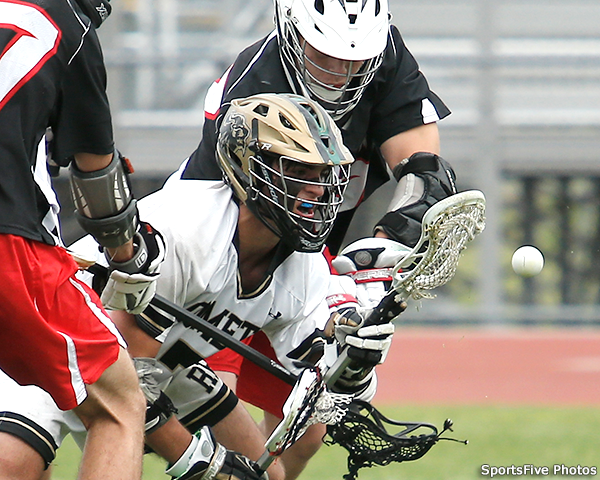 Rush-Henrietta started first and took a 4-2 lead after the first quarter, but Hilton scored seven goals in the second and seven more in the third quarter before winning 18-14. Mike Valent won 19 of 29 faceoffs for Hilton in the high scoring game. Joey DiMaria led in the scoring with 5g-2a. Brendon Bostley had 3g-2a and Matthew Mojsej had 2g-2a for the Cadets (6-9). Clayton Duford was credited with 14s/14 (50%). Rush-Henrietta had seven players score and all had at least two points each. Chase Petschke scored 2g-6a and Tyler Bernarduci had 3g-2a for the Royal Comets (5-8). [BOX SCORE] More images are available in the gallery.
Thomas hosted Brighton and after a 10-3 half, won 17-4. Nine different players scored for the Titans. Leading the charge were Joe Russo with 4g-3a and David Petz with 3g-1a. Ethan Ruller made 5s/4ga (56%) for Thomas. Olin Stanat was in all the Bruin goals scoring 3g-1a. TJ Carl had the other goal. [BOX SCORE]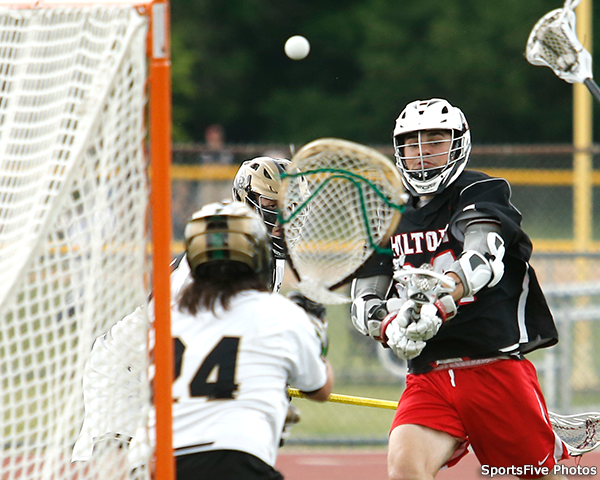 Penn Yan remained undefeated with a 15-4 win over visiting Gananda this afternoon. The Mustangs had a 12-0 half and then slowed down in the second half. Griffin Emerson made 3s/0ga (100%) in his half and Wil Thompson had 3s/4gain his half. Devon Gerhardt scored 3g-2a and Ayden Mowry added 4g-1a for the Mustangs. Gavin Britton was credited 14s/14ga (50%) for the Blue Panthers while Brock Chasey scored 1g-1a. [BOX SCORE]
Chris Parker scored 3g-2a while Steven Miller and Cole Beardsley each scored 2g-1a for Brockport who won their game 7-4 against visiting East United-Eastridge tonight. Antonio DiEngeniis made 5s/4ga (56%) for Brockport. Ronald Dietz made 12s/7ga (63%) and Noah Ellis scored 2g-1a for the Eagles. [BOX SCORE]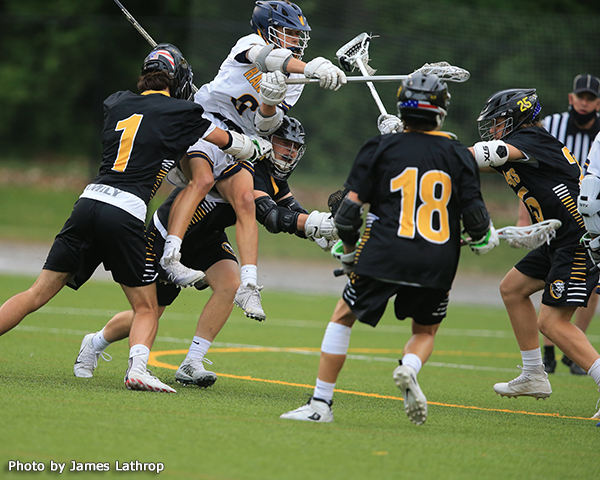 Spencerport (13-1) held the Cougars scoreless in the first half while scoring nine of their own on their way to a 16-6 win at home. Adam Birkbeck recorded 6s/2ga (75%) in his 36 mins in the Ranger cage. Nine different players made the book. Leading the list were Tyler Gostling with 4g-2a and Connor Mesh with 2g-1a. He also won 13/16 faceoffs for the Rangers.Spencerport reported that Matt Blyte had 3g for the Cougars. There was no report from HF-L at post time. [BOX SCORE] More images are available in the gallery.
After a 5-5 tie at halftime, Churchville-Chili took a 8-7 lead after three quarters, but Irondequoit came back with two unanswered goals in the last quarter to give the Eagles a 9-8 on the road. There were six ties in the game. Yavin Stefano (2g) score the tying goals and Leo Letta (2g) scored the winning goal with 5:51 left in the game. Leading the offense for the Saints was Patrick Mitchell with 4g-1a. Churchville-Chili ends their regular season at 4-8. [BOX SCORE]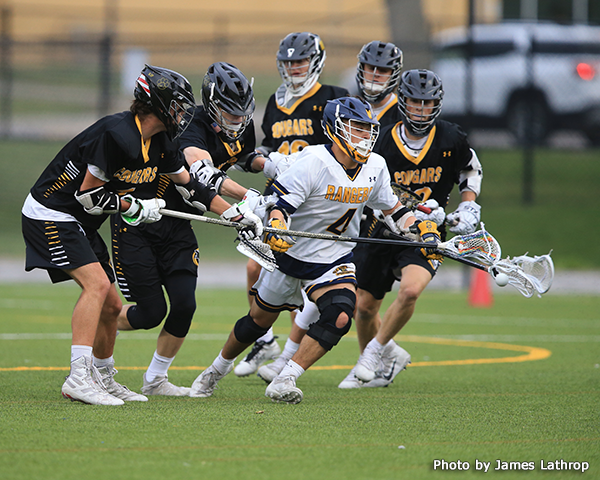 Junior goalie Seamus Hand had 9s/6ga (60%) and added an assist for Penfield as they defeated Webster Schroeder 13-6 tonight at home. The Patriots scored four goals in the first and four more in the second to take an 8-3 lead at the half. Nine players made the book for the Patriots. Leading the list was Sam Cummings with 6g. Sam Schlifke won 16/23 faceoffs for Penfield. Nick Hauman scored 1g-2a and Nick Mazza added 2g for the Warriors. Penfield finishes the regular season at 11-3 and will wait until Sunday to see where they are seeded in the Class B tournament. [BOX SCORE]
Victor broke a 3-3 tie with Pittsford, scoring six goals in a row and then held off the Panthers as they scored a run of four to win 8-6 at Pittsford tonight. Victor had scoring from seven players with Thomas Gravino leading with 2g-2a. Logan Callahan made a difference with 22/22 faceoff wins, giving the Blue Devils a great deal of ball-time. Gustav Murphy scored 3g and Harrison Cross had 2g-1a for the Panthers who finish their regular season at 7-6. They will wait until Sunday to see how they will place in the Class A seeding. [BOX SCORE]
Jack Faiola (12 mins) and Anthony Vigneri (36 mins) earned a shutout as Canadaigua won an 18-0 win over Gates Chili tonight. The goals were spread around as sixteen players made the scorebook. No player had more than two points and David Lyttle and Luke McCrobie both went 11/11 at the faceoff X. Gates Chili goalie Nathan Weise made 16s. [BOX SCORE]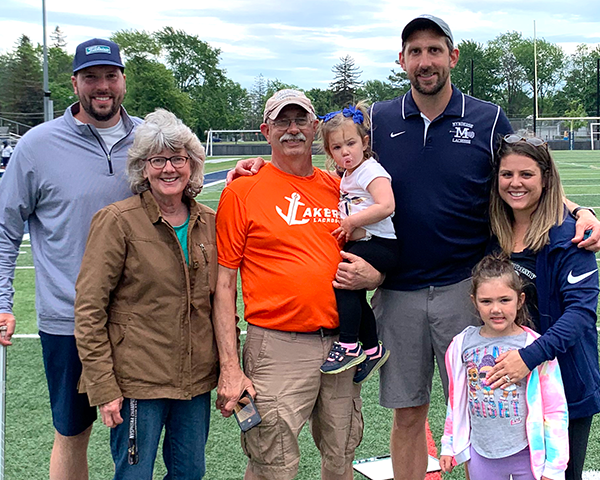 It was father vs son and as they say, father knows best as John Sciera`s Livonia-Avon beat Scott Sciera`s Mynderse 16-3 tonight at Seneca Falls. The Lakers scored seven goals in the first quarter. Ten players scored with Jackson McEnerney leading the pack with 6g-2a. Justin Skelly added 2g-4a for the Lakers (11-4). Colin Ryan scored 2g for the Blue Devils. Showing there were no hard feelings, the Sciera family took time for a photo. [BOX SCORE]
Fairport scored twelve first half goals while holding Greece scoreless on their way to a 15-3 win at home this afternoon. Eleven players made the book including Kole Stuver (1g-5a) and Rob Crowley (3g-1a). Joey Giggie won 15/15 faceoffs and McLean Ralston had 1s/0ga (100%) in his half in the Red Raider goal. Logan Yates had 1g-1a for the Storm who finish their regular season at 6-7. [BOX SCORE]