Dan Stone is Victor Head Coach
Victor Athletic Director Duane Weimer has announced that Dan Stone will be Victor's new boys Head Lacrosse Coach. A twenty-five-year educator, Coach Stone has taught in Victor for eighteen years and has been the Head Modified Coach for seventeen. He currently teaches the sixth grade.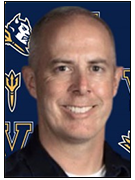 A fixture on the Varsity sidelines, Coach Stone has also served as a Varsity Assistant and head of alumni relations.
"As we continue to manage the uncertainty of life off the field, our players and coaching staff will focus our work on the same goal that has guided our program for years, to get better," Coach Stone said in a Victor press release. "We are ready to get better and look forward to performing with the highest levels of athleticism and sportsmanship on the field while demonstrating excellent citizenship and scholastic achievement in the classroom and community."
Athletic Director Weimer announced that the appointment was made with help from a committee that included Senior High Administration, Interscholastic Coaches, Student-Athletes, Community Representatives and Lacrosse Alumni.
Coach Jim Andre stepped down last fall after earning a 127-23 record and winning four NYS championships. He has previously stated an interest in continuing with the Blue Devils in the modified program. Coach Stone will be Victor's fifth Head Coach since they started playing lacrosse in 1999.