NYSPHSAA Publishes COVID-19 FAQ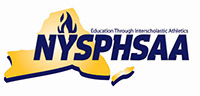 The New York State Public High School Athletic Association has published a list of questions and answers about scholastic sports in light of the COVID-19 pandemic.
Among the topics are eligibility standards, winter and spring championships, summer activities and the fall season.
NYSPHSAA President, Paul Harrica will put together a COVID-19 Task Force to help develop proposals for decisions about the future.
The FAQ document will be updated as new information is available.