Harvest and USMC Sponsor Leadership Program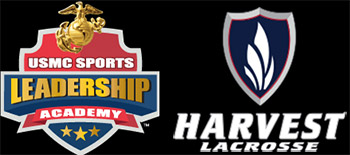 This fall, Harvest Lacrosse is collaborating with the United States Marine Corps Sports Leadership Academy.
On Saturday, September 14, 2019, the U.S. Marine Corps & Harvest Lacrosse will host a FREE clinic (for ages 14-19) that will build your physical strength, lacrosse expertise, and leadership skills. The event will be from 8:30am to 4:00pm at Total Sports Experience (880 Elmgrove Road, Rochester, NY 14623). You will receive instruction from elite coaches and learn leadership qualities from current U.S. Marines. Event flyer is available.
Skill sessions, scrimmages, and leadership talks will challenge you to become the best player and leader you can be. Register now and get ready to walk away as a champion.