Aquinas Has Lots of Multisport Athletes
Waterloo 2021
Class D - Finger Lakes League
Aquinas stuggled in 2019 and ended with their first loosing season since 2001 and so they were ramped up to play last year. Coach Pat Olbrich has some athletic multi-sport athletes as the core of his team this year and a schedule that will give them lots of opportunities for a great season.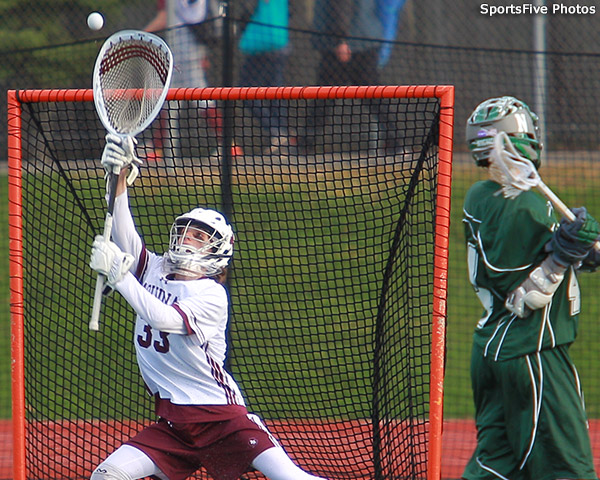 Starting in the goal is senior goalkeeper Gavin Conlan who is back from his sophomore year with 160 saves. He will be playing at Lake Erie next year. In front of the cage are senior defensemen Patrick Fenton and Jack Todd. Both are three-year varsity players and both are accomplished fottball players.
Senior Joey Sciortino will lead in the attack. He is another three year varsity layer will will start the 2021 campaign with 13g-2a from his sophmore year. Playing both attack and midfield is senior Zach Kelsey. Like his classmates he is also a three-year varsity lacrosse playerand has excelled in football as well. Angelo Palumbo is a junior midfielder who will take face offs for Aquinas this year.
The Lil` Irish will start the season with GRALL opponents, Livonia-Avon and Bath. Then they will play Finger Lakes teams and one game with Spencerport.
Coach Olbrich is looking foward to getting back on the field, "Having missed 2020 we all know you can't take things for Granted. As a program we are excited for the opportunity to learn and grow together. Our Boys are working hard and many of them are coming off a Spring Football season."
Head Coach
Pat Olbrich 4th year 16-21
Assisted by - Mike Kelly - Billy Lombardi
Some Key Players
Gavin Conlan (12-G), Zach Kelsey (12-A/M), Joey Sciortino (12-A), Patrick Fenton (12-D), Jack Todd (12-D), Angelo Palumbo (11-M/FO)
Key Games
"We are excited for the opportunity to play in the Finger Lakes League this year. We will play a Great variety of different teams than our normal schedule. Every game will be Important for us and we are looking forward to the challenge."
See other stories as they are posted: Class A - Class B - Class C - Class D