Waterloo has Lots of New Faces
Waterloo 2021
Class D - Finger Lakes League
Like many teams this year, there are not many players returning from the 2019 roster, but Coach Matt Morrin will start his seventh year with three players at midfield who have been there before.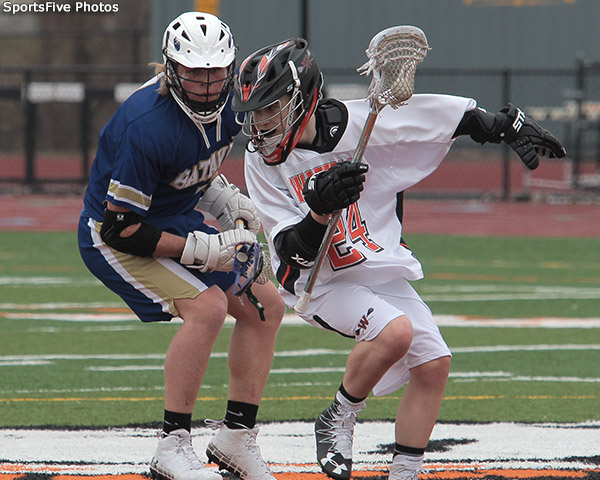 Senior Zack Merkley is a third-year varsity player who will also see time with a long stick on man-down. Coach Morin says he "should be impactful on the midfield. He has a great work ethic, is a good ground ball player and a student of the game." He will be joined at the midfield by junior Scott Verdehem, a tough and athletic player at both ends of the field. Facing off will be junior Pete Shangraw, a second-year player who will play both man-up and man-down as well.
Coach Morrin is looking for help from first year senior defenseman Zack Coleman who he says is "a good on the ball defender and an overall athlete for the defense." Also a first year play is senior attackman Nathan Cosentio who will be on man-up as well.
Waterloo has a full sixteen game schedule made up of the Finger Lakes teams along with the GRALL additions of Aquinas, Bath and Livonia-Avon. They have also scheduled two games with Batavia.
Athletics is an important part of the educational process and Coach Morrin knows that his lacrosse team is more than x's and o's. He says he "hopes to instill work ethic, integrity, and reinforce the importance of accountability into my players that will aid them in obtaining success in life."
Head Coach
Matt Morrin 7th year 28-60
Assisted by - Tyrone Thomas - Josh Rice - Bill Walczak
Some Key Players
Zack Merkley (12-M), Scott Verdehem (11-M), Pete Shangraw (11-M), Zack Coleman (12-D), Nathan Cosentino (12-A)
Key Games
Seneca Falls - Newark - Midlakes - Bloomfield-Honeoye - Marcus Whitman - Gananda
See other stories as they are posted: Class A - Class B - Class C - Class D