Victor Starts with New Coach
Victor 2021
Class B - Monroe County League
Victor was ready in 2020 to seek it's seventh straight Section V championship and had the players to help make that happen, but gone are Camden Hay (Albany), Shea Newell (Mercyhurst), Joey Pezzimenti (Albany), Alec Russell (Le Moyne), Regan Endres (Albany), Cameron Gormain (St. Bonaventure), and Ethan Roberts (Seton Hill) who are all playing in college now along twenty-one other Victor alumni.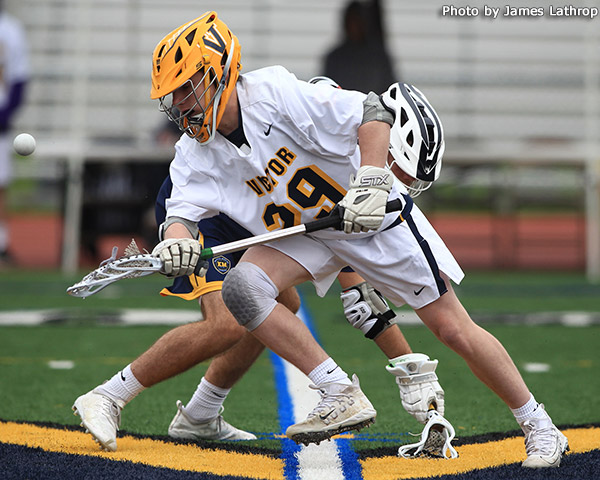 Also gone is Head Coach Jim Andre, who stepped down last fall after earning a 127-23 record and winning four NYS championships. Filling the position is Dan Stone who has been the Victor modified coach for seventeen years. "Our expectations are high and simple: Get better, compete or get beat", says Stone who also says that the players have been working hard in preparation. "Every practice held since we received the green light to begin off-season work in January has been competitive. Players are pushing each other in every drill, live play situations, and strength and conditioning sessions."
The Blue Devils have a half-dozen seniors who played in 2019. Faceoffs have been a key to Victor's success since TD Ierlan dominated. Logan Callahan is a one of his "students" who will play at Johns Hopkins next year. A strong leader, he is expected to play midfield at both ends of the field. Cal Lambert who will play at both attack and midfield is committed to West Point.
In the defense are a couple of players new to varsity. Louie Germain is a junior, committed to St. Bonaventure and is aggressive, relentless, and athletic. Senior defenseman Charlie Robbins is big, strong, and agressive and committed to NJIT. Playing long stick midfield and close defense is Alex Parton who is a threat in transition on offense. Senior midfielder Alex Seiler likes to play in traffic and can make plays on the crease.
"Every game is a key match-up/must win", admits Coach Stone. "Players on this year's roster have little to no Varsity experience and everyone needs to prove their readiness to compete at this level." That being said, Victor is used to winning and knows how to find a way. It may mean that games with Fairport and Pittsford will be challenging, but teams in their own class B like Thomas, Canandaigua and Penfield will have greater significance as the tournament nears.
Head Coach
Dan Stone 1st year 0-0
Assisted by - Mark Foeder - Tony Pezzimenti - Todd Thompson
Some Key Players
Logan Callahan (12-F/O-M), Cal Lambert (12-M/a), Louie Germain (11-D), Charlie Robbins (12-D), Alex Seiler (12-M), Alex Parton (12-LSM-D)
Key Games
Fairport, Pittsford, Thomas, Canandaigua and Penfield
See other stories as they are posted: Class A - Class B - Class C - Class D