Churchville-Chili Has Big Ideas
Churchville-Chili 2021
Class B - Monroe County League
In Churchville-Chili's short history, they have had six head coaches and the latest, Cubby Chalmers has worked to bring the program back to the 2016 season when they went 17-1. This year's schedule is not robust but gives the Saints opportunities to show they can play with the more established programs.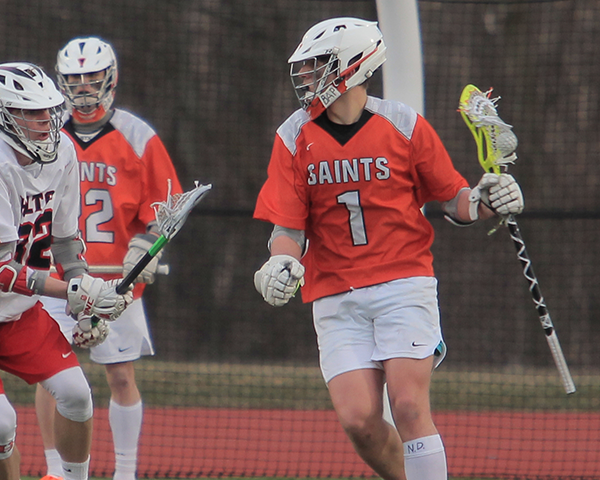 The coaching staff will build this team with the help of a few returning players, starting with Pat Mitchell, a big, fast, strong midfielder who earned first team All-League (MC-d2) as a sophomore and is ready to play for Canisius next year. He will start the year with 46g-29a and 119 gbs and led the team in 2019 with 66gbs. Offensive coach Gino Marcello says he has an "unbelievable work ethic and an even bigger love for the game. He will turn heads throughout Section V and all of Upstate New York this season."
Junior Brett Seaman started in the attack as a freshman and is expected to be the focal point in the offense. He recorded 11g-4a on 25 shots in 2019.

Chris Terhaar is a junior goalie and although he will face his first varsity opponent this year the coaching staff has confidence in him. "We have high expectations for him to lead the defense and be the player we know he has the potential to be." In front of him will be Joe Gibson, a senior who is returning from the 2019 season. The team will count on him to provide leadership and teach younger players, including freshman defenseman Patrick Huff who is expected to start this year.
Running on both sides the field is long stick midfielder Liam Podszebka who has been playing on the varsity since eighth grade. "Liam is the heart and soul of the defensive unit. He will play anywhere to help the team and is an extremely tough defender. He has the ability to completely shut opponents down."
It is clear that the Churchville-Chili coaches are excited and extremely optimistic about the 2021 season. "We are expecting a lot out of a handful of younger guys. They have put the work in the off season, and we have some very special young men ready to take the next step in their lacrosse careers. We have a great group this year. Never have the coaches been a part of a group with such a wide range of ages, but we're confident the younger guys will step up because we know our guys are ready for the challenge."
Head Coach
Cubby Chalmers 3rd year 7-10
Assisted by - Geno Marcello - Mike Passantino - Tom Curyto
Some Key Players
Pat Mitchell (12-M), Brett Seaman (11-A), Liam Podszebka (11-LSM), Joe Gibson (12-D), Aidan Royston (12-M), Chris Terhaar (11-G)
Key Games
"Must wins - Hilton and Spencerport. Want to win - Penfield and Irondequoit."
See other stories as they are posted: Class A - Class B - Class C - Class D