Brighton Young but on the Move
Brighton 2021
Class B - Monroe County League
Brighton will have a young and inexperienced team this year. There are only two players returning from 2019, but they are quality players. Senior attackman Olin Stanat will start the season with 42g-21a from his freshman and sophomore years. He will be playing for Le Moyne after graduation. Senior midfielder Sam Tourangeau also has two years of experience and will start the year with 15g-3a and 260 face off wins (67%).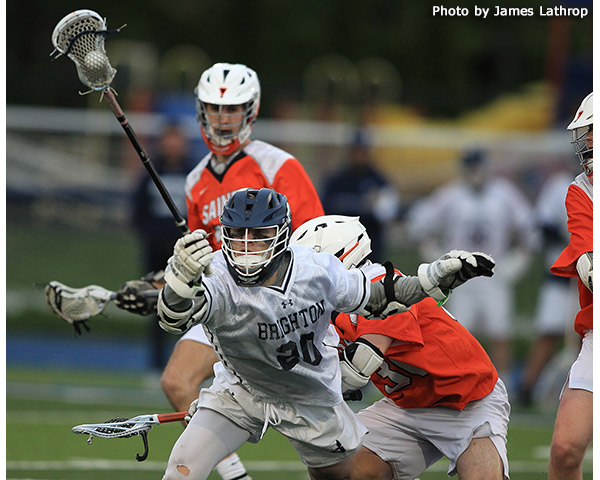 He will be heading to Ithaca next year where his expects to play both football and lacrosse.
Also in the midfield will be juniors Liam McGuire and Cal Oberst. Junior TJ Carl will look to start in the attack and his classmate Will Fetkenhour will help lead the defense.
Like most coaches, Donald Benedict is excited to return to games after the year off. "We as a program are really excited to get back out there. We have missed this great game and companionship that develops through playing this sport. We are a young team this year, but we have some outstanding leadership- guys that have been around and related to some big-time players will show us the way in 2021. Especially after our last game, we are ready to get out and compete."
The 2019 "Barons" played their last game and it was an exciting one as Brighton scored four last quarter goals but lost by one goal to Victor in the semifinals. The Barons are now the Bruins and are looking to continuing their winning ways as Coach Benedict gets into his second season with Brighton on the field. He has picked Canandaigua ("always fun to play against"), St. Joseph's, Pittsford (who they beat for the first time in 2019) and Victor as highlight games this year.
The Bruins will have a brutal finish to the regular season as their last five games which will be played between May 21st and June 4th, are against Pittsford, Penfield, Fairport, Thomas and then Victor.
Head Coach
Donald Benedict 3rd year 14-4
Assisted by Kyle Rothfuss - Marco DeBole - Jason LaShomb - M. Mertel - B. McDermot
Some Key Players
Olin Stanat (12-A), Sam Tourangeau (12-M), Liam McGuire (11-M), Will Fetkenhour (11-D), Cal Oberst (11-M), TJ Carl (11-A)
Key Games
Canandaigua - .St. Joseph's - Pittsford - Victor
See other stories as they are posted: Class A - Class B - Class C - Class D