Geneva Wants another Block
Geneva 2021
Class C - Finger Lakes League
After his arrival during the 2018 tournament, Head Coach Jeff Dunham won his first sectional title. Many coaches in the Section think that Head Coach Jeff Dunham could end up with his third sectional championship this spring.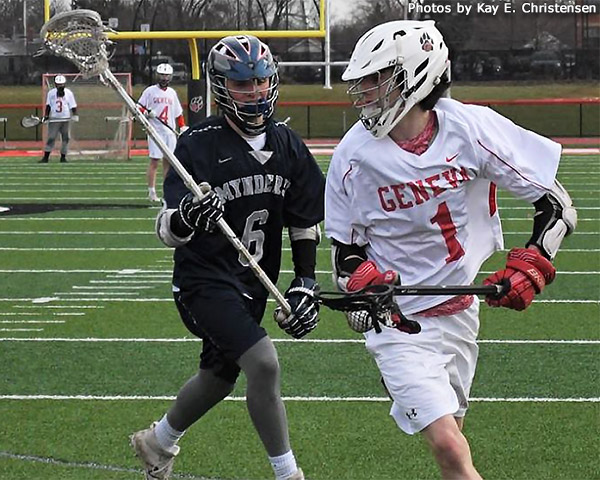 There are a good number of new faces on the varsity, so the Panthers will lean on senior midfielder Nate Askin and Aiden Eighmey who both return to the field with honors. Askin, who will play for SUNY Brockport next year received a sophomore honorable mention as a face off specialist in 2019. Eighmey will start his senior year with 22g-24a after receiving an honorable mention as a sophomore. He plans to play at St. John Fisher College next year.
In the goal, the Panthers will look to junior Garrett Kayser who split time in the cage his sophomore season and posted a 54.1 save percentage. Coach Duhman says, "He has tremendous footwork and the ability to change the game". At close defense, junior Luke Choffin is an athletic defender who plays great off ball position and senior Luis Torruella is strong in one-on-one.
The Panthers will play a Finger Lakes schedule and have added games with Canandaigua and Brockport.
Head Coach
Jeff Dunham 3rd year 14-5
Assisted by Dave Lavoie
Some Key Players
Aiden Eighmey (12-A), Nate Askin (12-M-F/O), Garrett Kayser (11-G), Luke Choffin (11-D), Luis Torruella (12 D), Kaleb Waters (12/M)
Key Games
Coach Dunham says his team is looking forward to the games with long-time rivals Canandaigua (5/2) and Penn Yan (5-6) as well as with Pal-Mac on 6/1.
See other stories as they are posted: Class A - Class B - Class C - Class D