Penfield has Thirty-Three Weapons
Penfield 2021
Class B - Monroe County League
Penfield has been playing in the Class A tournaments until this year when they dropped to Class B where there will be huge competition at tournament time. The Patriots will see a bunch of Class B teams during the regular season with interesting matchups with Canandaigua on May 12th, Thomas on May 19th and Victor two days later. They will open their season hosing West Genesee on May 1st.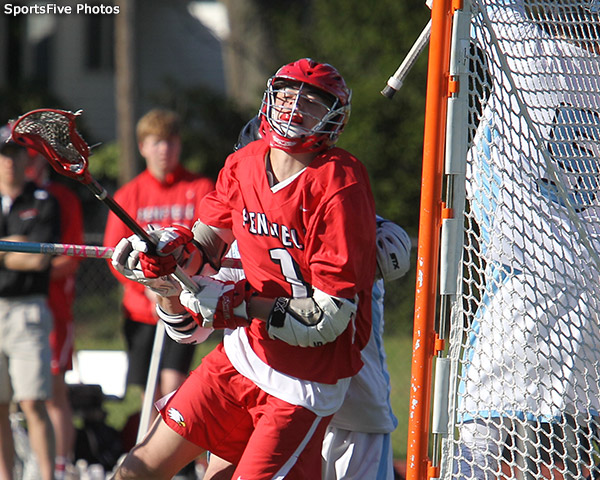 Coach John Schembri has great things to say about his team this year. He has lots of confidence in his senior face off specialist, John Richiusa who as a sophomore won 198 faceoffs (59%) and scooped up 88 ground balls. "John has emerged as one of the top face-off men in our region and will play at Canisius next year".
Will Hand is a senior and will play at both midfield and attack. "A great leader that took advantage of the short 2020-21 sport seasons and will end up lettering in 4 Varsity sports this year (Soccer, Basketball, Football, and Lacrosse). Also playing both attack and midfield is Jackson Saulpaugh. The senior is back after scoring 17g/10a in 2019. He scored on nearly 80% of his shots on last time out and Coach Schembri likes him a lot. "Saulpaugh will be a leader on the offensive side of the ball this season." He will continue to play at Mercyhurst next year.
In the attack are senior Sam Cummings and junior Alec Constable. Cummings had limited time as a sophomore but scored 7g-1a in only six games including two in their semifinal games against Fairport. "Sam's shot and stick handling sets him apart. Look for him to make some noise in 2021." Constable is a junior who has been working hard to showcase his skills.
Leading the defense will be junior Jackson Barrese who will need to help rebuild a defensive unit that lost many to 2020 graduation. He was brought up to the varsity team during his freshman year and according to Coach Schembri is "a tenacious, hardnosed defender that plays with grit".
Like many coaches this year, Coach Schembri is thankful to be playing this year. "When you lose a season you gain a lot of perspective on how some of the little things we concern ourselves with really don't matter that much. We are all happy to be playing in 2021."
Head Coach
John Schembri 13th year 127-78
Assisted by - Jerry Dawes - Cory Holbrough
Some Key Players
Jackson Saulpaugh (12-A/M), John Richiusa (12-FO/M), Alec Constable (11-A), Jackson Barrese (11-D), Sam Cummings (12-A), Will Hand (12-A/M)
Key Games
Coach Schembri says, "Class B is loaded with good teams. Hard to say after two years to what degree specific teams have improved."
See other stories as they are posted: Class A - Class B - Class C - Class D