McQuaid With Three Strong Returners
McQuaid Jesuit 2021
Class A - GRALL League
Quite a number of coaches feel that McQuaid Jesuit will be a top contender among Class A teams this year which makes sense with three players who made first-team All-League honors as sophomores returning for their senior year. In the attack is Max Ettinghausen is a four-year starter who scored 28g-24a in 2019 and 23g-13a as a freshman. He is a "fast, smart and tough player with excellent stick skills and is a strong leader" according to Coach Corcoran. He will continue playing lacrosse next year at Tufts.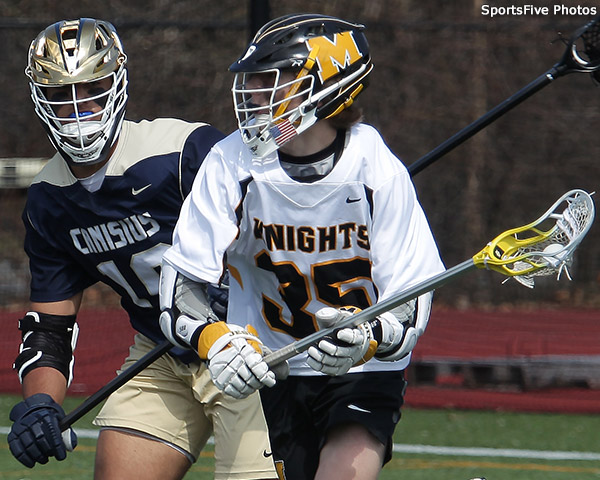 Also returning with All-League honors is senior goalie Connor Winters who will be playing at Binghamton next year. He is a three-year starter who made 145 saves in 2019 (64%). His big game as a sophomore was a 73% day when the Knights beat Penn Yan 5-4. A quick athletic player, he moves the ball fast on clears and is a threat with an outlet pass or on his feet.
Facing off will be Jack Miller who is a two-time first teamer and four-year starter. In his first two years he won 399 faceoffs (68%) and added 11g-5a. Coach Corcoran says he is an "outstanding all round athlete an the leading rusher for McQuaid's undefeated football team this year."
The Knights had eleven underclassmen on the 2019 roster. Among those returning is junior defenseman Hunter Smith, "a big, fast defender who is good on the ball and off it". He has committed to Richmond after he graduates. Paul Chiariello returns as a returning starter in attack who as a freshman scored 17g-5a. Joining him in attack will be sophomore Chris Woodard who Coach Corcoran says is "big, fast, and smart with an excellent stick. He made the Varsity Basketball team as a sophomore. An outstanding athlete."
Without a GRALL schedule this year, McQuaid will play a bunch of teams that they have not played before. Among them are Hilton, Canandaigua, Thomas, HFL, and Schroeder. On May 17th they will host Fairport who could be match-up repeated in the Class A tournament.
Coach Corcoran says "Our regular season schedule is much stronger than in recent years. We need to play at a higher level than we have in the past. We need to learn and improve week to week in order to compete come playoff time."
Head Coach
Terrance Corcoran 4th year 24-10
Assisted by - Alex Grey - Colin Corcoran
Some Key Players
Max Ettinghausen (12-A), Connor Winters (12-G), Jack Miller (12-FO/M), Hunter Smith (11-D), Paul Chiariello (11-A), Chris Woodard (10-A)
Key Games
Fairport, Hilton, Canandaigua, Thomas, HFL, and Schroeder

See other stories as they are posted: Class A - Class B - Class C - Class D