Newark Excited to Get Back to Playing
Newark 2021
Class C - Finger Lakes League
Newark has a mixture of returning and new players on the varsity this year. Brandon McNeil had 9g-3a as a sophomore midfielder and plans to play at D`youville next year. His classmate, Jayden Shepherd had 9g-6a and is a three-sport athlete.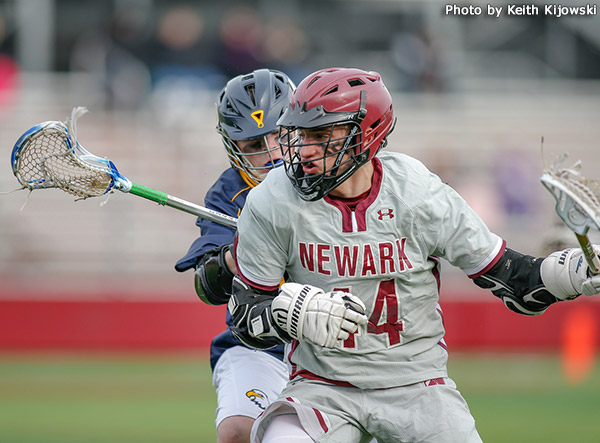 The goalie spot this year looks like it will be filled by Caleb George Cody who had very limited time in 2019, but learned a great deal from Talyn Pierce who was the Goalie of the Year in the Finger Lakes. Coach Groot says, "Caleb will be the quarterback of the defense and has put in a lot of work into it!". Helping him will be Aaron Rodney-Spencer, a senior defenseman who the Reds will look to handle top opponent attackmen.
Coach Groot has high hopes for newcomer Preston Steve, an offensive player expected to play at both attack and midfield. "Preston has had two great off seasons and has improved his stick skills greatly through his hard work. We hope he is a leader on the offensive end this year." Senior Bryson Croft is expected to help lead in the attack as well.
The Red's fourteen game schedule is all Finger Lakes with the addition of a game with Aquinas.
Coach Groot is, like his players, excited about getting on the field and teaching the value of the game. "I hope to keep things in perspective this year and remember what we missed out on last year and all the positive lessons that lacrosse and competing in sports teach us. Hopefully, we can enjoy playing sports and coming together as a team to have a great season playing a great sport!"
Head Coach
Matt Groot 14th year 62-147
Assisted by Adam Groot, Henry Kuperus, Evan Corteville, JW Bement
Some Key Players
Preston Steve (10-A/M), Brandon McNeil (12-M), Jayden Shepherd (12-M), Aaron Spencer (12-D), Caleb George Cady (11-G), Bryson Croft (12-A)
Key Games
Midlakes, Gananda
See other stories as they are posted: Class A - Class B - Class C - Class D